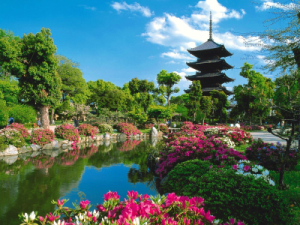 Japan is an island country which comprises four large islands in the Pacific Ocean. It is slightly smaller in land area than the state of California, USA, but has the 10th largest population in the world at 127 million people. The capital, Tokyo, together with the surrounding Greater Tokyo area, is the largest metropolitan area in the world. Japan also has the highest life expectancy in the world at 83 years old (79 for men and 86 for women).
Japanese, the official language of Japan, is spoken by virtually all of the country's approximately 127 million inhabitants, and by Japanese in communities in Hawaii, the Americas and elsewhere. The written Japanese language uses a mixture of Chinese characters ("Kanji") and two native Japanese kana syllabaries (phonetic writing systems) called Hiragana and Katakana.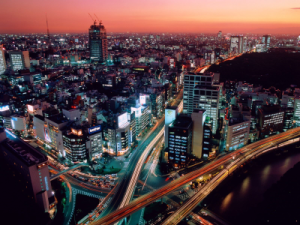 Japan is the world's third largest national economy and Japanese companies do business throughout the world. Many American, European and Asian companies also have large operations in Japan. View some well-known Japanese companies, as well as American and Seattle-based companies in Japan.
In Bellevue College classes, all four language skills -listening, speaking, reading and writing are taught along with an introduction to some aspects of Japanese culture and customs whenever appropriate. Beginning level Japanese is not as hard as you may think. Japanese nouns have no genders or plural forms. Japanese also has only two verb tenses, past and non-past, and has only two irregular verbs. Spoken Japanese has only five vowel sounds and spelling is phonetically consistent, which makes it easy to pronounce.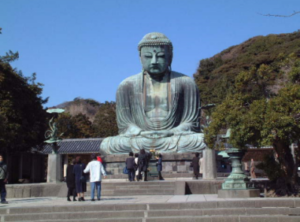 Students in our program learn how to read and write the kana syllabaries (Hiragana and Katakana) in the introductory Japanese 121 class and are introduced to Kanji starting in the second quarter 122 class. Upon successfully completing Japanese 123 at Bellevue College, students will be ready to take the (optional) JLPT (Japanese Language Proficiency Test), level N5. Students who complete Japanese 223 will be prepared for JLPT Level N4. An official Certificate of Proficiency is issued to successful JLPT examinees.
Learning Japanese is a gateway to many opportunities!
Visit the Bellevue College quarterly class listings to see a list of Japanese courses.
QUESTIONS?
Contact: Anne Matsumoto Stewart
Professor of Japanese
Office phone (direct): 425-564-2739
anne.stewart@bellevuecollege.edu
⇓USEFUL LINKS ⇓
Class Descriptions
Last Updated May 23, 2023