The demand for trained Digital Marketing professionals is high, and the need for digital marketing skills has expanded to all industries.
Students who graduate with a Bachelor's degree from Bellevue College increase their opportunities for career growth and earning potential. Common job titles in this industry include Marketing Manager, Social Media Manager, Advertising Manager. Entry-level positions have titles such as Marketing Assistant, Associate, Coordinator, or Specialist.
Entry-level marketers earn on-average $77,000 in the Seattle area. The mean annual wage for Marketing Managers in Washington state is $163,040. (Sources: Glassdoor and U.S. Bureau of Labor Statistics, 2021).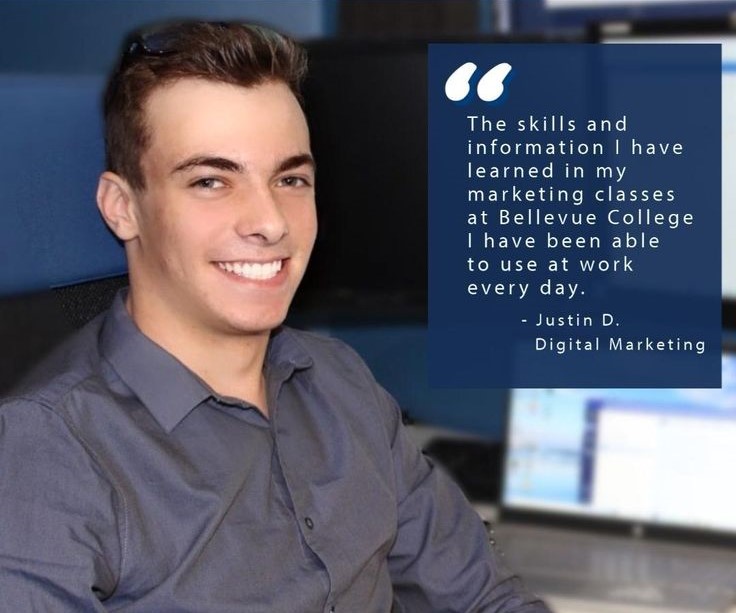 Job Outlook for Graduates
Graduates of the BAS Digital Marketing program have a 95% job placement rate (2022). BAS Digital Marketing graduates have secured employment at the following companies and organizations:
Founded own marketing agency
Amazon
Microsoft
Costco
Verizon
The Seattle Times
CRBE@Google
Ziply Fiber
BECU
Revlon
Boeing
Thermo Fisher Scientific
FieldNotes AI
Leafly
NewEngen
Media+
Verizon
RealNetworks
Taboola
Lake Washington Institute of Technology
Albertson Companies
Keurig Dr. Pepper Inc.
Ferrari of Seattle
Career Resources
Digital Marketing covers a wide variety of career paths and expertise areas: social media marketing, marketing research, marketing analytics, branding, content strategy, public relations, advertising, paid search, media planning, event marketing, e-commerce, and more. Visit O*NET OnLine for occupation information including summary of technology skills, abilities, work activities, education requirements, wages and employment trends, and more. The U.S. Bureau of Labor Statistics is a resource for researching local and national employment trends, expected job growth, salary information, and entry-level education requirements.
Internships
Although the Digital Marketing program does not place students into internships, BC students and alumni have access to internship and career support services through the Academic Internship Program and the Center for Career Connections. Additionally, once students are admitted into the Bachelor's program they will receive an invitation to join the Digital Marketing Outlook Group where the Program Manager regularly shares relevant job/internship opportunities.
Career Center
BC students and alumni are encouraged to utilize the free resources at the Center for Career Connections. Trained career guidance counselors can assist you with career exploration, job/internship search support, resume writing, interviewing techniques, and career preparation workshops.
Last Updated February 6, 2023