The Digital Marketing department offers a wide array of applied degree and certificate programs for students of all backgrounds. No prior marketing experience is required, but we welcome marketing and business professionals seeking to upskill in digital platforms. Our associate degrees and certificate programs are open enrollment, and our Bachelor of Applied Science is a selective admissions program with entry requirements.
Each program ladders into the next for students wishing to build digital marketing skills while currently employed. Our 3-course certificates are open to all students seeking to develop applied skills and certifications.
Have questions for an advisor? See our Contact Us page or send an introductory email to our program advisor, Kristi Wilson. Transfer credit accepted on a course-by-course basis.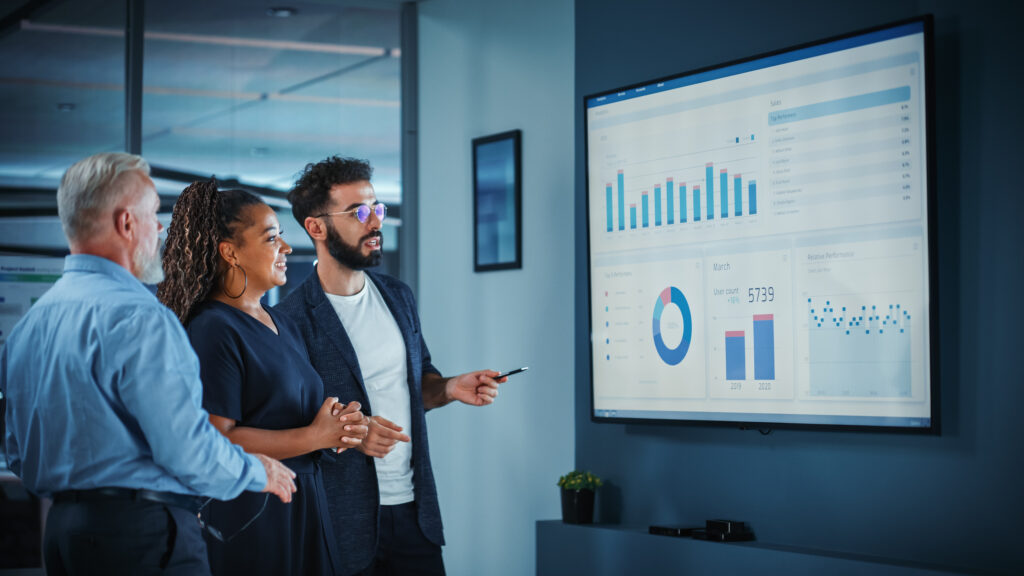 Bachelor of Applied Science (BAS)
The Digital Marketing BAS program is a rigorous 180-credit degree program that prepares students for high-demand careers in digital marketing. Students can complete an associate degree first or apply straight into the BAS program after completion of prerequisite courses. On-campus or 100% remote options available.
Skill Areas:
• Implement collaborative marketing projects with peers and clients
• Apply concepts of advertising, analytics, social media, search, display, online video, web design, branding, event marketing, public relations, market research, and more
• Yearlong Capstone project with an active business
Associate Programs (AAS-T and AAS)
The Digital Marketing AAS-T and the Marketing Management AAS are 98-credit degree programs that prepare students for entry-level marketing positions or serve as a bridge for students wishing to pursue the BAS program. On-campus or 100% remote options available.
Concentration Areas:
• Digital Content Creation
• Web Design & User Experience
• Creative Marketing Services
• Account Management & Sales
• Marketing Measurement & Analytics
• Entrepreneurial Marketing
In addition to our Bachelor and associate degrees, we offer a wide range of professional certificates in marketing, ranging from 15 credits to 56 credits. Marketing certificates provide the opportunity to quickly skill up in marketing specialization areas and earn credentials for your resume.

Professional Certificates in Marketing
To earn a certificate, complete all classes for a specific certificate and when finished, submit an application for graduation and select the certificate from the drop-down menu.
Digital Content
View Courses (15 credits) – MKTG 242, MKTG 244, and MKTG 333
Develop content marketing strategies to meet business and marketing objectives, utilizing major online video, television, and social media platforms
Employ digital marketing software tools to create digital images, audio/video and interactive experiences to attract, engage and build relationships with customers
Digital Media
View Courses (15 credits) – MKTG 243, MKTG 245, MKTG 301
Construct, measure, and optimize a media campaign with strategic insights and recommendations
Integrate display, mobile, media buys into a larger digital marketing plan
Benchmark media efforts to guide future marketing strategies
Digital Advertising
View Courses (15 credits) – MKTG 234, MKTG 241, MKTG 334
Advanced skill development in advertising strategy
Build integrated marketing plans to meet business and marketing objectives through advertising strategies and tactics
Optimize current campaigns based on results, evolving the strategy to maximize budget and deliver results
Entrepreneurship and Product Development
View Courses (15 credits) – MKTG 201, MKTG 202, MKTG 203
Ideate a product or business opportunity with marketing potential
Develop prototypes to test new product ideas
Gain an in-depth understanding of marketing a new product, business, or service
Digital Measurement & Analytics
View Courses (15 credits) – MKTG 255, MKTG 262, MKTG 462
Collect, measure, and manage data sets, establishing business rules for data manipulation
Establish key performance indicators and tie to larger business objectives
Articulate concepts of brand relationships, customer service software, sales technologies, marketing automation, and customer relationship management tools
Utilize data visualizations in measurement reports and analysis to effectively persuade stakeholders
Web Content Management
View Courses (35 credits) – Create and manage digital website content on new or existing websites using HTML5, CSS and/or content management systems.
Product Development and Innovation
View Courses (40 credits) – Learn to vet new business ideas, design competitive reviews, understand trend analysis, design and manufacture a product, develop fundraising strategies, and launch and market a new business.
Sales
View Courses (30 credits) – Explore digital platforms, international marketing, advertising, and sales, with opportunities to assume a management viewpoint and develop appropriate marketing strategies.
Promotional Marketing
View Courses (45 credits) – Learn to establish business and promotional marketing objectives, translate objectives into integrated marketing strategies, and work in diverse teams to develop marketing campaigns.
Web Marketing Specialist
View Courses (54-56 credits) – Learn comprehensive skills in marketing, desktop publishing, digital design, graphics principles, business communications, customer relations management, advertising, and software applications.
Retail Marketing
View Courses (45 credits) – Gain practical, hands-on experience in marketing, with an emphasis on retail activity and the distribution of goods and services.
Ready to Learn More?
Read our FAQ for common questions, including tuition, start times, and prerequisites. New students may join any quarter year round. We admit new BAS Marketing students in Fall, Winter, and Spring quarter on a rolling basis.
Contact the Program Manager to explore careers in Digital Marketing and receive more information about transfer credit, professional development opportunities, and campus resources.
Digital Marketing is an academic department in the Institute for Business and Information Technology (IBIT) Division at Bellevue College.
Last Updated February 6, 2023