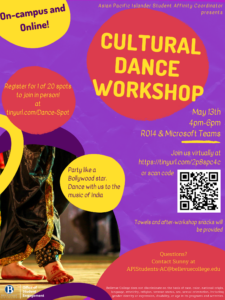 In person AND online! Party like a Bollywood star — dance with us to the music of India!
Presented by the Asian Pacific Islander Students Affinity Coordinator.
Day and Time: Friday, May 13, 4 – 6 PM
Location: R014 and Microsoft Teams
Register for one of the 20 spots to join in person: visit http://tinyurl.com/Dance-Spot
Towels and after-workshop snacks will be provided!
Questions? Contact Sunny at APIStudents-AC@bellevuecollege.edu
Last Updated May 12, 2022