Featured News in Women's Soccer: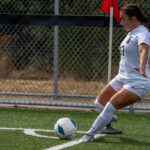 Natalie Hawkins, a sophomore midfielder for Bellevue College women's soccer, earned All-North Region honors today as named by the NWAC coaches. Evee Augustine, Tanah Huffines, and Lilian Johnston, were named to the Honorable Mention list. For the complete all-region team, click here.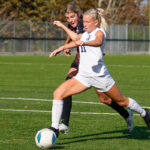 Bellevue College women's soccer closed out their 2022 season with a win, defeating visiting Everett 3-1 today. The three goals today, in addition to the three on Monday in the win over Shoreline, gave BC six of their eight total goals they scored all season ...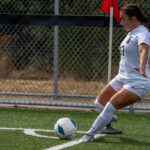 In a season which has been defined by a lack of offense, scoring only two goals for the entire league play season, the Bellevue College women's soccer team broke out by winning 3-1 today over visiting Shoreline. To put a stamp on the offensive efforts, ...
BC soccer has postponed their men's and women's soccer games due to poor air quality with a projected index number of 180 today. The men are rescheduled for Friday October 21 with a 4:15 kickoff. The women are rescheduled for Saturday October 29 at 12:00.
Bellevue College soccer, who had both their men's and women's games postponed Saturday due to unsafe air quality, have had their games rescheduled for Monday October 24. The women will play at 2:00 PM before the men play at 4:15 PM. Both will be as ...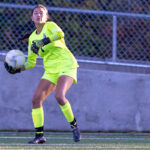 In a defensive battle with few offensive threats on both sides, Bellevue and host Skagit Valley battled to a 0-0 tie today in Mount Vernon. While BC fired off only four shots on goal in the game, Skagit Valley was limited to only two shots ...
More ..
Last Updated October 27, 2022