Featured News in Women's Soccer: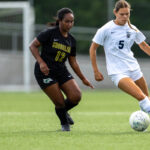 Bellevue College women's soccer battled number two-ranked Spokane to the end but fell in a penalty kick shootout, 4-3 after double-overtime. In a game with a berth to the final four on the line, Bellevue made things interesting for Spokane with two late goals in ...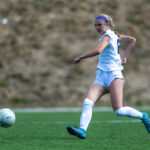 Bellevue College women's soccer made a statement of how strong the North Region is as the North #3 seed, Bellevue, topped South #2 seed Lane 6-0 today in Eugene, OR. The Bulldogs dominated in every aspect and outshot the Titans 18-1. Of the 18, 14 ...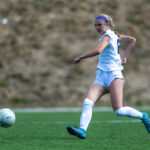 Freshmen Kayleigh Acree and Emalee Flemming each scored two goals apiece as Bellevue College topped host Edmonds 6-1 at Triton Field. The Bulldogs netted four goals in the first half, taking a 4-0 lead into intermission as Flemming and Acree scored within the first ten ...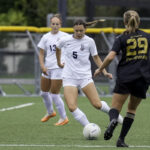 all photos property of BC Athletics / taken by Rick May PhotographyVisiting Peninsula College's offense was overwhelming as Bellevue College women's soccer could not get the defensive stops in a 4-1 loss. The home game, which was the final one for the BC sophomores, showed ...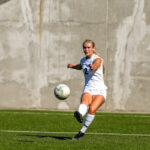 Bellevue College women's soccer kept their momentum towards the playoffs with a 2-0 road win at Everett. Bellevue received a pair of first half goals as Kahia Vaifoou (19:28) and Kayleigh Acree (41:55) scored solo goals before the defense took over for the rest of ...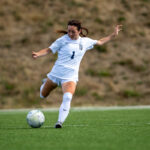 In a battle of top teams in the NWAC competing for rights for first place in the North Region, visiting Skagit Valley came out on top with two early first half goals for a 2-0 win over Bellevue in women's soccer. Bellevue's offense was simply ...
More ..
Last Updated October 27, 2022