Richard Romain-Dika – Head Coach
rromain@bellevuecollege.edu
(425) 564-3124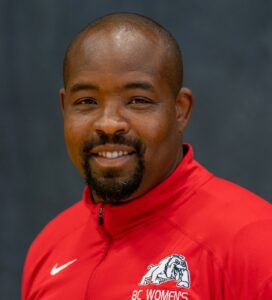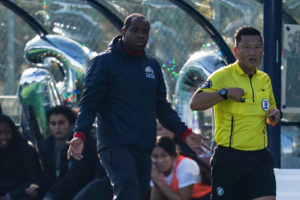 Richard Romain-Dika is entering his sixth year as the Head Women's Soccer Coach for Bellevue College. He has been one of the department's strongest recruiters and has catapulted Bellevue's women's program into the playoffs the last two seasons.
In the covid-shortened 2021 spring (original 2020 fall season), the Bulldogs reached new heights by claiming the West Region title, going undefeated at 7-0-2.
In 2019, the Bulldogs finished 11-2-1 in league and 14-4-1 overall. The squad made it to the final eight after winning their opening round match up against Spokane, winning 2-1.
Romain-Dika is a familiar face at Bellevue College. He was an NWAC all-star for the Bulldog men's soccer team in 2005 and 2006, leading Bellevue to the finals during his sophomore season. Romain-Dika was fourth overall in scoring as a sophomore, netting 15 goals for the 'dogs.
He was on staff for the Cameroon Women's National Team for the World Cup held in Canada. Romain-Dika has a B.A. in Business Administration from Eastern Washington University and is currently a coach in the Eastside FC program.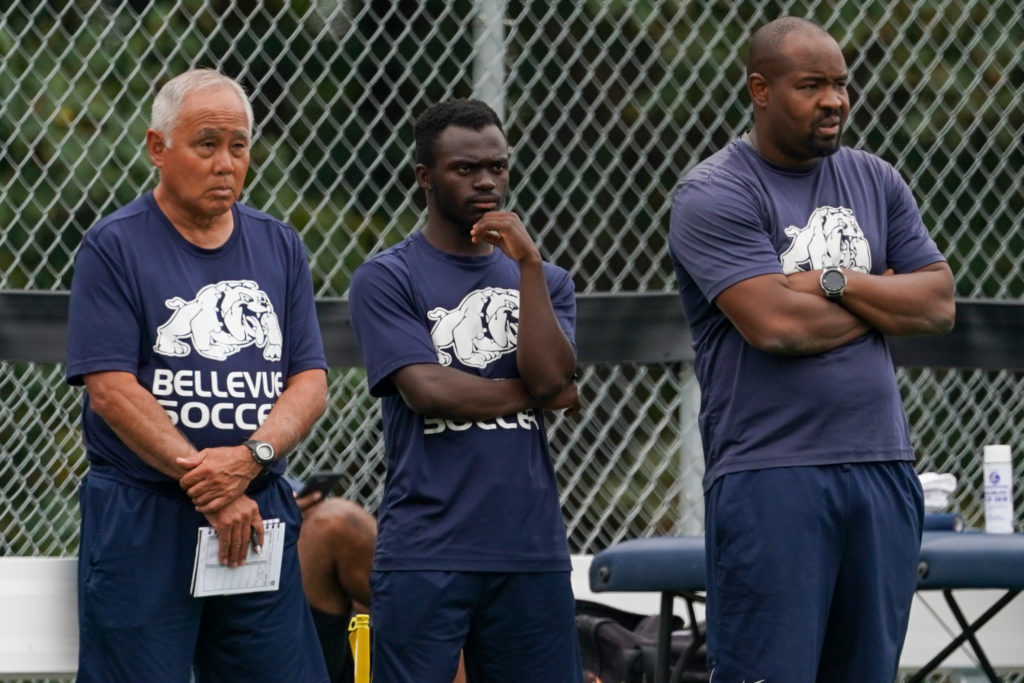 Ndiyishimiye Priame – Associate Head Coach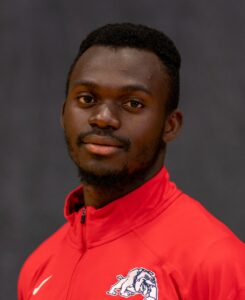 Priame is a mainstay to the Bellevue coaching staff and is also the team's recruiting coordinator.
Jon Matsushita – Assistant Coach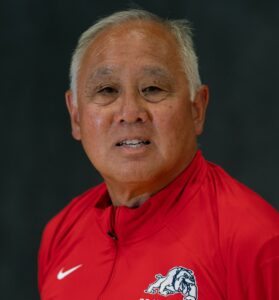 Assistant Coach Jon "Mats" Matsushita has worked with Washington's premier for years, including Washington State, and Region IV Olympic Development Program teams. He has served as head coach of various state and Region IV ODP teams on the boys and girls' side of the program.  He has had the privilege of coaching two National Gatorade Players of the Year award winners and USMNT and USWNT players.
He serves on the Educational staff for Washington State Youth Soccer as an instructor of Coaching licensing courses for WSYSA and USSF.
Jon worked with various Seattle-area high schools, such as, Juanita High School, Lake Washington High School, and Eastlake, where he guided the girls to a state championship in 2002 as well as the boys in 1998 and 1999.  NSCAA ranked that team second in the nation for large high schools and awarded him the Coach of the Year in 1998. Jon holds a USSF National "A" License and Youth License.
A Seattle native, Jon grew up in Bellevue and played soccer for the Lake Hills Soccer Club and the University of Washington where he played in central midfield as a six.
Jon taught in the Lake Washington School District at the Junior High and High school levels, mathematics, history and computer education and coach of various sports including gridiron football, track and soccer (real football). He served in many advisory roles including Senior Class Advisor for the first graduating class of Eastlake High School.
Jon also works as a ski instructor and instructor trainer.  He holds a Level III certification from the Professional Ski Instructors Association of America.   As such he is an instructor preparing staff to take their certification examinations.  In his free time, he enjoys free skiing and bicycling to stay fit.
Farzeen Mohazzabfar – Assistant Coach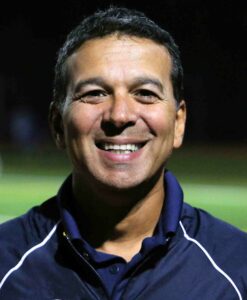 Coach Mohazzabfar returns on staff for Bellevue College Women's Soccer as an assistant coach.
Farzeen has been coaching soccer since 2003. He has completed his USSF National 'C' course and remains an active soccer player himself. He has coached at Bellevue Youth Soccer, FC Edmonds, Crossfire Select, Bellevue High School and most recently at Shoreline Community College. His philosophy is to foster a love for the game of soccer with an emphasis on team, where the whole is greater than the sum of its parts. This team-oriented philosophy has proven very successful demonstrated by an extremely high player return rate and an impressive record on the field. Farzeen is a great communicator and effectively utilizes benchmarks and visual communication methods to teach concepts. Farzeen firmly believes sportsmanship, character, respect and accountability are essential components of development of a successful, well-rounded athlete and he works hard to inspire these qualities in each player that he coaches.
Starting with a GU11 team and taking them all the way through GU18, Coach Farzeen's teams have had notable success by finishing in first place in seven of eight league-play seasons with five undefeated seasons, two perfect seasons and a remarkable 93% win/tie percentage in almost 100 league games. During this run, his teams finished as champions or finalist in 70% of all competitions including local and out-of-state tournaments and won 3 state championships twice representing Washington State at the Region IV President's Cup. Farzeen considers his most important accomplishment as having a team (18 players) GPA of over 3.6 for their entire four years of high school; many of his players receiving academic scholarships and acceptance from schools such as Stanford, Northwestern, Cal Poly, Notre Dame, University of Washington, and Gonzaga.
Coach Farzeen and his wife, Sheedeh have two daughters ages 20 and 19. He has a BS in Computer Science from Western Washington University. When he is not coaching, playing or watching soccer, Farzeen has been a successful software executive for the past 19 years currently the co-founder and Vice President of Research and Development at Quality in Motion, Inc.
Annacy Dyer – Assistant Coach
Annacy was born and raised in the Bay Area in California. She played competitively through high school and continued to play at UC Davis while earning a Bachelors in Human Development. Annacy spent eight years (2010-2018) teaching at the high school level and coaching the girls high school soccer team at Tamalpais HS in Mill Valley, CA. She helped guide the Hawks to three league titles, four playoff appearances and two Northern California Sectional Championships.
Annacy believes in coaching the whole player – from being challenged mentally on tactical awareness to being pushed physically before reaching that next level. She believes in developing the emotional/mental aspect of a player's game by helping them learn how to be a teammate and support a group with a common goal.
She moved to Washington state in 2019. She resides on the east side with her husband and two daughters. She currently coaches club soccer for Mercer Island FC and is involved in the EPD program. She joined Bellevue College's staff in the fall of 2022 and is excited to continue to see growth in the players on the field and as people in the community.
Last Updated June 7, 2023