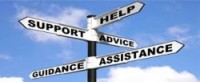 There are a number of resources and programs that are available to you for all types of assistance. These resources can be a good way to gather information on a variety of issues. The Bellevue College counselors have compiled several resource pages that we have found helpful for students. As with any internet site, please use your best judgment in evaluating information contained on these sites or any site that you access.
Everyone experience stress, sadness and anxiety from time to time. If you are feeling overwhelmed, depressed, or unable to do the things you once enjoyed, it may be time to assess your emotional health. If you are concerned about yourself or someone you care about, take a few minutes to complete a free anonymous online screening test for depression, anxiety, post-traumatic stress, alcohol and eating disorders.
If you are a mental health professional and want to be added to our community resource list or would like to provide information about your services, please email askacounselor@bellevuecollege.edu or call 425.564.2405.