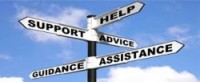 There are a number of resources and programs that are available to you for all types of assistance. These resources can be a good way to gather information on a variety of issues. The Bellevue College counselors have compiled several resource pages that we have found helpful for students. As with any internet site, please use your best judgment in evaluating information contained on these sites or any site that you access.
Everyone experience stress, sadness and anxiety from time to time. If you are feeling overwhelmed, depressed, or unable to do the things you once enjoyed, it may be time to assess your emotional health. If you are concerned about yourself or someone you care about, take a few minutes to complete a free anonymous online screening test for depression, anxiety, post-traumatic stress, alcohol and eating disorders.
If you are a mental health professional and want to be added to our community resource list or would like to provide information about your services, please email counseling@bellevuecollege.edu or call 425.564.5747.
---
General Strategies and How to Cope with COVID-19
Multilingual COVID-19 Resources
Helpful tips if you already struggled with mental health issues before the pandemic
Need financial support and assistance?
---
Crisis Clinic – If you have a crisis and cannot reach the Counseling Center, call the 24 hour Crisis Clinic Hotline at (206) 461-3222 or 1-800-244-5767.
Crisis Text Line – Free 24-hour crisis support via text message.

Text HEAL to 741741 to get started

Child Abuse Hotline and Information – The Childhelp National Child Abuse Hotline is dedicated to the prevention of child abuse. The hotline is staffed 24 hours daily with professional crisis counselors who utilize a database of thousands of emergency, social service and support resources.
National Domestic Violence Hotline – The National Domestic Violence Hotline is a resource for victims of domestic violence as well as concerned friends and family.
Responding to Student Mental Health [PDF] – Resource sheet for responding to student mental health with sample scripts
---
---
---
---
Free planners and calendars for time management Assistance
Adjustment to College Life – Pamphlets from the University of Illinois
10 Steps to Organize at College
32 of the Best Ways to Get Organized When You Have ADHD
Study Skills – resources listed on this site offer practical information and tips on developing good study skills.
Khan Academy – With a library of over 2,700 videos, this site covers everything from arithmetic to physics, finance, and history and has over 273 practice examples to help you learn what you want, when you want, at your own pace.
Bellevue College Academic Success Center (for registered BC students) – individual tutoring for students who are earning a C or below and are at risk of not being successful in their class. Drop-in tutoring schedules for students in ABE, ASL, Accounting, Biology, Business 145, Chemistry, Chinese, Computer Science, Engineering, French, German, Italian, Japanese, Math 130, Philosophy, Physics, Programming, Psychology, and Spanish classes. Math and English drop-in tutoring is also available in the Disability Resource Center and the Student Programs office.
Western e-Tutoring Consortium (for registered BC students) – Bellevue College's new online tutoring Synchronous and asynchronous help is available for students enrolled in Accounting, Anatomy & Physiology, Biology, Chemistry, Economics, Math (developmental through Calculus), Microsoft Office, Physics, Spanish, Statistics, and Writing.
---
Housing Assistance
Congregations for the Homeless (http://cfhomeless.org/) : works to end homelessness in East King County, Washington.
YMCA of Greater Seattle (http://www.seattleymca.org/Pages/Welcome.aspx): Drop-in center for street youth. Provides food and hygiene services.
Orion Center Shelter (for ages 18-25): 206.622.5555
Renewal Food Bank: 425.643.8246
Emergency Feeding Program: 425.746.2529
Catholic Community Services: ccsww.org or 206.328.5696
---
---
---
---
Bellevue College Title IX Office Title IX addresses concerns and provides protection from discrimination for faculty, staff and students and includes such things as: sexual harassment, dating violence, domestic violence, stalking, gender-identity and pregnancy. It also prohibits retaliation against anyone who makes or participates in a complaint. The Title IX Office is here to support individuals while they are connected to campus.
Bellevue College Gender-Based Violence (GBV) Prevention The GBVP Office is committed to ending gender-based violence on our campus and in our community. In an effort to create a campus culture that is safe, inclusive, and welcoming, the GBV Prevention Office provides prevention education, training, and tools for faculty, staff and students, and response services, information, and resources, to BC community members who have been affected dating/domestic violence, sexual assault, and stalking.
Listing of Community and State Domestic Violence/Sexual Assault Resources
---