Marketing & Creative Support
Our team is responsible for stewarding the Bellevue College brand and driving the college's marketing strategy to increase awareness, support enrollment, and drive community engagement. Learn more about exposure opportunities.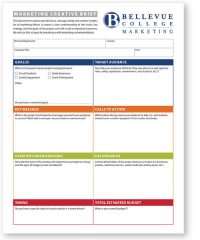 If you need our services, just follow these steps:
Download and complete the creative brief [PDF]. This form will help you identify your needs and allow us to create the best plan for your exposure opportunities.
Email completed creative brief to communications@bellevuecollege.edu. Please allow up to two weeks for a recommendation.
Once you receive the recommendation, provide your approval and department leader's approval in order to proceed. Be available for ongoing reviews.
Review results to ensure that the program met desired goals.
---
Logo & Photo Resources
Bellevue College Logos
A variety of file formats for the BC logo are listed in the BC Style Guide. Be sure to follow the logo usage guidelines. Not a BC employee or not sure what file format you need? Email questions to .
Campus Photos
Need a high resolution photo of the BC Campus? Email creativeservices@bellevuecollege.edu to request access to a library of campus photos available on the BC OneDrive. Taking your own photos? See the BC Style Guide for more information about photography guidelines.
---
Bellevue College Style Guide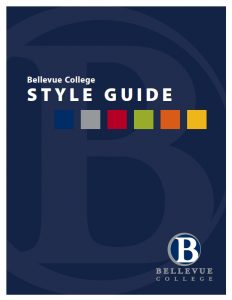 Institutional Advancement has developed a style guide to help those writing and designing on Bellevue College's behalf to promote consistent messaging and style.
This guide applies to all internal and external communications released by Bellevue College, including, but not limited to, newsletters, reports for publication, presentations, brochures, website development, social media, and professional stationary. The standards presented here should be consistently applied in every form of communication representing the College.
You can download a PDF or visit our Style Guide website to learn about:
Last Updated May 11, 2023