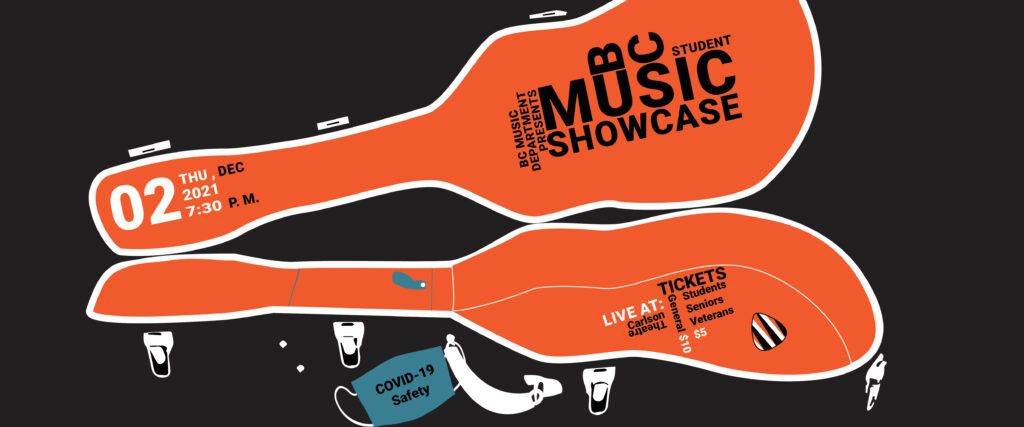 PERFORMANCE DATE
Thu. Dec. 2, 2021 | 7:30 pm
It's almost time! The Bellevue College Music Program will open the doors of Carlson Theatre to celebrate a return to in-person performances on campus. We would like to invite you to join us on Thursday, December 2, 2021, for the opening night, live at Carlson Theatre, for a Music Showcase that features BC students.
COVID Safety
Prior to entering the facility and based on King County regulations, masking and proof of vaccination (or negative COVID-19 test) are required for all people ages 12 and older.
BC Student Music Showcase: PROGRAM
AUDITIONS
The Bellevue College Music Program is now accepting submissions from BC Students who are interested in performing at the BC Student Music Showcase. Interested students should fill out and submit an audition application. If submitting a video recording, we recommend you dress professionally. Include a link to your video or audio sample in the application and make sure the sharing settings allow for viewing. The deadline for submission is November 22, 2021. Accepted students will be announced on the BC Music Program website and notified by email on November 24, 2021.
Good luck and we hope to see you on the stage.

If you need assistance with sharing your work or have other questions please contact Naeim Rahmani at naeim.rahmani@bellevuecollege.edu.
Fill out the application
I WANT TO AUDITION
Last Updated May 26, 2022