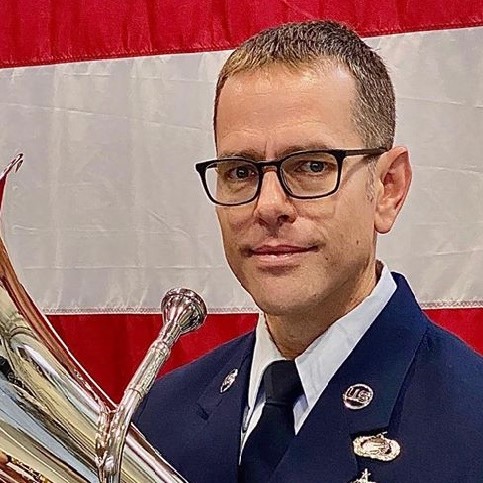 Danny Helseth
Private Instructor, Euphonium
Low Brass
Office: BC Campus
Phone: 206-999-1900
dannyhelseth@gmail.com
When asked to describe Danny Helseth as a musician, composers Joseph T. Spaniola and Brett Miller use the words such as "high energy…intensity…emotion-filled." Danny has never been known to go into anything half-way, but rather puts everything he has into what he does. This is very evident as he pursues his musical career on the euphonium and trombone.
Danny began his education with a Bachelor of Music Education from Central Washington University (1999); continued with a Masters in Music Performance (Euphonium) from The University of North Texas (2002); and a Post-graduate Diploma in Performance (euphonium) from the Royal Northern College of Music in Manchester, England where he studied on Fulbright Scholarship. He completed his Doctorate of Musical Arts in Brass Performance from the University of Washington in 2017.
​As a former member of the United States Air Force Band in Washington D.C., Danny was quickly recognized as an energetic and engaging soloist, featured numerous times with the band including on national tour, spring 2004. Helseth has performed as a chamber musician and clinician at universities throughout the United States as a member of the USAF Tower Brass Quintet, and the cutting edge euphonium-tuba quartet Eufonix.
​A dynamic performer, and inspiring clinician, Danny has been a featured artist throughout the United States, Europe and Japan. Helseth maintains a busy performance schedule as a soloist, chamber musician, and band director. 
Helseth is in constant demand as a euphonium soloist, chamber musician, and band director. He has been a featured clinician throughout the United States, Europe, Japan, and China. He seeks to inspire others to greatness, infecting them with a passion for life and a love of music. Helseth has just completed his fourth year as the band director at Seattle Pacific University where he also serves as the Head of Instrumental Studies.
Throughout his life, Danny has been in contact with extraordinary musicians, many of whom have been his private instructors including: Larry Gookin, Tom Gause, Dr. Russ Schultz, Dr. Brian Bowman, Vern Kagarice, Steven Mead, James Gorlay, Patrick Sheridan, Sam Pilafian, Ko-ichiro Yamamoto and Timothy Salzman. Countless other musicians, colleagues and students have taught and inspired Danny's musical direction.
​Danny Helseth is a Besson performing artist and clinician for Buffet Crampon USA, and performs exclusively on the Besson Prestige 2052 Euphonium and the DH signature mouthpiece from Giddings Mouthpieces.
Last Updated August 10, 2022