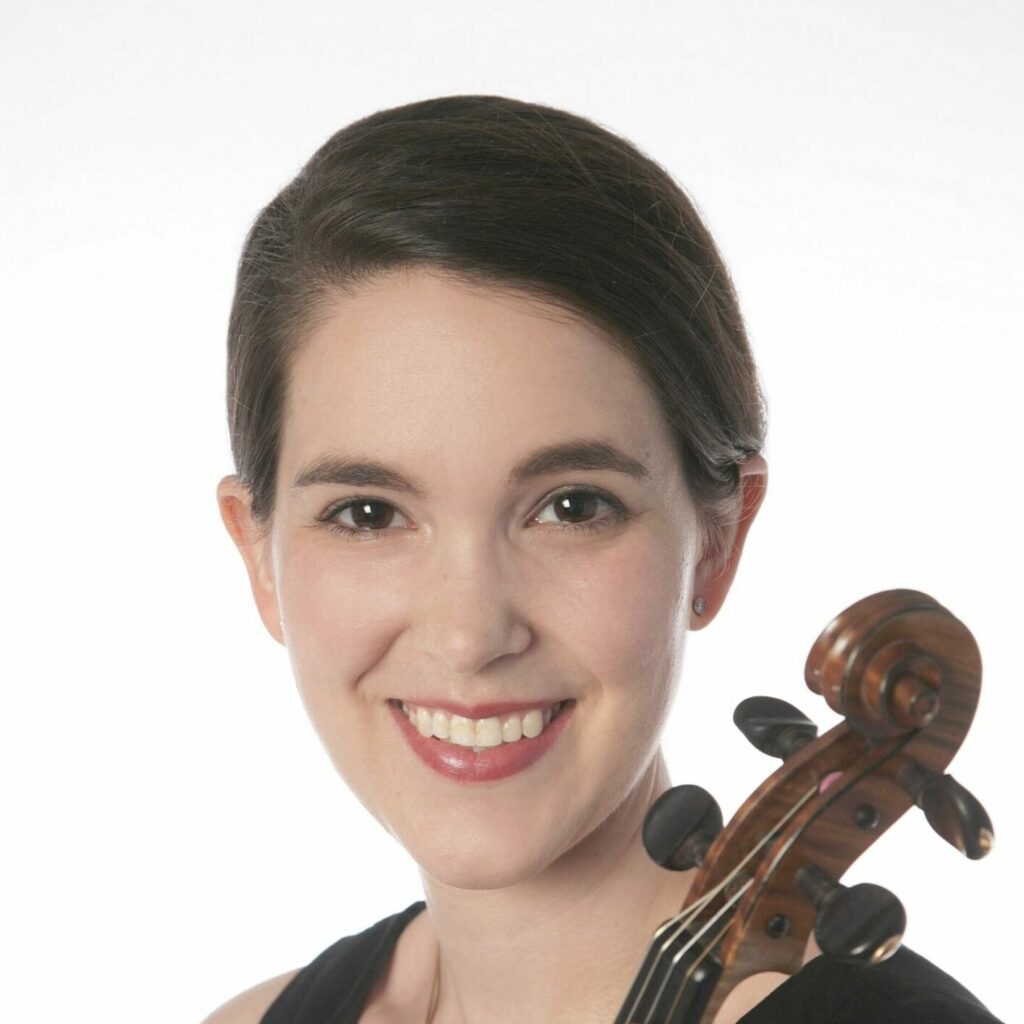 Theresa Sauvage M.M.Ed., violinist, mezzo-soprano, and conductor, grew up in the Seattle Area and began studying violin at the age of nine. She holds a Bachelor's Degree in Violin Performance Magna cum Laude from the University of Wisconsin — Oshkosh, as well as a Master's Degree in Kodály Pedagogy from Holy Names University in Oakland, California where she was a William and Flora Hewlett Foundation Fellow.
As a violinist, she studied with and was teaching assistant to Hungarian soloist Klara Fenyő Bahcall at the University of Wisconsin — Oshkosh. As a student, she performed extensively with the University of Wisconsin – Oshkosh Symphony as Assistant Concertmaster and Principal Second. Additionally, she performed as a member of the South Shore Chorale's orchestra. She has been heard with a wide variety of chamber ensembles ranging from violin duos to vocal quartets, as well as early music.
As a vocalist, she extensively studied voice under Dr. Craig Grayson and Mrs. Joyce Andrews. She has been a guest soloist at Immanuel United Church of Christ in Neenah, WI as well as North American Martyrs Parish in Seattle, WA. Recent solo engagements include performances of lieder by Luise Greger and Clara Schumann at the Luise Greger International Music Festival on Whidbey Island. In addition to solo work, she also participated in the University of Wisconsin — Oshkosh's exclusive Chamber Choir under the expert leadership of acclaimed composer, Eric Barnum.
She has been heard as both conductor and cantor at Our Lady of Fatima, Russian Byzantine Catholic Church in San Francisco where she directed a small, a cappella choir exclusively specializing in Russian polyphony and chant. She has also been a guest conductor and alto section leader with the Calling All Choir in San Francisco, California. Currently, she directs a young women's choir specializing in classical acapella repertoire.
As an instructor, she is dedicated to making her students receive a thorough and joyful musical education in a warm and nurturing environment. She currently offers lessons in the areas of violin, ear training, music theory, and music history. She also offers group musicianship classes using Kodály based methodology, as well as chamber ensemble coaching for instrumentalists and vocalists alike.
Last Updated August 10, 2022