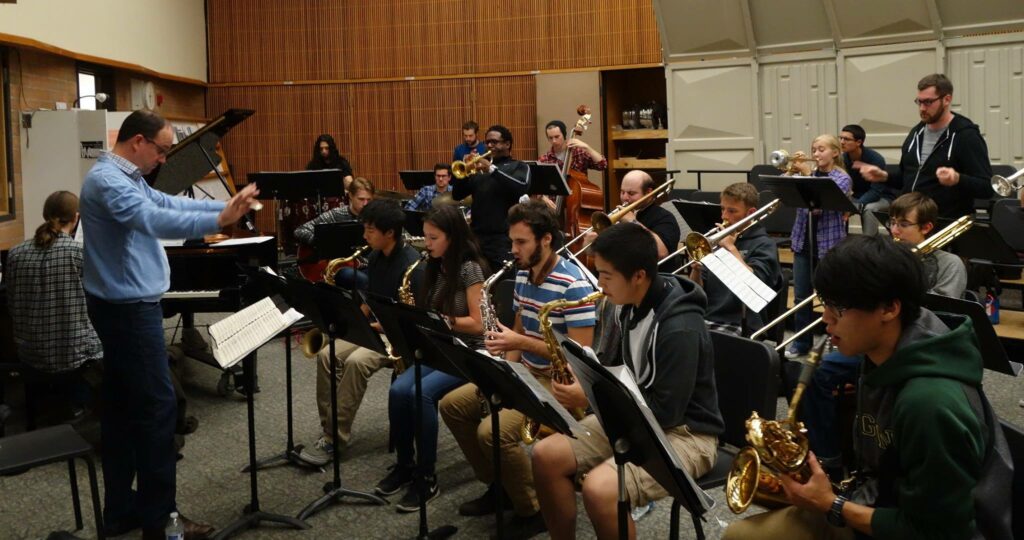 The Bellevue College Jazz Program has been enriching the lives of students and community members since the 1970's. Many of the regions finest players and educators have been a part of the program at Bellevue College, and continue to do so through our annual jazz festival.
The Jazz Ensemble has performed at festivals throughout the United States, receiving top honors at the Lionel Hampton, Reno, and Fullerton Jazz Festivals. In addition to festivals, the band has performed in Paris, Berlin, Munich, Italy, Czech Republic, Peru, Beijing, Washington D.C., and most recently in New Orleans.
The Bellevue College Big Band has performed with renowned jazz artists such as; Pete Christlieb, Jim Snidero, Dick Oatts, Eddie Daniels, Brian Lynch, Conrad Herwig, Jiggs Whigham, Dave Pietro, Joe Magnarelli, Scott Wendholt, Bob McChesney, Thomas Marriott, John Hansen, Jay Thomas and many more.  Bellevue College is proud to be one of the significant contributors to the rich history of jazz education in the Northwest.
Last Updated June 2, 2022