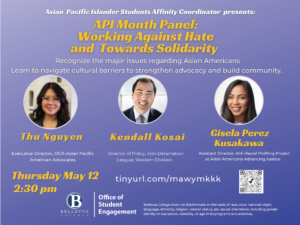 Date: May 12, 2022
Time: 2:30 PM
Description: Leaders from OCA-Asian Pacific American Advocates, Advancing Justice-AAJC, and the Anti-Defamation League (ADL) discuss what top-line Asian American issues they are working on, and how they navigate cultural barriers in order to strengthen advocacy efforts and build community. Speaker information to come.
Thu Nguyen (she/her) serves as Executive Director of OCA-Asian Pacific Americans, an organization dedicated to advancing the social, political, and economic well-being of Asian Americans and Pacific Islanders (AAPIs). A graduate from Rice University, Nguyen holds degrees in Chemistry and Sociology.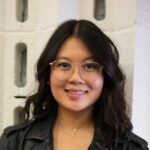 Kendall Kosai (he/him) is Director of Policy at the Anti-Defamation League, Western Division. Kendall graduated with a BA in political science from the University of Washington.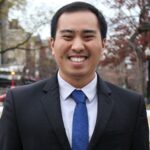 Gisela Perez Kusakawa is the Assistant Director, Anti-Racial Profiling Project at Asian Americans Advancing Justice. She received her J.D. from The George Washington University Law School.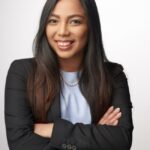 Zoom Webinar Registration Link
Last Updated June 2, 2022