Admission Guidelines
Bellevue College's Nuclear Medicine Technology (NMT) Associate in Arts degree program is a selective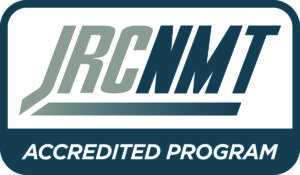 admissions program accredited by the Joint Review Committee on Educational Programs in Nuclear Medicine Technology (JRCNMT). Students must apply to the college and also to the program. Interviews will be held to determine the best candidates. Prerequisites must be completed by the time the program commences; you may apply if you are still finishing them, but preference may be given to those who have completed all prerequisites at the time of application.
Qualities considered in the acceptance process:
Understanding of nuclear medicine and the job functions of a nuclear medicine technologist
Verbal and written communication skills
Interview performance
GPA in prerequisite courses
Educational attainment

Bachelor's or associate degree preferred

Completion of prerequisites
Work/volunteer experience

Prior health care experience preferred
Certifications in other allied health fields is a plus

Personal statement
Completion of application requirements (reference letter from employer, 2 observations)
What are my chances of being accepted?
Because this is a selective admissions program, your chances depend on the quality of the applicant pool in the year that you apply. It is impossible to pinpoint any one quality that puts accepted candidates above those who are not accepted, although the above list is in approximate order of priority. If you are not accepted you may re-apply; reapplicants are often accepted into the program, as can be seen in the table below.
| Applicant Data | 2020 | 2019 | 2018 | 2017 | 2016 | | | | |
| --- | --- | --- | --- | --- | --- | --- | --- | --- | --- |
| Number of Applicants | 11 | 11 | 14 | 11 | 15 | | | | |
| Number of Accepted Applicants | 8 | 8 | 9 | 9 | 8 | | | | |
| Number of Alternates | 0 | 0 | 1 | 1 | 1 | | | | |
| Alternates Admitted | n/a | n/a | 0 | 1 | n/a | | | | |
| Number of Re-applicants | 1 | 1 | 2 | 1 | 3 | | | | |
| Number of Re-applicants Accepted | 1 | 1 | 2 | 1 | 2 | | | | |
Program Outcomes
In the last five years (2017-2021):
31 of 38 enrollees graduated
31 of 31 passed the NMTCB exam 
31 of 31 obtained jobs in nuclear medicine
Graduates
2017 – 5 graduates
2018 – 8 graduates
2019 – 5 graduates
2020 – 7 graduates
2021 – 6 graduates
Attrition
2015 – 2017 – 2
2016 – 2018 – 0
2017 – 2019 – 2
2018 – 2020 – 1
2019 – 2021 – 2
Graduate achievement data is an indicator of program effectiveness, demonstrating the extent to which a program achieves its goals. The current report on graduate achievement data, identified by program, is available on the JRCNMT website by clicking on the following link: Graduate Achievement Report
Resources
For information about nuclear medicine and the profession of nuclear medicine technology, visit these websites:
3558 Habersham @ Northlake, Bldg.
Tucker, GA 30084
(404) 315-1739
2000 W. Danforth Rd, Ste 130 #203
Edmond, OK 73003
jrcnmt@coxinet.net
(405) 285-0546
1850 Samuel Morse Drive
Reston, VA 20190
(703) 708-9000
Information about Nuclear Medicine and Molecular Imaging
Last Updated June 14, 2021