Bellevue College is fortunate to have many healthcare partners that would like to give you a wonderful experience in patient care. With our healthcare partners, we have created a set of standard processes all Bellevue College Nursing students need to follow. Once admitted to a nursing program, you will be informed which specific processes you need to complete to move forward with your clinical assignments.
Nursing clinical on-boarding is site specific, which means all sites have their own paperwork and orientation requirements. It is extremely important to your success in the nursing program that you pay attention to detail and supply accurate information. It is imperative that you meet every deadline given and are able to obtain information quickly when requested.
Clinical Placements Northwest (CPNW)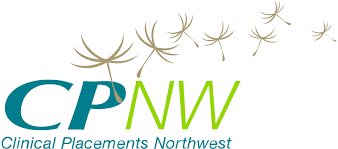 "Clinical Placement Northwest (CPNW) is an innovative partnership over 200 educational programs and major healthcare systems throughout the Pacific Northwest. These education and healthcare partners are working together with a shared vision and common goal of creating a well-prepared and competent healthcare workforce." Clinical Placements Northwest. (2019). About Us. Retrieved from https://cpnw.org/AboutUs. Bellevue College Nursing could be assigned to any of the North Region healthcare partners for their clinical experience.
For specific onboarding requirements, please go to Clinical Placements Northwest (CPNW) and follow the link provided for the healthcare facility where you have been assigned. for the healthcare partners that Bellevue College listed on the left, please go to Students pay for CPNW services through Bellevue College via a fee that is charged with tuition.
---
Background Checks & Drug Screening
You should be aware that some clinical facilities are fingerprinting students for federal background checks and are randomly screening for drug usage.
A criminal history may impact your ability to both attend a clinical class at selected clinical sites and receive a Washington State nursing license. If you have a criminal history it is important that you determine the impact this will have on your choice of a career.
You may contact the Washington State Nursing Care Quality Assurance Commission to determine impact on your ability to obtain a nursing license in the state of Washington.
You may contact the clinical facilities/ hospital to determine the impact on your ability to obtain clinical placement.
You can contact us to make an appointment with a nursing faculty advisor if you have questions about criminal history.
---
CastleBranch (CB)
CastleBranch is a FERPA-compliant organization that Bellevue College uses for background check screening, immunization tracking, and medical document management. This organization verifies compliance of student-uploaded documents, and enables us to provide information to healthcare partners to ensure a safe environment for students and patients. Once you are admitted to a Bellevue College nursing program, you will receive CastleBranch package codes for ordering a nationwide or Washington background checks, and immunization tracker. Students are directly responsible for all associated fees.
Department of Social and Health Services (DSHS)
Some healthcare partners require additional background checks through the Department of Social and Health Services. Once you complete the background check, you'll be given a code from the website. Email this code, along with your date of birth, to the Nursing Clinical Coordinator at nursingclinicalinfo@bellevuecollege.edu. This process can take a couple weeks, so please complete as soon as instructed to do so. Students are directly responsible for all associated fees.

Clinical Passport
Participation in clinical activities requires verification of specific immunizations and certifications to avoid causing harm to yourself and patients that you may be in contact with. Please review the Clinical Passport and Tutorial below. It is the student's responsibility to maintain the information needed to complete the Clinical Passport throughout their enrollment in the Nursing program. Failure to do so may disrupt clinical experience.
If you have further questions pertaining to your personal vaccine history, please take the clinical passport and the passport tutorial to your provider for further clarification. An additional resource for more information is the Center for Disease Control.
---
Submitting Documents to the Bellevue College Nursing Clinical Coordinator
Instructions
Forms should be typed and saved in a PDF format. Be sure to obtain a hard copy for yourself.
Documents should not be double sided or stapled, and should include ALL pages (unless otherwise specified).
COMPLETE documents are to be emailed to Nursingclinicalinfo@bellevuecollege.edu
The Subject line in the email should have your Class Number, First Initial (.) Last name and document type. (example below)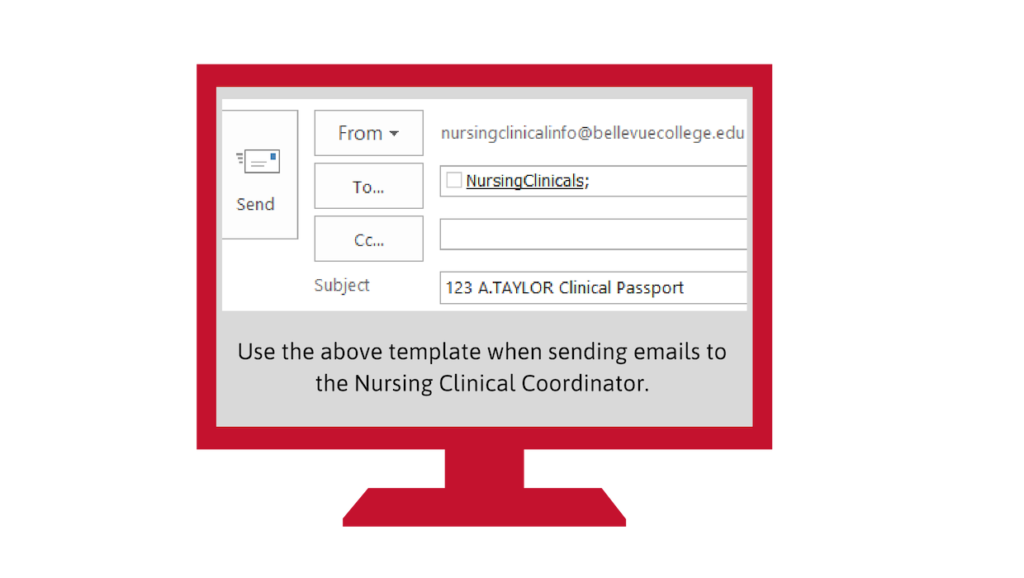 Last Updated July 14, 2022