Parris Mamon – Head Coach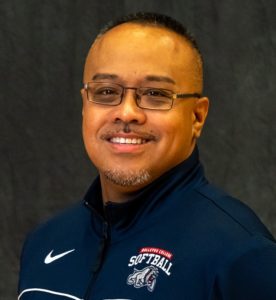 Parris Mamon, who has more more than 20 years experience coaching high school softball, is in his second year as the Head Coach at Bellevue College.
Mamon began his softball coaching career in the Seattle School District. He then moved on as an assistant coach at Kentridge High School, where the team won the 4A division at state.
At Redmond High School, the team took first in league and made it to the state playoffs three times. They were awarded academic state champions. His previous coaching position at Newport High School consisted of rebuilding a team to place fifth in state, the highest finish in the school's history. He also received coach of the year.
Mamon and his wife Teri are the proud parents of four: Parris (34), Meressa (23), Destiny (20), and Keyarra (15).
Ron Hatlen – Assistant Coach
Ron Hatlen begins his first year coaching in the college ranks after a long tenure of success at both the high school and summer select levels. Hatlen's connections have laid a solid foundation for Bellevue's recruiting success this past year.
Hatlen was an assistant for two years at Redmond HS before leading Issaquah HS for seven years as Head Coach. He was named KingCo 4A Coach of the Year during his time at Issaquah and also reeled off an impressive 19-win season.
Ron also brings a unique offering to BC's squad as he has achieved Mental Performance Mastery certification with years of mental training at the select and high school levels. He also has 20 years of coaching experience in the select fastpitch team system in Washington and California and is also currently part of The Factory Fastpitch Club.
Last Updated July 21, 2022