Annie Lockwood – Head Coach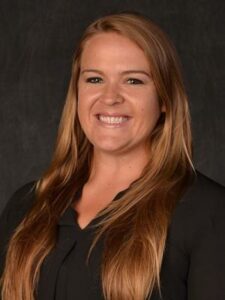 annie.lockwood@bellevuecollege.edu
602-363-0767
Annie Lockwood has been named the Head Coach of the Softball program at Bellevue College. Annie Lockwood was most recently the head softball coach at Skagit Valley College. Prior to SVC, Lockwood was the assistant softball coach at Redmond High School during their 2022 state championship season.
Before moving to Washington State, Lockwood was an assistant softball coach at the University of South Dakota from 2016 to 2018. She rejoined Robert Wagner; the coach who helped lead her team to a national championship at Arizona State University (ASU) in 2011. She also assisted Wagner at her alma-mater as a volunteer during the 2015-2016 season at ASU.
Lockwood hails from Phoenix, Ariz., and was a multi-sport letter winner at Paradise Valley High School. She committed to ASU and was a three-year starter for the Sun Devils. Lockwood competed in the NCAA tournament all four years, advanced to the Women's College World Series three times, and was named to the WCWS All-Tournament Team when ASU won it all in 2011. Lockwood was an all-region outfielder for the Sun Devils from 2009-12 and hit 42 home runs and had 175 RBIs during her collegiate career.
In addition to her on-field talents, Lockwood was named an academic all-American and an NFCA Scholar Athlete. She was also awarded an NCAA postgraduate scholarship.
From 2013-2015 Lockwood served as head softball coach at Skyline High School in Mesa, Ariz. and was named Arizona Big Schools Coach of the Year by the Arizona Republic in her first season at the helm. That same year, she began a two-year stint as an assistant coach for Firecrackers Softball Club and Hotshots for two years. During that time, she also volunteered as a coach at Arizona State during the 2015 and 2016 seasons and has been a personal hitting instructor since 2009.
Lockwood earned her degree in special education from Arizona State in 2013. She earned her master's degree in sports coaching through Northern Colorado in 2017.
Last Updated August 25, 2023