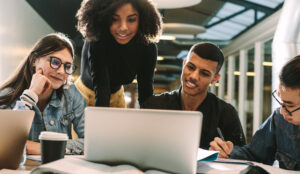 Earn College Credit in High School
Cut down on the time and money it takes to earn a college degree! Bellevue's College in the High School program allows high school students in grades 9-12, the opportunity to take college-level courses right in their high school and to earn both high school and college credit. After high school graduation, apply the credit toward a two-or-four-year degree at Bellevue College or any other Washington State public 2- or 4-year college or university.
CHS students will need to complete and submit the Vaccination Attestation Form (see above).
Student Handbook
Registration Deadlines 
Student Resources
Academic Success Center
Considerations When Earning College Credit in the High School
Statement of Advising
Education and Career Pathways
Placement and Prerequisites
Dual Credit Program Comparison
Program Costs
College in the High School Course Offerings
Student Rights, Responsibilities and CHS Program Policies
Receipt and Class Schedule
Grades and Transcripts
Get Started!
Last Updated September 30, 2021