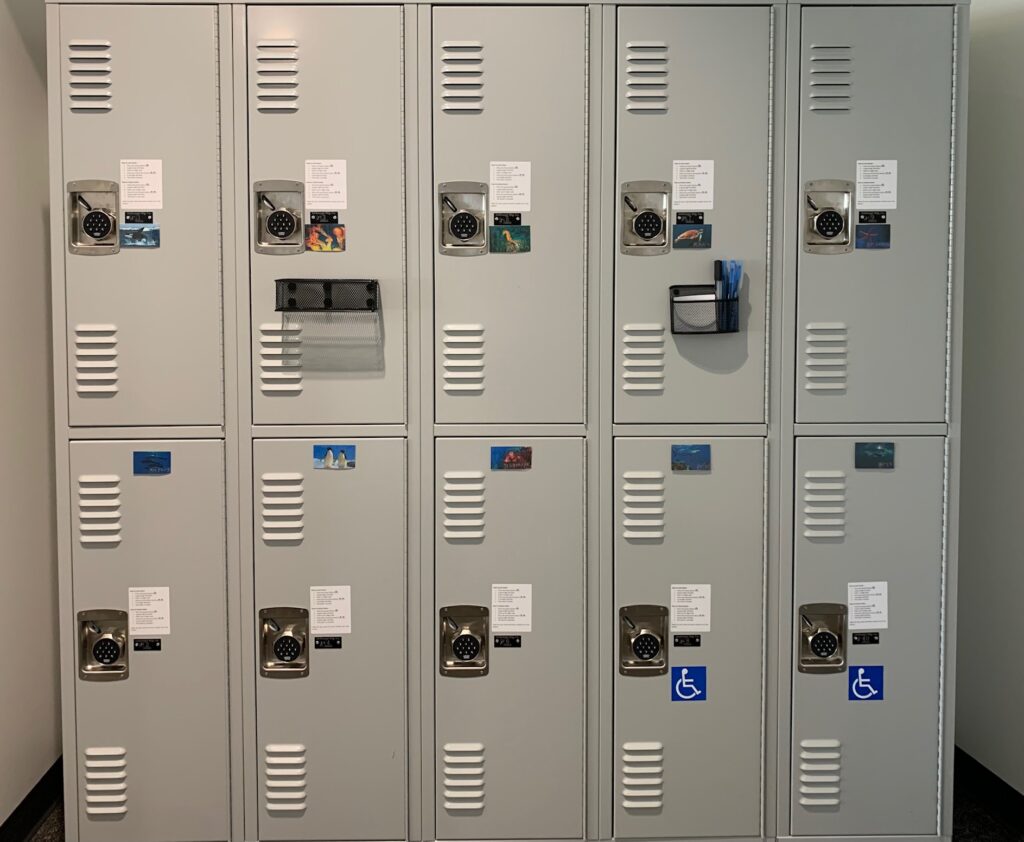 Masks are still required in the DRC, even while optional on campus. Please put on a mask before entering the office.
Our Hours
Office Hours: Monday – Wednesday: 8 AM – 5 PM, Thursday 8 AM – 3 PM, Friday: 8 AM – 5 PM
Testing Hours: Monday – Friday: 8 AM – 5 PM
Evening Testing: Available by appointment– please email drc@bellevuecollege.edu
Closures:
Tuesday, October 3rd , 8 AM – 11 AM (Fire Drill)
Wednesday, October 11th
Friday, November 10th
Thursday, November 23rd
Friday, November 24th
Finals: December 5th, 6th, and 7th
Please schedule your Fall Finals by Tuesday, November 14th
Scheduling your Final after November 14th could impact accommodations, and we may not have space to proctor the exam.
You can use the BC's Final Exam Schedule or check your syllabus for assistance in scheduling your final exams.
Information for Students:
To Schedule Your Testing Appointments with the DRC:
Log-in to MyDRC
In the menu on the left select "Alternative Testing"
Choose your class from the "Select Class" drop-down menu and click "Schedule an Exam"

If your class does not appear in this list either your instructor has chosen "Class Has No Exams" for the class or you have not requested testing accommodations for this class

Click "View All Upcoming Exam Requests" (if present) to see all exam requests already made for this course to avoid double-scheduling an exam
Please review the information boxes at the top of the Exam Request page carefully – they may provide information from your instructor about scheduling your exams
To schedule, find the Exam Detail box and completely fill out all required fields.

Test time should overlap with the class time when possible
Only choose the accommodations and/or "Required Technology" needed for each specific exam
Add any additional notes for the DRC (Instructor will NOT see these)

A successful submission will reload the page with a "System Update Is Successful" message at the top.
When scheduling your testing appointments online in MyDRC your instructor will automatically be notified via email. They will then deliver your test to the DRC for your scheduled test.
You can also modify and cancel testing appointments through MyDRC.
Other Ways to schedule:
You may also email the DRC directly to schedule your testing appointments, or to address any questions or concerns you may have.
If you encounter any difficulties with either of these scheduling options or would like more support with scheduling your tests, please contact us!
Request Testing Accommodations
Request your Testing Accommodations. Accommodations for testing can be requested at any time during the quarter, but they cannot be applied to tests already taken.
NOTE: When requesting accommodations for a class, testing accommodations are requested as a group. You will be able to choose specific testing accommodations when scheduling testing appointments.
Talk with your Instructor About Testing Accommodations
Please talk with your instructor about your testing accommodations and how they provide testing. If you or your instructor determine your tests should be proctored by the DRC please schedule your tests through one of the ways listed in "How to Schedule Tests" above or contact us for more support.
Respond to communication from the DRC and your instructor.
Check your Bellevue College email often and respond to all questions! It is important we receive timely responses to emails in order to appropriately support your testing experience.
Schedule your Exam Appointments
All tests must be scheduled in advance

Tests or testing space may not be available if not scheduled
Schedule your test at least one week prior to the test date if you need a Reader, Scribe, or ASL interpreter

Tests must be scheduled during Testing Center Hours

Check with your instructor about an alternate start time for exams if your schedule or the class schedule conflicts with our open hours

Tests should be scheduled to overlap with the class testing time.
If you need test outside of the class test time or on a different date:

Your request must follow the guidelines provided by your instructor on the MyDRC Test Proctoring Form; or

The DRC must receive approval from your instructor for the requested date and time.

You are expected to take the test in the same format as the class.

If the class is testing on campus, you should as well
If the class is testing online, you should test online too.

Notify the DRC office if a test is cancelled, or you no longer need to test with us.
If an unscheduled test is announced or a test date is changed, please Email us or make the appropriate changes in MyDRC as soon as possible!

Please CC your instructor on this email to keep them in the loop.
Your instructor will be automatically emailed if changes are made through MyDRC.
Arrive at the DRC Office, U001
Bring and use only the materials indicated by the instructor on the Test Proctoring Form.

Non-testing materials, such as Cell Phones, must be stowed in lockers provided in the DRC Office.
Feel free to bring snacks or drinks for during your exam! You can also ask the Front Desk for snacks and drinks.

No testing materials are allowed outside DRC Testing during the test appointment.
If you need to take a break, leave all of your materials in the testing room and notify the proctor when you leave and return.

Generally, breaks do not count against your test time. Breaks of excessive length or number may be reported to the instructor.

Please inform the Test Proctor of any personal or medical needs that may arise during testing.
Notify the proctor immediately should you encounter any difficulty during your test.
All tests must be returned to the proctor before the office closes for the day.
Testing is closed when Bellevue College or the DRC office is closed. In the event of an unexpected closure, all testing appointments will need to be rescheduled. Students can reschedule tests through MyDRC or by contacting the DRC Office.

Please sign up for BC Rave Alerts to receive urgent campus notifications.
Test appointments for finals must be made in advance. We will email deadlines and reminders for scheduling final exams every quarter. If you do not schedule your final, you may need to take your exam in the classroom.
Due to space limitations not all Finals with the DRC are taken in the DRC Testing Center. We reserve alternate spaces for other students to test. We limit noise and distraction in these spaces and spread students out as much as possible. When your Finals email reminder is sent the week before Finals, it will include your testing location.
Be sure to be on time when scheduling your final tests for the quarter!
Academic Dishonesty (aka cheating) will not be tolerated.
Academic Dishonesty includes, but is not limited to, cheating, plagiarism, and fabrication.
Use of cellphones, tablets, laptops, digital media players, smart watches, or any other WiFi capable device is strictly forbidden unless explicitly approved by an instructor or other authority.
All testing is monitored and recorded by closed-circuit cameras and computer-screen monitoring software.
All incidents of potential academic dishonesty will be documented and reported to the Manager of Student Conduct and instructors.
If there is suspicion of academic dishonesty:
The proctor or other DRC staff will approach you and remove any materials that you are not allowed to use on your test. This may include, but is not limited to, cell phones or additional notes.
Your test will be marked to indicate the items you have worked on with the unapproved test aides.
Screenshots from our closed-circuit cameras may be added for verification.
Your instructor will be sent an email explaining the situation; the Dean of Student Success will be CC'ed on this email.
Your instructor will determine what action will be taken regarding the test.

We encourage all instructors to treat cases of academic dishonesty as outlined in their syllabus and as they would with any student.

The Dean of Student Success also makes a decision as to whether to pursue a conduct case separate from the classroom.
Information for Faculty:
MyDRC is a database the Disability Resource Center uses to maintain student records related to accommodations. This database includes many modules, including one for the support of Alternative Testing Accommodations.
The MyDRC Test Proctoring Form allows faculty to fill out one form per course covering all students and all tests in the course for the entire quarter. Faculty can also copy a proctoring form from one course to another (using the MyDRC Faculty Portal) or request the DRC staff copy forms for them. Once the proctoring form is completed, Faculty will receive an email notification for each test appointment created for a student.
Faculty should complete the MyDRC Test Proctoring Form through the link provided in the Letter of Accommodation, as early in the quarter as they are able to do so. This form can also be accessed through the MyDRC Faculty Portal.
For more information on the different methods of submitting tests to the DRC, see "Receiving Tests" below.
Important:  The DRC will not accept tests delivered by students unaccompanied by their instructor.
Instructors can submit tests:
to our email, drc@bellevuecollege.edu
to our Front Desk in U001
to our Drop Box, outside the ground floor entrance to the U-Building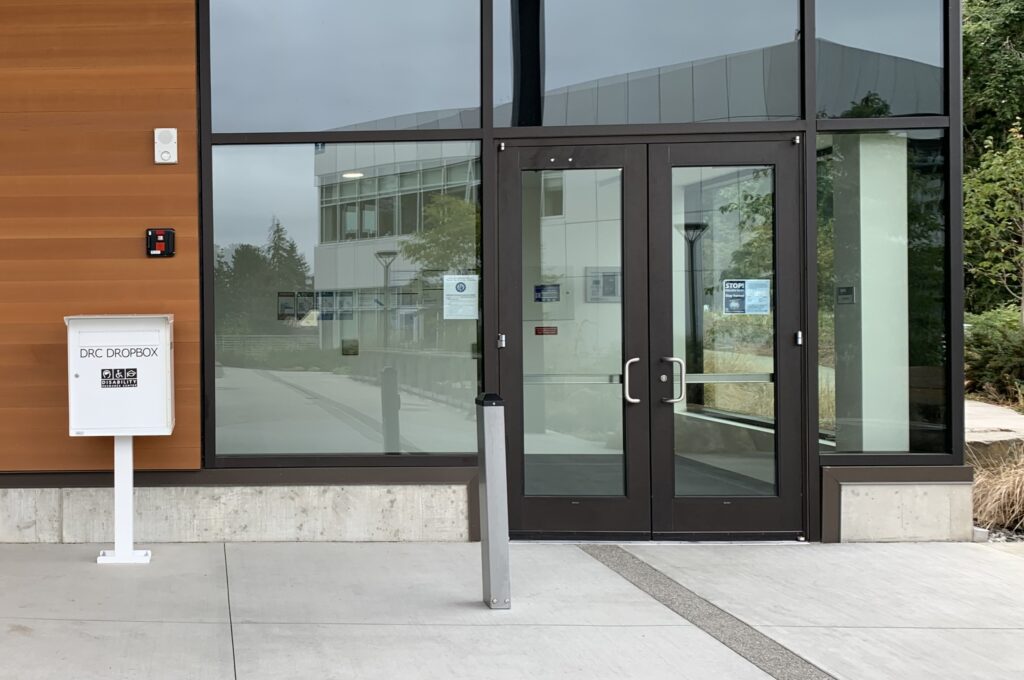 Instructors can receive their tests:
by downloading a scan from MyDRC Faculty Portal
as an emailed scan, with the hard copy sent via campus mail
in a tamper proof envelope delivered by their student
from pick-up in U001
by online test submission (Canvas, MyMathLab, etc)
We can also return any extra or untaken exams using these methods, or shred them at your request! Please let us know what you would prefer.
Last Updated August 17, 2023