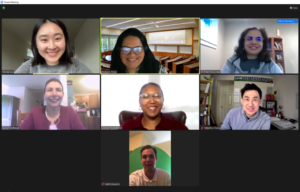 Even if you've taken High 5 before, we welcome you to dive into how to approach these 5 practices in blended instruction. Virtual classes present new challenges when compared to 100% on-ground classes. How do we build community, connect with our students, create clear assignments, and stay flexible as an instructor? What do the High 5 practices look like in the virtual classroom? This workshop provides you the opportunity to connect with colleagues while adding proven student retention strategies to your blended teaching toolkit.
After completion of this workshop, you will be able to implement strategies that help your students in your blended classes to:
Feel they belong right from the first day of class
Receive timely feedback and recommendations to improve assignments and participation
Access a variety of ways to interact with classmates and instructor
Increase academic confidence by receiving transparent assignments and assessments
Know their instructor has a structured course, but is also flexible when necessary
Poly-synchronous: October 6 – November 5 on Canvas
with two synchronous meetings, Fridays, October 8 and November 5, 2:30-4 p.m.
15 PD Hours | $250 stipend for faculty who complete the workshop deliverables.
This workshop is full. Waitlist Registration. 
For more information, contact Archana Alwar, Adjunct Mentoring Lead.
Last Updated October 30, 2021