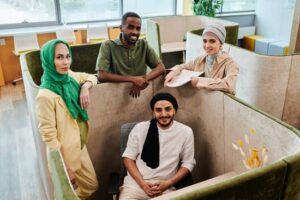 We know that each of us needs to engage in continual learning about how we and our institution perpetuate inequities and harm based on ingrained stereotypes of race, ability, religion, gender identity, language, age, personality, body type, socio-economic status, and other identities. In this workshop, participants will learn and reflect on ways that we subtly or unintentionally commit acts of exclusion, aggression, or abuse so we can identify them and respond.
The sources of our discussions will center on the following:
'We Need to Retire the Term "Microaggressions"' article by Ruchika Tulshyan.
Paul Gorski's, founder of the Equity Literacy Institute, article "Avoiding Racial Equity Detours."
Yolanda Flores Niemann, University of North Texas, video-recorded series of discussions about subtle acts of exclusion students have experienced in school.
Alison M. Parker's overview of literature in her article, "Intersecting Histories of Gender, Race, and Disability."
Luke Wood and Dr. Frank Harris' webinar entitled "Responding to Racial Bias and Microaggressions in Online Environments."
These five resources will lead us through our discussions and provide us with an intervention process for when we are witness to more subtle forms of discrimination at the college. Carol Leffall and Tonya Estes humbly invite you to join us for three 2-hour discussions this summer.
Learning Objectives:
Develop understanding of biases and aggressions to be able to

evaluate why "microaggressions" are actually aggressions and abuse and how they connect to structural oppression
reflect on our own biases
recognize the real-life effects of biases towards historically oppressed groups, including adverse outcomes associated with experiencing biased environments
use approaches to decrease bias-based interactions
respond to bias-based aggressions when they occur
Synchronous Sessions: Mondays, July 11, 18, 25, 10:30 a.m.-12:20 p.m.
12 PD hours | $300 stipend* approx. 6 synchronous and 6 independent hours. Must participate in all synchronous sessions to receive the stipend.
This workshop is now full. Waitlist Registration.
For more information, reach out to Carol Leffall (iBIT), Tonya Estes (Faculty Commons)
Last Updated February 28, 2023