News, honors, events, and happenings around the BC campus…
TEDx Coming to Bellevue College
Bellevue College was recently chosen to organize a TEDx event that will be held on campus this February. TEDx is designed to help communities, organizations, and individuals spark conversation through a series of live presentations. BC will draw on the expertise of our faculty, staff, students and community to deliver "ideas worth spreading." Stay tuned to BC Today and our social media accounts for more information.
Paul Arithi to Lead DRC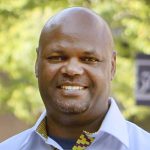 Paul Arithi has been named director of the Disability Resource Center. Arithi is multilingual and has valuable teaching experience at the college level, in high school general and special education. Arithi holds a postgraduate certificate in legal studies from Metropolitan Community College in Omaha, Nebraska, a Master of Arts in Teaching/Special Education from Webster University, Missouri, and a Bachelor of Education (Arts) from Kenyatta University in Kenya.
Alonda Williams,New Director of Marketing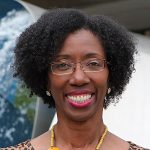 Alonda Williams has joined BC as director of marketing, community relations and enrollment management marketing. She provides leadership and supervision for all marketing and communications outreach, enrollment and retention marketing and the college's ongoing 50th anniversary celebration. Williams has over 20 years of marketing leadership experience with several Fortune 50 companies, and came from Microsoft where she most recently served as Senior Director, Education Marketing. Williams earned her undergraduate degree from Montclair State University and her MBA from Rutgers University.
OLS Receives Annual Award of Excellence for Student Success
For the past eight years, BC has offered an innovative associate degree in Occupational and Life Skills (OLS) for adults with cognitive disabilities. OLS at BC was selected as one of four finalists for the American Association of Community Colleges (AACC) annual Awards of Excellence in the Student Success category. OLS was also selected as a 2016 Bellwether Award finalist. The award recognizes outstanding and innovative programs and practices that successfully lead community colleges into the future.
Margin of Excellence Winners Named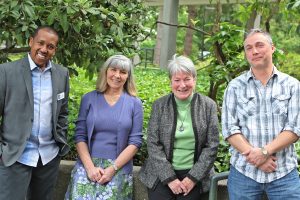 Winners of the annual BC Foundation Margin of Excellence Awards were presented in June at the annual Year-End Celebration. Winners shown (L to R)
Classified Employee Award, Zak Yousuf, TRiO Student Services
Administrative Exempt Award, Rusty Wire, Athletics
Part-Time Faculty Award, Frances Jurcik, Nursing
Full-Time Faculty Award, Eric Nacke, ESL Developmental Education
The awards recognize outstanding faculty and staff members who demonstrate a commitment to excellence through their contributions to the campus and to the community.
Hoops and Hollering: Experienced Coaches Share Skills with Young Dribblers
As a BC student, Marcus Tibbs played basketball for the Bulldogs under Jeremy Eggers. Tibbs, who is in his second season at BC as an assistant basketball coach, was in charge of the day-to-day operations of BC's annual basketball summer camp which is open to boys and girls grades 2 through 8.
BC's "Bike Everywhere" Participants Prove Pedal Power
In May, students, staff, and faculty participated in the Bike Everywhere Challenge, hosted by the Cascade Bicycle Club, racking up 297 trips and 1,932 miles. The event involved more than 700 businesses and organizations across Washington State and BC's team placed in the top half of all participating teams. The top BC participants were:
William "Russ" Payne, biked over 32 trips equaling 500+ miles
Nicole Swan,  biked 22 trips equaling 316.2 miles
Jerry Bunce, biked 14 trips equaling  338 miles
Other BC participants included: Kevin Vance, Harlan Lee, Ron Austin, Johnny Diehl, Kintea B., Brian Casserly, Elaine Emi Davis, Sarah Fisher, Alison Mackenzie, Brad Huggins, Michael Reese, Rick Glover, Travis Lilly, and Debi Griggs.
BC Foundation Luncheon Raises Nearly $300,000
Sports analyst and former Seattle Seahawk Mack Strong emceed the BC Foundation's 17th Annual "Become Exceptional" Luncheon on April 27 at the Meydenbauer Center in Bellevue. Nearly 700 community and business leaders attended the Foundation's biggest fundraising event of the year, raising $299,163.
Dr. Barge Speaker at Oxford Symposium
Dr. Gayle Colston Barge, BC Vice President for Institutional Advancement, was a presenter at the Oxford Women's Leadership Symposium in Oxford, England in December. Barge is a recognized expert on African-American women and work-life balance, with more than 30 years' experience in marketing, communications and public affairs.
BC Celebrates Earth Week
BC held its 17th annual Earth Week celebration in April, exploring the theme "Think global, act local." Events to promote environmental and social awareness and the sustainable use of our planet's resources included lectures and workshops throughout the week featuring BC instructors, as well as speakers from the National Wildlife Federation, Seattle Tilth, Eidon, Mountains to Sound Greenway, Bike Works, and Alaska Airlines.
Science Division and SAMI Host Open House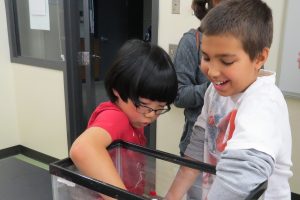 BC's Science Division and SAMI (Science And Math Institute) held an open house for the community on Saturday, June 4, with over 50 hands-on, fun, educational activities and demonstrations in science, technology, engineering, and math. Fifteen BC faculty and 35 student volunteers helped about 500 visitors in microscope viewing, physics demos, circuit making, and lots more.
Health Kids Fair Celebrates Family Fun and Wellness
In March, the 6th Annual Healthy Kids, Healthy Families Fair, was presented by BC's Parent Education Program and Parents Advisory Committee (PAC), with support from the Apothecary Society. The free community event featured a musical guest, exhibits, demonstrations, healthy snacks, creative activities, mini lectures, a raffle and more. The exhibitors and raffle helped the PAC raise nearly $5,000 to support the Parent Education Scholarship Program.
Hunter, Fukutaki Join Board of Trustees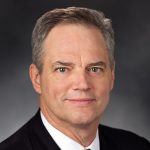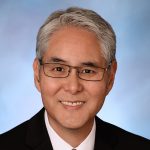 In the past year Washington Governor Jay Inslee has named two new members to the six-member BC Board of Trustees. Ross Hunter, of Medina, joined the board in December, following Richard Fukutaki, of Bellevue, who came on board last September. Marianne Albay, the new student trustee, began her term on July 1 for the 2016-17 academic year. She follows David Kook who was student trustee for the 2015-16 academic year.
Last Updated October 3, 2016