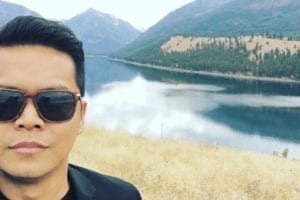 BC alum's second act shines spotlight on interior design
Blame it all on Chip and Joanna.
Daniel Cruz had an enviable career as a professional dancer—one many could only dream of. He worked with artists such as Prince and Macklemore  and for choreographers such as Wade Robson, Brian Friedman, Marguerite Derricks, and Tabitha and Napoleon D'umo. He appeared on the MTV Video Music Awards, the BET Awards, in music videos and on So You Think You Can Dance. He traveled the U.S. and abroad on the first national tours of In the Heights and Fame: The Musical. There were commercial spots and halftime gigs. The list goes on and on.
But between performances, Cruz found himself watching HGTV. He was drawn to shows such as Design Star, where designers compete in different challenges every week, and, of course, Fixer Upper with Chip and Joanna Gaines.
"I wanted to make a career change from dance and theater," said Cruz. "(HGTV) made designing interiors look fun to do, and I knew I had to find something that I would love and have fun doing."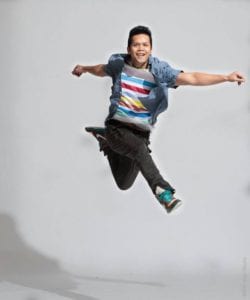 Based part of the time in Seattle, Cruz decided to enroll at Bellevue College because of its highly reputable interior design program and location. He quickly established himself as a student to watch. Cruz immersed himself in the program, and while full-time school and part-time work kept him from joining student clubs, he did carve out time to work with a professor and a group of fellow students to pitch a schematic design for an office area on the BC campus.
"Most of my professors were memorable," he said. "They encouraged, challenged and made the experience (at BC) meaningful."
It comes as no surprise that Cruz's favorite school project—a capstone— incorporated his experience in dance, using improvisational dance techniques as a metaphor in choreographing the spatial and experiential design of the project."It allowed me to partner two disciplines in one project mirroring the path I was on, the transition from dance to design," he said.
While a student at BC, Cruz's work caught the attention of not only his peers, but industry organizations as well, receiving awards and a nomination for his designs. As a sophomore, his retail project was voted the People's Choice Award in the International Interior Design Association's (IIDA) Marked Up competition for interior design students in the Pacific Northwest region.
As a senior, his student portfolio, consisting of works from his four years at BC, received first place in Wilsonart's portfolio competition at the INawards (The IIDA Northern Pacific Chapter's annual awards ceremony) at McCaw Hall. His work was also nominated for the Gray Award from the Pacific Northwest's leading design publication in the Student Design/Open Category.
Cruz graduated with his bachelor's in interior design in Fall 2018 and began working as a designer for Perkins + Will in Seattle. He remains active in the dance community as a teacher, choreographer and mentor for young dancers in the Seattle area and in his dance company, Cruz Control.
"The interior design program gave me a new outlet to express my creativity, and now I have the best of both worlds, whether it's design or dance," said Cruz. "I have an exciting opportunity to work on a local project at Perkins + Will that's going to impact our community in the near future, and I still mentor a group of dancers I worked with on a regular basis. I'm having fun, and doing what I love."
– by Evan Epstein
Last Updated July 11, 2022