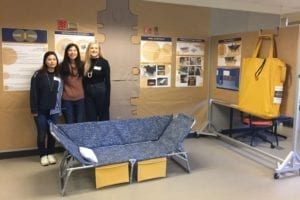 Students design shelter prototypes for people experiencing homelessness
On any given night, more than 12,000 people in King County will experience homelessness. Numerous organizations open their doors in the evening to provide shelter, generally offering mattresses rolled out on the floor and bins for belongings. Bellevue College interior design faculty member Michael Culpepper wanted his students to consider how to make shelter space more efficient while also designing something that meets more than basic needs: He wanted his students to consider the dignity of those using the space.
"An engineer can make a space usable, but interior design can add a layer of meaning and impact to  a space and its usefulness," said Culpepper.
Culpepper reached out to St. Paul's Episcopal Church, which hosts an overnight women's shelter  in the parish hall seven days a week through SHARE/WHEEL (Seattle Housing and Resource Effort/ Women's Housing Equality and Enhancement League). As it turned out, the church was looking for ways to improve the shelter setup. When occupants arrive in the evening, mattresses are  rolled out on the floor and the women's belongings are placed next to their bed. Each morning mattresses are rolled up and belongings are placed in a plastic bag. Everything is stacked in a corner, leaving the space feeling cluttered and chaotic.
Students enrolled in  Interior Design Experimental Studio were faced with a tall order to complete in just 11 weeks: making the space more efficient and secure, while also designing it to foster community. Additionally, students had to ensure a universal usability to their design as well as one that protects the health of those using the space, such as creating an environment hostile to bedbugs.
"With this project, students not only had to work with real clients with real needs, but there were three clients: St. Paul's, SHARE/WHEEL and the people who would be sleeping in this space," said Culpepper.
Students met with representatives from SHARE/WHEEL, including women who had experienced homelessness, to talk about the challenges and needs of  this type of shelter. Empathy for others, said Culpepper, was imperative for their projects to succeed. The students needed to develop a deeper understanding of the myriad issues  facing a homeless individual.
"When I signed up for INDES 372, I knew I would design and build a model for a homeless shelter," said senior interior design student Sara Vallerie. "What I did not expect was to realize how little I understood about the challenges facing the homeless population. The best part (of this studio class) was meeting with local community leaders and homeless advocates to discuss how our prototypes could be used to help."
After meeting with their clients, the students hit the ground running to research shelters, possible materials and the idea of place/home.They also examined case studies of applicable luggage and furniture.
For an experimental studio to work, students needed to make full-scale prototypes to actually see how design affects space — not a low-cost endeavor. Fortunately, Culpepper was able to work with the Bellevue College Foundation to secure funding through the Walter Baz Scholarship Endowment to not only cover the materials for students to build their prototypes, but to bring on industrial designer Jeff Day as a visiting critic to help students navigate the building and 3D printing components of the project.
Students were divided into three groups, with each group developing a full-scale model. The designs ranged from foldable furniture and partitions, to frames that stacked up during the day like shopping carts and were tucked away in cabinets, to lounge chairs that turned into beds. All three groups worked to ensure the occupants would enjoy a sense of space, a sense of privacy and a sense of community.
"The students worked really hard, and their ideas are still out in the community," said Culpepper. The designs, he said, were not just functional, they were beautiful.
At quarter's end, Culpepper invited the clients and members of the community, including local governmental officials and advocacy agencies, to view all three prototypes, along with preliminary drawings and models, in an exhibition. The reception was overwhelmingly positive, with community leaders taking note and partnerships forged.
Actually seeing how design affects space, and how the project evolved into a service-learning opportunity, inspired more than just the students enrolled in the class. It galvanized further student action, as the Interior Design Student Association began a partnership with Mary's Place, which provides safe, inclusive shelter and services that support women, children and families on their journey out of homelessness.
Culpepper's hope was to help his students understand the effect that design can have on a space and  that good design isn't just for the affluent. "I wanted to help students think about their career differently," he said. "It's not just about design. It's also about the application of that design in the real world — they're creating useful and beautiful spaces."
– by Evan Epstein
Last Updated July 31, 2019