News, honors, events and happenings around the BC campus…
2019 All-Washington Academic Team
Chelsea Rivas and Julie Randazzo
Members of the 2019 All-Washington Academic Team were honored by Gov. Jay Inslee in a recognition ceremony March 21. Honorees received medallions from their college presidents and a scholarship. Chelsea Rivas will graduate with an associate degree from Bellevue College and plans to pursue a bachelor's degree in interdisciplinary social sciences with an accessibility studies minor at Central Washington State University. Julie Randazzo will graduate with an associate degree in accounting at the end of Fall Quarter 2019 and plans to continue her education to become a certified public accountant.
BC Illuminates
In March, the Library Media Center launched BC Illuminates, a two-day festival designed to connect the King County community with inspiring storytellers and creators ranging from traditional novelists to those working in the cutting-edge medium of virtual reality. Topics at the festival ranged from sustainability to civil rights, delivered by diverse voices to help broaden understanding of the culture and peoples who shape the rich tapestry of the Pacific Northwest.
Diversity Award
In November, BC's Office of Equity and Pluralism received the College Diversity Award at the 23rd Annual Washington State Faculty and Staff of Color Conference. The annual award recognizes a Washington college that "exemplifies diversity and inclusion initiatives, and ability to embrace a broad definition of diversity on campus, including gender, race, ethnicity, veterans, people with disabilities, and members of the LGBT community."
INawards 2018
Daniel Cruz and Kristin Hensley
Presented by the International Interior Design Association Northern Pacific chapter, the INawards showcase the multifaceted profession of interior design through a juried design competition held in inspiring venues throughout Seattle. This year two Bellevue College students, Daniel Cruz and Kristin Hensley, were named student portfolio winners.
BC Hosts Scholar from Shanghai
BC's Health Sciences, Education & Wellness Institute hosted a visiting scholar Fall Quarter. Qin He, a psychology and health education instructor from Sanda University in Shanghai, studied how health education and psychology are taught at Bellevue College and in area high schools.
Accreditation Team Visits Bellevue College
In March, Bellevue College welcomed an eight-person evaluation team as part of the Northwest Commission on Colleges and Universities' regional re-accreditation. This comprehensive evaluation occurs once every seven years.
Creating Mentors for Digital Marketing Program
iBIT's marketing program has begun a series of meetings and class visits designed to develop graduate students from Seattle University's Albers School of Business and mentors (and Albers professors and industry partners as internship providers) for students in the BAS digital marketing program.
Ashlin ParkernHighlights BC's Jazz Band Festival
The Music Department held its 23rd Annual Bellevue College Jazz Band Festival Jan. 31–Feb. 2 with a special guest artist, New Orleans trumpeter Ashlin Parker. Forty middle school, high school and college jazz bands and combos participated over three days.
Workforce Education Partners with United Way
Workforce Education partnered with United Way to launch Benefits Hub, which provides a range of free financial services for students, faculty and staff, including emergency assistance, personal finance tutoring, tax preparation, financial aid and more.
Global Game Jam Hackathon Held
The RISE MakerSpace hosted the Global Game Jam hackathon Jan. 25–27. Students worked on teams to build games. It was also the college's first overnight event in nearly a decade and will help establish protocols for the 24-hour campus of the future.
Encouraging Students with Disabilities to Study Abroad
English Professor Li Liu, who also runs BC's study abroad program, presented on disability inclusion at the 43rd Annual Community Colleges for International Development Conference in San Diego. Her focus was on increasing opportunities for students with disabilities to participate in international exchange programs.
National Council for Marketing & Public Relations (NCMPR) Awards
The NCMPR Medallion Awards recognize outstanding achievement in design and communication at community and technical colleges in each of NCMPR's seven districts. This year BC's Office of Institutional Advancement received a Gold Award, two Silver Awards as well as two Bronze Awards. The team also picked up a national NCMPR Paragon Award.
BC Reads! Chooses March Graphic Memoir Trilogy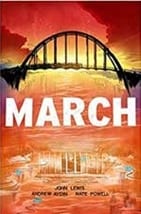 The BC Reads! selection for the 2018–19 academic year is not one book but three. The graphic memoir trilogy March, by U.S. Rep. John Lewis, Andrew Aydin and Nate Powell, chronicles Lewis' early life, beginning as an Alabama sharecropper's son attending segregated schools. It also recounts his involvement with nonviolent protests to fight segregation and later his address to over 250,000 people alongside Martin Luther King Jr. at the August 1963 March on Washington for Jobs and Freedom. The books portray the profound events of the Civil Rights Movement in the United States through Lewis' personal account of his lifelong struggle for civil and human rights, starting as a student activist for civil rights in the 1950s. He has served as a U.S. representative for Georgia's 5th Congressional District since 1987 and in 2011 was presented the Presidential Medal of Freedom by then-President Barack Obama. The graphic novels' interior pages have the look of a comic book, to appeal to the many young people Lewis hoped would read the books. But make no mistake, it is a substantial work of memoir and history that will resonate with teens and adults alike. The artist who illustrated the books with black-and-white pen-and-ink drawings, Nate Powell, received the 2016 National Book Award for his work on the trilogy, making Powell the first cartoonist to receive the award.
Book One spans Lewis' youth on an Alabama farm, his life-changing meeting with King, the birth of the Nashville Student Movement, and the students' battle to tear down segregation through nonviolent lunch counter sit-ins. It builds to a riveting climax on the steps of City Hall.
In Book Two, Lewis relates his increased commitment to change the world through nonviolence after the successful Nashville sit-in campaign. When Lewis and his fellow Freedom Riders board a bus in the heart of the Deep South, they are unaware of how viciously they will be challenged.
Book Three concludes Lewis' firsthand account of the civil rights era and spotlights pivotal moments in the struggle, including the bombing of the 16th Street Baptist Church in Birmingham, Alabama, the Freedom Summer murders, the 1964 Democratic National Convention, and the Selma to Montgomery marches.
Faculty Awarded Tenure 2018–19
• Amy Swanson
Health & Physical Education
• Carl Freeberg
Business Intelligence
• Elena Maans
Library
• Heath Hayden
Library
• Luke Rawlings, Ed.D.C.T.
Mathematics
• Ron Holland
English
• Sajonna Sletten
Basic and Transitional Studies
• Gwynne Crowder,Ph.D.
Physics
• Shana Chung
Health Management and Leadership
• Sharon Romppanen
Early Childhood Education
• Yancy Chow, Ph.D.
Business Administration Transfer
• Donald Rowe
Accounting
• John Lott
Neurodiagnostic Technology
• John Passmore
Interior Design
• Jun Xu, Ph.D.
English
• Trevor Gamble, Ph.D.
Physics
• Yu-ting Su, Ph.D.
Counseling
• Ariane Hayes-Kouadio
Allied Health
• Fatma Serce, Ph.D.
Computer Science
• Lisa Lapointe
Library
• Dana Vukajlovich
Oceanography/Science
• David Spataro, Ph.D.
Political Science/Social Sciences
Last Updated July 31, 2019