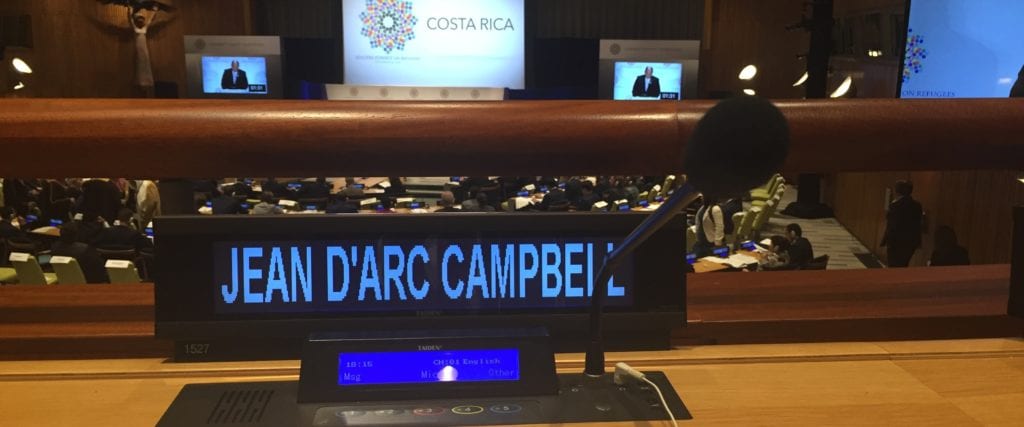 The remarkable journey of a BC dean who chose hope, and found family, in the face of adversity
Imagine that after being rescued by the United Nations from the Hotel Rwanda, the plane you're on, destined for Kenya, is endlessly circling because the country you're  trying to enter isn't sure it will let you.
The story of Jean D'Arc Campbell, Bellevue College's dean of International Education and Global Initiatives, could have taken a much darker turn if Kenya had refused to allow the plane to land. Fortunately, it did.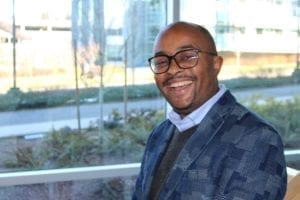 The Congolese-born Campbell has an easy, bright laugh even as he talks about what happened next — shortly after he exited the U.S. Embassy in Nairobi while beginning the immigration process, the building exploded. It was the terrorist attack that brought Osama bin Laden to the attention of the world, and it effectively marooned him, at age 27, in a foreign country without his paperwork. He would spend the next four years in a refugee camp. All he owned were the clothes he was wearing.
But it was there that he found the woman he now calls sister, a remarkable new family on the other side of the world, and a career that would eventually land him at the Leaders' Summit on the Global Refugee Crisis hosted by then- President Barack Obama at the United Nations.
Elizabeth Campbell, now a director at the United Nations Relief and Works Agency and a former senior humanitarian policy advisor for the U.S. Department of State, was a study abroad student from Michigan when they met at the refugee camp. Jean D'Arc Campbell recounts that at first, he couldn't speak English, and she couldn't speak French.
"We couldn't communicate through words, but still, we found a mutual, human connection through the heart," he said.
It was the beginning of an extraordinary friendship that both found healing.
"I lost so much, but I survived. I felt like I didn't have the right to com-plain or give up. It would have been an insult to those around me who'd died," Campbell said.
The bond was so strong that Elizabeth Campbell decided she couldn't leave her friend in the camp when it was time for her to return home. She asked her family to sponsor him, and they did. He began a new life in a small town in Michigan, still speaking little English.
He got a job as an assistant soccer coach for the local high school team but endured suspicion from a nearly all-white community. That changed after the team traveled to France — his fluency in French made the trip a resounding success. After a year he received some unexpected but welcome news — he was going to be adopted by Elizabeth's parents, and officially become a Campbell.
Still, some weren't convinced of his potential. He was discouraged by a counselor from pursuing a higher degree. But he pursued one anyway and went on to win awards for academic excellence and leadership, including the All-USA Academic First Team by USA Today; the Centennial Scholar for the state of New York, an award given to a top community college student in each state by the Coca-Cola Foundation; the State University of New York Chancellor's Award for Student Excellence; and the Clifford  D. Clark Graduate Fellowship by Binghamton University.
It wasn't hard for him to decide what to do with that education — serve students so they could have opportunities, too. Prior to signing on at Bellevue College, Campbell was the director of international education initiatives for the district campuses of Portland Community College for nine years. In his expanded role at BC, he's helped to increase international enrollment and create bridges with other countries, such as the Democratic Republic of the Congo, France, Belgium, Japan and China. His personal story now inspires others. "I've seen how fear and divisiveness can wreck a country, but I've also seen how acting with hope,  love and generosity of spirit can bridge any distance," said Campbell.
His work led to an invitation that at first Campbell thought was a joke. In September 2016, he was asked to participate in the Leaders' Summit on the Global Refugee Crisis.
In his remarks, Obama stated, "Imagine the suffering we could ease, and the lives we could save, and what our world would look like if, seeing a child who's hurting anywhere in the world, we say, 'We will give him a family and he will be our brother.'"
Facing death taught Campbell to live in the moment and be an active force for good every day. By overcoming hardship and thriving in many parts of the world, he found the humanity in others. He noted that his adoptive father was incredibly proud when he saw the Campbell name on the list of official invitees for the summit.
"Family is a state of mind, defined by love," said Campbell. "My story is just a human story."
– by Nicole Beattie
Last Updated August 1, 2019