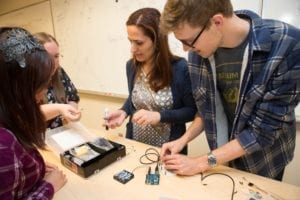 Taking a chance on the new Bachelor of Science in computer science program paid off big time for Erik Uri, its first graduate
What computer programmer wouldn't want to work at Microsoft? Recent Bellevue College grad Erik Uri is thrilled with his new position as a software engineer there. He credits faculty in the college's computer science program, as well as support staff in its Autism Spectrum Navigators program, for helping him land the job of his dreams shortly after graduating.
Uri tried other colleges (and spent some time programming as a free- lancer) before deciding to pursue computer science at Bellevue College. His initial plan was to get an associate degree and then transfer to another college or university that offered a BS in computer science.
As he was taking classes, he heard a rumor that BC was planning to launch its own BS in computer science. That rumor proved true. The college announced the new degree in January of 2017, and he was one of the first to apply.
"It was a lot of fun, and hard work. That first class was small so we got one-on-one time with faculty, and our experience helped inform the curriculum. I felt like I made the right choice. BC had a more professional atmosphere than where I'd studied before and the classes were at a higher level, but at the same time there was a lot of support, too. It was a great mix."
He's particularly proud of the work on his team's capstone project. The students developed an application that turned Alexa into a personal assistant so that a Bellevue College student could ask it for a class schedule, grades or even upcoming assignments. BC professor Fatma Serce, who is the computer science program chair, helped Uri develop his project management skills.
"Erik was one of my brightest, most talented, caring and dedicated students that it has been my pleasure to teach. He was always an active participant in the class and in the program. He is truly a standout individual who will impress every- one he meets," said Serce. "I am so proud of Erik—he is achieving his dreams!"
One of the support programs he engaged with was Autism Spectrum Navigators, which offers individualized advocacy and access services as well as educational opportunities for autistic Bellevue College students.
"ASN gave me useful strategies to problem-solve when I ran into a roadblock with a class or professor and helped me identify my strengths and weaknesses. That gave me confidence to participate in other activities, like the Speech and Debate Society. I eventually became its president and won awards in championship tournaments."
The admiration runs both ways. Sara Gardner, ASN program director, said: "One thing that stands out to me about Erik is his willingness to use the resources available to him. When he hits a barrier, as everyone does, Erik reaches out within his network to find support for his continued success. I believe this habit will continue to serve him well and take him far."
Gardner works with Microsoft to connect students with its Autism Hiring Program and helped Uri understand the opportunities it presented. Uri also credits William Mortl, an adjunct professor at BC and a Microsoft software engineer, with preparing him for the interview process.
The result of all that hard work? A successful interview at Microsoft followed by a job offer shortly after he graduated. He enjoys his new colleagues, as well as the collaborative nature of software engineering.
"I would highly recommend Bellevue College for anyone considering entering computer science. It was definitely the best investment I could have made for my future," Uri said.
– by Nicole Beattie
Last Updated July 31, 2019