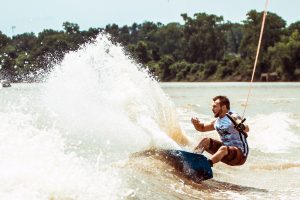 Eddie Roberts used to spend his days on the Bellevue campus, studying marketing, taking astronomy classes in the planetarium, or skating to and from classes while soaking up the view. These days, the '05 BCC graduate can usually be found on the water or flying through the air, doing things like a "toeside off axis 540" or an "ollie 180."
Roberts, who earned an associate degree from Bellevue in marketing management, is a pro wakeboarder, sponsored by the likes of KRAVE Jerky, Ronix Wakeboards and Radar Skis. He's a regular on award podiums, and added a 2013 national championship to his honors.
More than a decade after studying at BC, Roberts looks back fondly on his years in Bellevue.
"I came to Bellevue right after I graduated from Mount Si High," he said of his decision to go to college 20 miles up Interstate 90. "The convenient location and the transfer programs are what attracted me most to BCC.
"Studying marketing and business at BCC really set me up for success with a lot of ventures moving forward, and put me way ahead by the time I transferred to Central Washington University," Roberts said. "The sales and marketing that I learned… put me ahead of where I would be if I had only studied what I did in Ellensburg."
To Roberts' classmates, his accomplishments might not come as a surprise. His roots run deep in the water. His father was a big part of helping wakeboarding get off the ground in the 1990s, and family pictures show Eddie on waterskiis at age 5. BC's student newspaper caught up with him in June 2007, and his advice to business students considering starting a company was "be prepared to dedicate every minute of your time to it, and every ounce of energy."
In the years since, Roberts has done just that, helping grow several ventures including Buddha Brothers Media, known nationally for its custom designed artwork for trucks, boats, trailers, beverage cans and the video game industry. He's also active in everything from modeling to watersports.
As Bellevue College prepares to celebrate its 50th birthday during Homecoming, Roberts looks back and sees the college's growth today.
"BC has definitely grown and changed," Roberts said. "But every time I come back to visit I love that familiar feeling."
And those familiar campus hills.
"The hills are mellow but plenty fast. I propose a skateboard race during the 50th anniversary celebration!"
He's kidding. Right
– by Chris Fiscus
Last Updated October 3, 2016