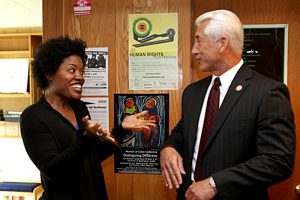 The Knight-Wallace Journalism program at the University of Michigan named Sonya Green, 91.3 KBCS News and Public Affairs Director, to serve an eight-month term in the prestigious fellowship program for the 2016-17 academic year.
The Knight-Wallace Fellowship recognizes exceptional mid-career journalists for their work, leadership and potential in the field. The program offers specialized work and experiences to deeper develop each fellow's particular area of focus. Green is among the 13 American and nine international journalists chosen for the program. During her tenure, Green plans to further explore the impact of white privilege on how news is covered.
"Being selected for the Knight-Wallace Journalism Fellowship is an honor and a privilege," Green said. "I'm excited for this amazing opportunity to grow personally and professionally."
Green will take a leave of absence to participate in the program at the Wallace House, (donated by former 60 Minutes anchor, Mike Wallace) to pursue customized studies and attend twice-weekly seminars. Knight-Wallace fellows are immersed in training, narrative writing and multi-platform journalism. International news tours to destinations such as Turkey and Brazil are also a core component of the experience.
Green's rising career has been catching recognition through various channels, from the Colorado Association of Black Journalists Scribe Award to an Emmy nomination. In 2011, Green was named Woman of the Year by the Bellevue chapter of the Business and Professional Women's Foundation for her professional, personal and community work. Green led her team at KBCS to be selected as the awarded station for a grant-funded project #WTFlux, paired with independent producer Mona Yeh as the team for AIR's Localore: Finding America initiative. She is a mass communication graduate of the University of North Carolina at Greensboro.
– by Walter Garrido
Amy Goodman Visits; Records Democracy Now! Episode at BC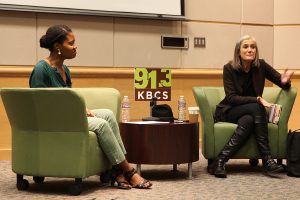 Journalist, columnist, investigative reporter, and author Amy Goodman recorded an episode of Democracy Now! in the Bellevue College Television Services studios in May. Democracy Now! airs weekdays on 91.3 KBCS at 6 a.m., 8 a.m. and 5 p.m.  Goodman came to the BC campus as part of the promotional tour for her new book, "The Silenced Majority," written with Denis Moynihan. Goodman has also co-authored five New York Times bestsellers. After recording the episode, Goodman met with students and community members for a listener Q & A session moderated by Sonya Green.
Last Updated October 3, 2016