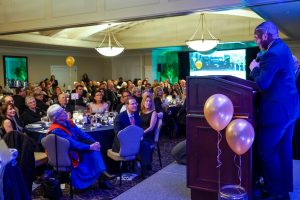 Not even freezing temperatures, snow and a Seahawks playoff game could keep over 200 people from attending Bellevue College's 50th Anniversary Gala held Saturday, Jan. 7 at The Golf Club at Newcastle. The formal affair celebrated the institution's golden anniversary while also raising funds to benefit students.
The evening began with cocktails and a silent auction held in the Prestwick Terrace, followed by fine dining in the St. Andrews Ballroom, live bidding for a range of incredible auction items like a Viking River Cruise, instant wine cellar, several trips, and 'dates for a year' package, and ended with an after party where guests mingled, enjoyed sumptuous desserts, and danced the night away.
The Bellevue College Foundation and 50th Anniversary Gala committee organized the event, and by the time the night was over, more than $225,000 was raised to help students achieve their higher education, and life, goals.
"It was wonderful to see such a large and diverse group of community and business leaders brave the elements to support Bellevue College and its current and future students," said BC Foundation executive director Rebecca Chawgo. "It was a great way to culminate our 50th Anniversary, and to provide funding supporting student success and academic innovation at a lovely event where people genuinely had a good time—the dance floor was still crowded well after midnight."
A new endowment from Berthe and Stanley Habib was also announced during the program. The Habibs donated $250,000 to endow a scholarship for students in Bellevue College's new Bachelor of Science in Computer Science program. The evening also offered a surprise to the College's retiring athletics director Bill O'Connor with the announcement that the center court in the College's Courter Family Athletics Pavilion will be named after him, an honor made possible by a generous new gift from the Courter Family.
The gala capped off a year-long series of 50th anniversary celebratory events that recognized the importance of community contributions to the success of the institution, and its students. Bellevue College has grown from its start in 1966 with fewer than 500 students into the third largest institution of higher education in the state of Washington, offering 12 bachelor's degrees in addition to associate and certificate degree programs.
– by Nicole Beattie
Last Updated January 26, 2017