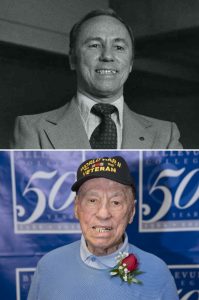 Bellevue College has a reputation for innovation, and Dr. Boyd Bolvin, a technical visionary and one of BCC's first hires, has a lot to do with it. Bolvin, the former associate dean of instruction and director of Learning Resources, brought major technological innovations to the campus and kept it on the cutting edge.
In the summer of 1965, Bolvin was finishing his Ph.D. program in instructional technology at the University of Southern California when Dr. Merle Landerholm, the first president of Bellevue Community College, reached out.
Landerholm asked him to develop a library-media program for the yet-to-be-built college, and in August of 1965, he began to build the library collection.
"Bellevue Community College opened its door to students on January 3, 1966, at Newport High School in Bellevue, where we were the evening school from 6-11 p.m. We were there until the fall of 1969, when we moved the library collection to the newly constructed library at the new BCC campus," Bolvin said.
Bolvin combined the library with the audio/visual department – a cutting-edge idea in 1968. At that time schools had libraries and also audio-visual departments that were separate, but Bolvin recognized efficiencies that could be attained by combining the two into one. He named the new department Learning Resources, and later the Library Media Center.
It was through his inspiration that Chester, the dial-access information retrieval system, came to be. Bolvin also launched the college's television station. After Bolvin wrote a grant request and submitted it to AT&T, Channel 28 was born. Initially a closed-circuit television station, it was later incorporated into the LMC. In the beginning it was used for videotaping lectures and then transmitting films and televised instruction into the classrooms.
When telecourses began, "there was a lot of resistance from faculty," said Bolvin. "They strongly believed students needed to be seated in a classroom with an instructor to learn. In time they came to accept it when they saw its success and its unique benefits, and have a very different view of it today."
Bolvin said, "The first telecourse, wrapped around Roots, the novel by Alex Haley, enrolled 160 students from all over the state."
Bolvin foresaw the coming of personal computers and shared that vision with staff. Wayne W. Bitterman, who was chairman of the Media Technician Program at that time, asked him, "Aren't you blue-skying this thing?" Bolvin assured him he was not, and time proved him right.
Among his many awards, Bolvin received a national honor when he was selected a Library Resources Fellow in 1975. Most recently, he was named one of the "Exceptional 50" — people who have made an indelible mark on Bellevue College.
Between BC and the Bellevue School District, Bolvin worked for 35 years in education before retiring. When asked why he stayed at Bellevue College so long, he said, "They encouraged and supported innovation, which meant there was always something new to keep the job interesting.
– by Sharon Berg
---
Related Story
Technology Trailblazer: BC Has Always Been at the Forefront of Innovation
Last Updated June 2, 2017