Margin of Excellence Awards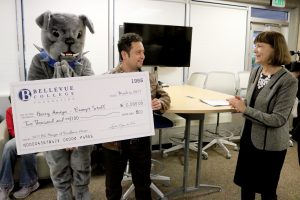 BC Foundation recently announced the winners of the 2017 Margin of Excellence Awards. These awards recognize outstanding faculty and staff members who demonstrate a commitment to excellence through their contributions to the campus and to the community. Awards of $1,500 each go to recipients in the following categories: full-time faculty, part-time faculty, classified staff and administrative exempt. This year's winners were Paula McPherson, Entry Services & Academic Advising; Henry Amaya, Multicultural Services (see picture below); Elaine Nutter, Basic & Transitional Studies; Bruce Wolcott, eLearning/Digital Media Arts; Jacqueline Drak, Chemistry.
New Degrees in Digital Marketing & Computer Science
Bellevue College has been approved to offer a Bachelor of Applied Science (BAS) in digital marketing degree by the Northwest Commission on Colleges and Universities (NWCCU). It will be the 12th baccalaureate degree offered at the college, following the recent approval to offer a Bachelor of Science in computer science degree that was announced last fall.
Faculty Awarded Tenure
In March, 13 faculty members were awarded tenure. They are Kyle Barber, Catherine Berkenfield, Mari Brunson, Eric Davis, Reza Forough, Robert Guyton, Craig Hurd-McKenney, Naomi Jones, Ann Minks, Fernando Perez, J. Engel Szwaja-Franken, Caleb Teel, and Ricardo Chavez. The BC Board of Trustees was impressed with the backgrounds and experiences of the candidates, their dedication to their students and their success, and the faculty members' commitment to their department, the college and the community.
Washington Executive Leadership Academy
Rebecca Cory, BC associate dean of instruction, is participating in this year's cohort of the Washington Executive Leadership Academy (WELA). In January, Cory and the WELA cohort met with Lt. Gov. Cyrus Habib, and the group spent a week learning about the legislative process and the impact on the community and technical college system. Meetings were held with trustees, presidents and legislators to learn how they interact.
Fulbright Scholar to Visit Bellevue College 2017-18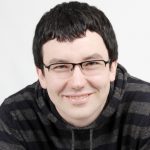 James Riggall from Tasmania is an expert on human/computer interaction, virtual and augmented reality, entrepreneurship and makerspace. As a Fulbright Scholar, James will visit Bellevue College for the Fall and Winter quarters of the 2017-18 school year. Among other things, he will teach in the Institute for Business and Information Technology (iBIT), guest lecture in communication studies, and work with the faculty and staff in the Library Media Center and RISE Learning Institute to help build the Collaboratory and future makerspace. He will also collaborate with the Pacific Science Center in Seattle and the Queen Victoria Museum and Gallery in Tasmania to create a joint exhibit where museum-goers in each location can share a virtual reality experience.
Power of One Conference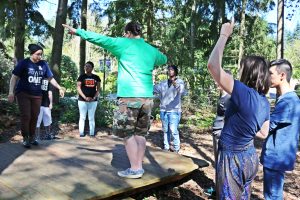 Bellevue College was chosen to host the 2017 Student NASPA Region V Power of One Conference from April 20-22, which developed the leadership skills of LGBTQ students and provided additional professional development for administrators, faculty, staff, and advisors who support them. This year's conference theme, "Coalition through Community," was designed to foster an understanding of difference that also emphasized civil discussion and social interaction when individuals or communities disagree.
Awards & Rankings
Bellevue College ranked in the top 25 on PayScale.com's 2016-2017 College Salary Report in terms of community colleges whose alumni earn the highest salary when it comes to mid-career median earnings, with a salary of $63,400. BC's four-year degree program for radiology technician was recognized as one of the best in the nation by the Community for Accredited Online Schools (AOS), a leading resource for higher education and college accreditation information. The AOS annual ranking for the 2016-17 school year honored Bellevue College for having the No. 4 Best Four-Year Ultrasound Technician Program in the nation, and the No. 47 Best Four-Year Radiology Technician Program in the nation. Last October, a partnership between Bellevue College and Year Up Puget Sound won the Seattle Business Magazine's Community Impact Award in the category of Job Creation and Workforce Development.
Washington State Supreme Court Hears Cases in the Carlson Theatre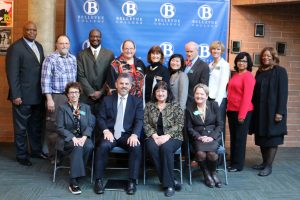 In November, the nine justices of the Washington State Supreme Court visited Bellevue College to engage with the community and to hear oral arguments on three cases. Since 1985, the court has heard cases "on the road" several times a year in an outreach effort allowing citizens to see the court in action in their local communities. Roughly 900 attended the first case heard by the court regarding Arlene's Flowers, filling the Carlson Theatre and the N201 overflow room to capacity, with additional spaces opened up in the cafeteria and library to accommodate the crowd.
Earth Week Features Series of Events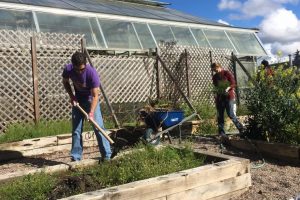 The campus celebrated its 18th Annual Earth Week with a wide variety of workshops, speakers and documentary film screenings around the theme of "Rise Up. Be The Change!" Sponsored by the Office of Sustainability and the Environmental Advisory Committee (EAC), it included a farmers market, a talk on climate science by Dr. Cliff Mass from UW Atmospheric Sciences (presented by Science Café), an electric vehicle car show, and a BC waste sort where students got hands-on with trash.
Last Updated October 5, 2017