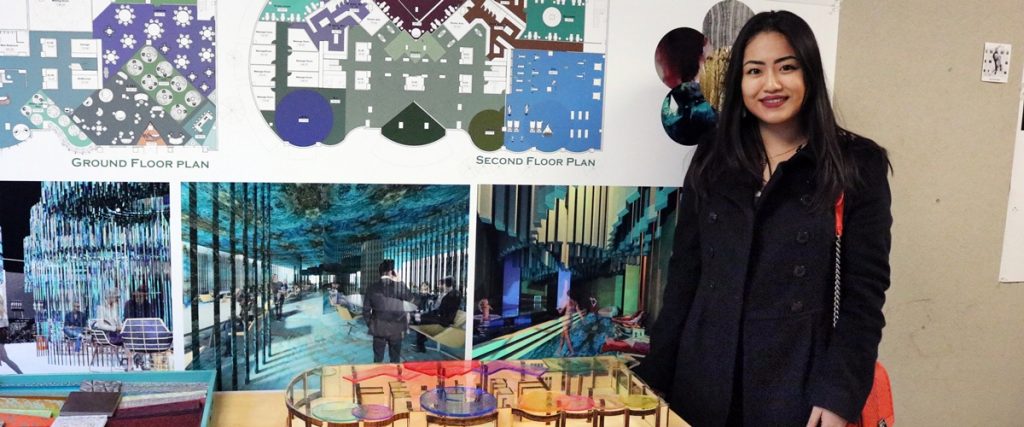 I'm meeting Connie Wais, interim department chair of the interior design program, on one of the last days of her last week at the institution she's been an integral part of for nearly 20 years.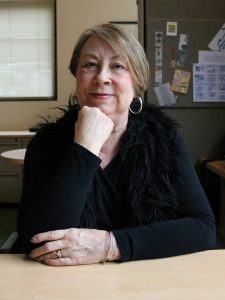 Here are the things I know about the program: It was one of the college's first baccalaureate degrees, transitioning from an associate degree program back in 2009; it's consistently ranked the No. 1 interior design program in the state and was ranked No. 7 nationally by Campus Explorer; news about BC interior design students winning awards keeps hitting my desk.
Last November, BC alum Brandon Riem won the American Society of Interior Designers' shipping container project, designing a functional home with just 320 square feet of living space to work with. This February, BC student Brittany Soler was awarded second place in the Northwest Design Awards' student category, and three BC students, Tineke Reali, Jessica Fulcher and Natasha Nesbitt, secured spots on the winning team for the International Interior Design Association's Charette competition (a fourth BC student, Kristen Peterson-Motan, was a runner-up).
"Our students do very well in competitions," said Wais. "And they do very well after graduation. Many are principals in major design firms across the world."
The program started in 1982 as a traditional two-year associate degree, with visionary professor Doris Katz taking it to the next level as a three-year degree in 1987. It grew rapidly once it received Council for Interior Design Accreditation (CIDA) in 2006 and evolved into a baccalaureate program in early 2010. Today the program is designed as a 2+2 program, where students can earn an Associate in Arts in interior studies in two years, then continue for another two years and earn a Bachelor of Applied Arts (BAA) in interior design.
It's an exciting, rigorous industry that continually presents new challenges. "Technology is having a huge impact," says Wais. "We've gone from teaching drafting and lettering skills with pencils and markers to two computer labs where we teach Revit, AutoCAD, Adobe Creative Cloud and other critical programs. This is a lifelong learning field. Materials change, technology changes, code requirements change. Virtual and augmented reality are going to cause another shift."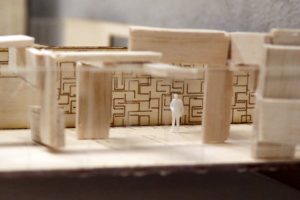 That's not to say other skills aren't needed too. The baccalaureate curriculum provides a breadth of knowledge from specific courses in building systems, lighting and furniture design principles, to content that develops skills in creative visualization, critical thinking, problem-solving, communication, teamwork and cultural sensitivity.
The BAA culminates with a practicum where students complete 150 hours as professional interns to gain real-world experience, and do Capstone projects that demonstrate their ability to apply theoretical knowledge and technical skills to concepts for interior design.
On March 22, I had the chance to see some of these projects up close at the Interior Design BAA Capstone Show/Opening Reception, which was packed with attendees.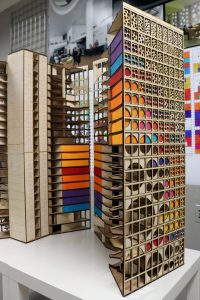 Wendy Wai Chen's presentation, "High Intensity Space – Hotel Project," was inspired by her love of travel and a desire to create a dramatic experience for hotel guests. She has two professional internships under her belt, one at an interior design firm and one at an architectural firm. "Some of our teachers are interior designers, some of them are architects, so that works perfectly because you'll learn from different angles," Chen said.
Travel was also a theme for Karina Yob, who decided to apply her skill set to designing the interior of an airport.
She said, "Most people associate airports with boring, tedious experiences, and I think there's an opportunity for them to be greater than that." She chose the interior design program at BC in part because of its exemplary reputation, but also because "this program has a slight shift toward architecture…and if you have your hand even slightly in architecture, you'll end up with a better interior design project."
Yvonne Cescon's project, "The reNew School," was inspired by the possibility of using virtual reality to improve prison outcomes.
"A lot of the industry publications have been talking about using VR, and some of the firms already are, so I was just really intrigued by it," she said. Cescon could see how the technology could be used to pilot a program at a minimum-security women's prison. "It's a way to get out for a while, because you could create any environment." She believes virtual reality spaces could be used in both educational and therapeutic settings.
It's that kind of creative thinking that garnered Cescon the attention of Degan & Degan, a Seattle firm that specializes in architecture and interior design for the hospitality industry. It offered her a position and she started in April, just two weeks after the debut of her Capstone project.
– by Nicole Beattie
---
Related Information
Bellevue College Interior Design – "The Interior Design Program at Bellevue College provides a comprehensive, high-quality interior design education that is responsive to the changing needs of its students and the design profession."
Last Updated June 2, 2017