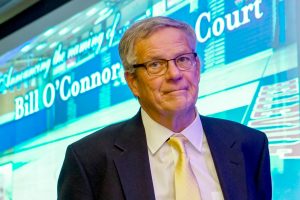 Bill O'Connor may have given up his office in the Bellevue College Athletics Department, but he hasn't given up his passion and support for Bulldogs sports teams.
O'Connor, who has been involved in athletics as a coach or administrator for much of the time since his basketball-playing days as a star at Canisius College, retired in late January after 14 years as athletic director at BC.
"I'm going to enjoy the sports at Bellevue College," said O'Connor, who just happened to be in the front row for both the men's and women's home basketball games at the Courter Family Athletic Pavilion about two weeks after his retirement. "I'll be back watching all the different sports that we have. I'm still here."
O'Connor, who was drafted by the New York Knicks after a college career that eventually landed him in the Canisius Athletic Hall of Fame, also plans on spending more time watching basketball (coached by his son, Chris) at Bellevue High School, as well as watching his grandchildren play sports.
One of O'Connor's favorite accomplishments at BC was resurrecting the golf program, which has grown to be one of the top programs in the region and in the Northwest Athletic Conference (NWAC).
"I think that starting the men's and women's golf program was something I wanted to do and it fit with the college situation that we had here," O'Connor said. "Bellevue's a great place to have a golf program, and I thought it was a great fit. And, we've been successful."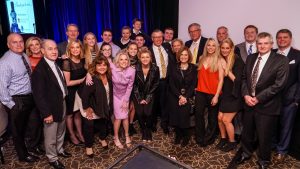 During his tenure as athletic director, O'Connor could be found at most home sporting events, including basketball, which he watched with a keen eye that he developed while serving as an assistant coach at Providence College, then as head coach at Seattle University.
"I think that's a definite responsibility of an athletic director," O'Connor said. "He or she should get to as many events as they can, especially as many of the home events as they possibly can. I also went to a lot of away events. I just think it's an important part of your job as an athletic director."
O'Connor's contributions were acknowledged at Bellevue College's 50th Anniversary Gala on Jan. 7, when it was announced that the center court in the college's Courter Family Athletic Pavilion will be named after him, an honor made possible by a generous new gift from the Courter family.
"I don't know if I'm deserving of it, but it was nice that they decided to do that," an appreciative O'Connor said. "It will always be something I'll cherish the rest of my life."
– by Jim Hoehn
---
Related Coverage
Eggers Named New Athletic Director
Last Updated June 2, 2017