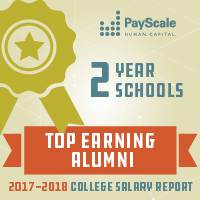 Bellevue College and its exceptional programs rank high and lead to well-paying careers after graduation, according to recent reports by CollegeChoice.net and PayScale.com.
CollegeChoice.net, an independent ranking organization utilizing data-driven research and methodology to help students and families find the best schools, ranked BC's Autism Spectrum Navigator (ASN) No. 25 nationwide, noting that it "works closely with its members in the areas of social interaction, study habits, self-advocacy, and self-regulation." Members attend cohort classes that cover career preparation skill-building, stress management, occupational wellness and interpersonal communication in conjunction with their other classes.
"We are honored to be included as the only community college on this list, particularly because research shows that community colleges provide a strong foundational start for autistic students, resulting in higher graduation and employment rates," said Sara Gardner, program director and instructor for ASN. "ASN is grateful to Bellevue College for supporting the program and students, and we are excited for the future!"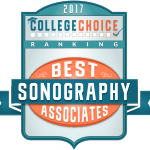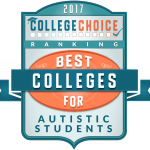 CollegeChoice.net also gave BC's sonography program high marks, ranking it the No. 1 associate degree program in medical sonography (also called ultrasound technician) in the nation. It's a growing career field with a current unemployment rate of only 1.9 percent and a median salary of $67,530. CollegeChoice called BC's program a standout "due to its high graduation rate as well as a 100 percent certification and job placement rate."
A 2017-18 college salary report by PayScale.com found that Bellevue College's alumni stand to earn the most among all 34 community colleges in Washington state, with a mid-career median wage of $73,100 each year. BC also landed in the top 30 nationwide. PayScale surveyed 2.3 million graduates from 2,700 colleges and universities to compile the data, asking respondents to report their pay, highest degree earned, and the school where they earned it.
Other recent accolades include ValueCollege.com ranking BC as one of the "Top Ten Best Colleges in Washington" for online learning, and AccreditedSchoolsOnline.org honoring Bellevue College for having the No. 4 "Best Ultrasound Technician Program" and the No. 45 "Best Radiology Technician Program" at a four-year school in the nation-
 – by Nicole Beattie
Last Updated January 3, 2018