News, honors, events and happenings around the Bellevue College campus…
Richard Leigh Joins Board of Trustees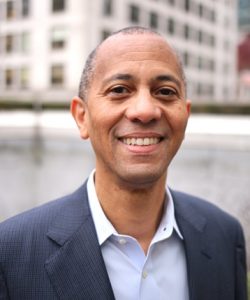 Gov. Jay Inslee appointed Richard Leigh to the Bellevue College Board of Trustees in February. Leigh currently acts as general counsel for SEIU 775 Benefits Group, a nonprofit health care entity, serving on their senior leadership team where he oversees all legal matters, including board governance, compliance, litigation and risk management. His legal experience encompasses private practice and in-house counsel. He served several years as the general counsel for Vulcan Inc. He has also held the position of general counsel for organizations in the fields of technology (Motricity Inc.); biotechnology (Cell Therapeutics Inc.); and professional sports and entertainment (Seattle Seahawks).
Recent Rankings
CollegeChoice.net ranked BC's Autism Spectrum Navigator (ASN) No. 25 nationwide, noting that it "works closely with its members in the areas of social interaction, study habits, self-advocacy, and self-regulation."
CollegeChoice.net ranked BC's sonography program the No. 1 associate degree program in medical sonography (also called ultrasound technician) in the nation. CollegeChoice called BC's program a standout "due to its high graduation rate as well as a 100 percent certification and job placement rate."
A 2017-18 college salary report by PayScale.com found that Bellevue College's alumni stand to earn the most among all 34 community colleges in Washington state, with a mid-career median wage of $73,100 each year. BC also landed in the top 30 nationwide.
Schools.com ranked BC's Interior Design program No. 5 nationwide, and the Information Technology program was ranked No. 4.
Awards
CASE District VIII & NCMPR Awards | Institutional Advancement
Institutional Advancement at BC received a Gold Award in Digital Communications and a Silver Award in Logo & Brand Identity Graphics at the CASE District VIII Conference. In March, the team received an NCMPR Paragon Award in the category of Electronic Catalog, Schedule, Viewbook or Annual Report.
2017 Katherine Schneider Journalism Award for Excellence | KBCS
KBCS received a 2017 Katherine Schneider Journalism Award for Excellence in Reporting on Disability in November from the Walter Cronkite School of Journalism. The two award-winning segments of Dorian Wants Transit Policy Toward Disabled Persons to Change featured the experiences of a wheelchair user navigating King County Metro's bus system.
AACC Dale P. Parnell Faculty Distinction Recognition | Diane Mauldin
The American Association of Community Colleges (AACC) recognized Diane Mauldin with an AACC Dale P. Parnell Faculty Distinction Recognition designation. The association established the designation to recognize individuals making a difference in the classroom. Mauldin, a senior associate professor in life sciences, has been actively teaching at the college for 49 years. She started as an adjunct faculty member at BC in 1969 – less than three years after it was founded – and became a tenured professor in 1995.
State Champions | Bellevue DECA
Bellevue College's DECA team performed very well in a statewide championship for the fourth year in a row. DECA prepares emerging leaders and entrepreneurs in marketing, finance, hospitality and management in high schools and colleges around the globe. The BC DECA team made state champions for overall teams in marketing, business and finance.
2018 All-Washington Academic Team | Brenda Akoto, Alberto Gonzalez and Casey Tuttle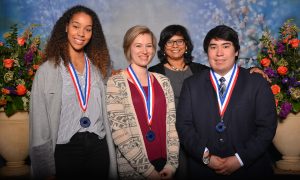 The All-Washington Academic Team program recognizes and honors our state's finest higher education students. The students who make up the All-Washington Team reflect the diversity of the state, maintain high standards of excellence, and contribute positively to the community.
McKinstry names Bellevue College "Champion of Sustainability" | Abby Lynn, Dr. Sonya Doucette, William Tribble
McKinstry, a design-build-operate-maintain firm focused on efficiency in the built environment, recently named Bellevue College a "Champion of Sustainability." Three Bellevue College employees were honored for their personal contributions to sustainability: Abby Lynn, student programs coordinator; Dr. Sonya Doucette, associate professor of chemistry and environmental science; and William Tribble, construction project manager.
2017 Betty Bowen Award | Jono Vaughan
In November, assistant professor Jono Vaughan won the prestigious Betty Bowen Award. The juried award honors a Northwest artist for their original, exceptional, and compelling work, and was founded in 1977 to honor the legacy of Betty Bowen (1918–1977), who was an avid champion of artists in the Pacific Northwest. The committee reviewed 517 applications from visual artists residing in Washington, Oregon, and Idaho.
BC Reads! Brings Author Jamie Ford to Campus
Jamie Ford, author of the BC Reads! selection, Hotel on the Corner of Bitter and Sweet, packed N201 for a reading and discussion of his work. Ford also visited Eric Davis' SOC 101 class and got the chance to try out virtual reality at the collaboratory. The visit was sponsored by the Office of Equity and Pluralism, as well as the Social Sciences Division, and the Library Media Center.
Reaching for the Stars
Earlier this year, the RISE Learning Institute spearheaded an effort to bring BC into the Washington Space Grant Consortium. NASA recently approved BC's application, and the college will receive $8,500 in NASA funding this year and next year. In related news, BC's new Rocket Club had its first successful launch in March.
Earth Week Features Series of Events
The campus celebrated its 19th Annual Earth Week with a wide variety of workshops, speakers, and documentary film screenings around the theme of Empowering People and Influencing Change. Sponsored by the Office of Sustainability, the Student Environmental Sustainability Fund and the Office of Equity and Pluralism, it included a 'Recycle Your Electronics' event, farmers market, keynote speech by Pandora Thomas, an electric vehicle car show, trash audit, and a chef demonstration by David George Gordon exploring cuisine using bugs as an alternative protein source.
Making a Difference Globally
BC nursing students have been raising money over the past three years for a rural hospital in Ghana. They funded a clean water project for a rural community last year and were able to travel to Ghana and watch as the well was dug. This ongoing project is led by faculty member, Teaessa Chism. Nursing students also have an opportunity to volunteer in Haiti. Another group goes out in May, led by faculty member, Leiana Smith.
Faculty Awarded Tenure
Recently 12 faculty members were awarded tenure: Dianne Caraway (Nursing); Kurt Friedrich, (Information Systems); David Goodwin (Diagnostic Ultrasound); Liz Hollerman (Digital Media); Jean Irons-Dendy (Nursing); Danielle Jacobson (Mathematics); Jennifer Lê (Sociology); Sheila Lozan (Business Transfer/Accounting); Nan Ma (English); Chelsea Murphy (Nutrition); Wendy "Dee Dee" Orcajo (Early Learning Education); Jono Vaughan (Art).
Black Solidarity Conference
Twelve students and two advisors attended the 23rd Annual Black Solidarity (BSC) Conference at Yale University in February. The student-run event invites over 700 undergraduates of various races, religions, ethnicities and communities to discuss issues pertaining to the African Diaspora. This year's theme was deconstructing sex, sexuality and gender in the black community.
Creating New Connections
The Center for Career Connections held its first internship fair in February, and more than 350 students attended and interacted with 19 employers seeking to fill 200 internship positions. The participants were a mixture of companies and nonprofits including T-Mobile, COPE Health, City of Seattle, City of Bellevue, Sound Transit, Symetra, Jubilee Reach and Lifewire.
Last Updated June 11, 2018