During Kela Hall's first pregnancy, she and her husband, David, were thrilled to learn they would be having a girl. While most expectant parents are preoccupied with baby gear and registries, the Halls were struck by the challenges still faced by girls and women in the workforce. They decided to do something about it.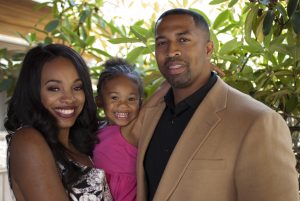 Kela, an adjunct faculty member at Bellevue College who teaches marketing, and David, director of business solutions at BC, formed the nonprofit KD Hall Foundation to act as an incubator for the future workforce and provide opportunities, support, mentors and guidance to
college students, with a focus on women and girls.
"My mother was an educator for 40 years, and I learned early how important education is in achieving life goals. But too many girls and women still think, 'Oh, not me, I can't do that,'" said David. "The best way to give them confidence is to give them experience. That's why our focus is on internships. Once they have success, then they realize they can do it, and getting their education makes sense."
It's an approach that helped BC student Ellison Lynn Shieh discover a love of learning, and collaboration, as she worked with other students to launch the foundation's first conference. "Experiencing the growth of my fellow ambassadors, as well as myself, is something that I treasure and has helped me grow experientially and personally."
That's not to say boys and men aren't welcome to apply for the program. "We need young men to understand the challenges women face in the workforce, and what they can do to become allies and effect real change," said Kela. "They'll be contributing to the work cultures of the future, and getting this experience early will help create company environments where everyone can thrive."
One such participant is BC student Seddrick Sampson. He came to Seattle from a small town in Georgia, where job opportunities were limited and most of the people he grew up with didn't go to college. Sampson wanted to pursue his education and explore the fields of business management and marketing. He quickly found that Seattle's housing market was more challenging than he expected, especially on a minimum-wage salary, and realized he needed to tap into community resources for support. Through the YMCA he was able to find a place to live and also land an internship in marketing.
That experience led him to another marketing internship for the KD Hall Foundation, where he began to reflect on how his own work experiences compared with his sister's back in Georgia.
"I remember we were both working at a facility, and even though we had the same job and she had started before me, I was paid more. It didn't seem right." He's learned this is a discrepancy faced by many women entering the workforce and has resolved to do what he can to change that.
The foundation also tries to assemble participants from different economic backgrounds. "We want them to experience working with a team that's different from the kind of people they grew up with, or may be most comfortable with," said Kela. "Companies are increasingly diverse, and learning to understand the perspectives of others is a skill that can be taught and learned, just like any other."
Because of Kela's professional marketing experience, the KD Hall interns, many of whom are also BC students, focus on areas of marketing, public relations, graphic design, multimedia, social media and videography. Last summer they worked on a 30-minute documentary, Discovering You, which features women leaders across the state of Washington. It includes interviews with Washington State Supreme Court Justice Mary Yu, Seattle Interim Chief Carmen Best and actress Abby Dylan. The film premiered in September at the 2nd Annual Women on the Rise Leadership Conference held at the Museum of Flight.
"This is not a sprint, it's a marathon. It's going to take a generation," said Kela. "But judging from the hard work, talent and passion of the college students I get to work with, I feel really good about the future."
– by Nicole Beattie
Last Updated June 25, 2018