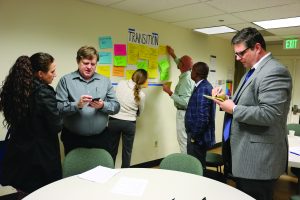 BC joins nationwide network to improve student success and address equity
Bellevue College, like other colleges with an open admissions policy, is dedicated to providing opportunities for education and career advancement to everyone. But not everyone is prepared for college in the same way, leading to differences, or equity gaps, in student success. Reasons may include a lack of readiness for college-level material, the struggle to balance work and life responsibilities while taking classes, or trouble navigating the complexities of financial aid and class choices. First-generation and low-income students, as well as students of color, face particular challenges.
To address inequitable outcomes and ensure that more students complete a useful degree, Bellevue College is using a new framework to focus on data, including an analysis of resources and effectiveness, or capacities.
In 2017, Bellevue College joined a nationwide initiative called Achieving the Dream (ATD), a network of more than 220 colleges in 39 states that is dedicated to improving student success. ATD, founded in 2004 by the Lumina Foundation, has evolved its membership and strategies based on 15 years of experience. The current ATD model assists community colleges to better serve more than 4 million students. ATD helps colleges learn more about their student body—who attends, who succeeds, and what the students' experience is. At the same time, it guides the institution in ongoing self-assessment by gathering input from faculty and staff to pinpoint strengths and areas for improvement.
The ATD framework fosters conversations about goals and capacities while incubating new initiatives and ideas to refine practices, using data to measure outcomes. Professional coaches with experience in institutional change are assigned to the school to mentor staff.
ATD doesn't replace the college's existing mission, strategic plan or student success initiatives. Instead, it provides proven strategies for realizing the institution's goals.
"Everybody at the college wants students to succeed," said director of grant development Bonnie Berry, ATD co-lead. "But one of the challenges of being a large institution is that we have multiple ideas about what student success means, how we can achieve it, and what best practices are. The ATD framework offers an opportunity to collect that vast institutional knowledge and home in on the best ideas using data as our guide."
The decision to join ATD arose from a grassroots initiative led by faculty and staff passionate about improving student outcomes. Those advocates created a college-wide conversation that included the newly-formed BC Governance system, garnering support from the college's councils.
"We knew the decision to join ATD was dependent on a team approach," said Sayumi Irey, interim vice president for diversity and ATD co-lead. "The enthusiasm for student success has always been here—this is a campus that cares about our students. We listened deeply to input before committing to ATD, and also shared statistics. Through these conversations, we all realized that we needed a more intentional and strategic approach to improving our students' experience."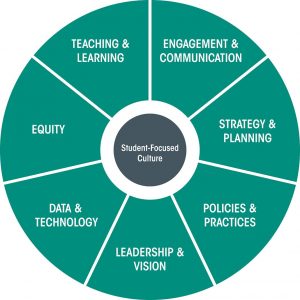 During the first year of the implementation, in academic year 2017–18, the ATD core and data teams are examining data from the ICAT survey, College Issues Day "Capacity Café," and other sources in seven key areas: Teaching and Learning; Engagement and Communication; Data and Technology; Policies and Practices; Strategy and Planning; Leadership and Vision; and Equity. Sharing information and analysis will be ongoing. In the next two months, the ATD core and data teams will produce an action plan to guide the college through the next two academic years. The key focus for all activities will be to improve the student experience.
– by Nicole Beattie
Last Updated June 25, 2018