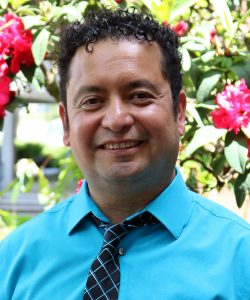 Henry Amaya is the director of Multicultural Services of Bellevue College, and a winner of the 2017 BC Margin of Excellence Award (now called the Faculty & Staff Excellence Award).  He also contributes time to advising BC clubs (Black Student Union, El Centro Latino and Latin American Culture Club, BC SACNAS Science club), volunteering with agencies (East Side Latino Leadership, Jubilee Reach, The Y, Bellevue School District), and creating opportunities for student development.
How does Multicultural Services support BC students?
We have an open-door policy and all students, including those seeking information about entering college, are welcome to talk to us. Many of our clients are students of color, lesbian/gay/transgender students, first-generation, and/or refugee and immigrant students.
Each student is unique, and they have a unique set of experiences or challenges, so we tailor our services to meet their specific needs. This can include anything from advising, mentoring and tutoring, to resource assistance, developing leadership, teaching them advocacy, as well as connecting them to services in the community. Our motto is simple: Guided support plus self-advocacy equals student success.
What are the big concerns right now that these students are sharing?
Many are worried about paying for college tuition, books and other materials. Just meeting basic needs can be a challenge. Our DACA students worry about not being able to achieve their educational dreams. Others worry about how to balance their work and studies, sustain their families and finish their education.
How is it impacting them and their studies?
Getting a college degree alone is hard enough, but when you add on these other responsibilities or the issues many of our clients face every day, it can be difficult for them to focus on the demands of their classes. Through experience, we've found that with the proper support they find the resiliency to push through challenges and succeed.
What are a few things other people in the community can do to support students facing these kinds of challenges?
We're fortunate to be in a community with many organizations that play an important role in helping support our students by providing access to needed services. That support is deeply appreciated, and inspires them to keep going. Just knowing that people care can make a big difference in their lives.
Can you share one remarkable success story where the support a student received helped them achieve their dream?
We were fortunate to work with a student who left Somalia in 1992 after the start of a civil war. She found a minimum-wage job in the U.S., and with little more than a third-grade education, she started taking ESL classes when she was in her early 30s, all while raising two children. Eventually she was able to get her GED and enroll in Bellevue College. Multicultural Services helped her with tutoring, but in her own words, also "encouraged me to not give up." Last June she got her bachelor's degree in healthcare management and leadership. Stories like this make our hard work meaningful, and inspire us to come to work every day.
– by Nicole Beattie
Last Updated June 18, 2020