Student Math League
[General Information]
Round 1 of 2022/23 is scheduled for Thursday, Nov 3rd. Two sessions are offered: The first one is at 2:30 p.m. in N201 and the second is at 3:00 p.m. in B104.
Each year the American Mathematical Association of Two Year Colleges (AMATYC) organization offers students the chance to participate in a nationwide math competition. Twice each academic year, Student Mathematics League (SML) is administered at two-year colleges all over the country. Each college submits a team score consisting of the total of the five best performances by individual students at that college. After each round, all teams are ranked regionally and nationally, and high-scoring individuals are also ranked. There is also $3000 scholarship prize awarded to the national champion.
General Instruction:
60 minute, timed test
20 multiple choice, precalculus questions
Students arriving late will not be allowed to participate.
BC's team score is the sum of the 5 best individual efforts (no student simply participating for fun will hurt the team)
+2 points for each correct answer, -1/2 point for each incorrect answer, and 0 points for questions left blank
TI-82/83/84/85/86/89/inspire calculators are allowed (TI-92's are not)
$3000 scholarship awarded to the national champion!
In the 2021-2022 academic year BC mathletes achieved first place in the Northwest region and 4th place in the nation out of 45 schools
If you have any further question, please see email contact below or visit http://www.bellevuecollege.edu/math/amatyc
 [2022-2023 Result]
The first round of AMATYC SML competition in 2022-2023 at BC was held on November 3th. 37 student mathletes participated in the event. The BC team score in this round is 91 consisting of:

Gaurang Pendharkar in Bezirganyan's Phys 123 class, with a top score of 26/40
Xianyang Zhan (23) in Broome's Math& 254
Oleg Pavlenko (14.5) in Xhumari's Math& 153
Hsichen Chang (14) in Centauri's Phys 121
Daniil Marozau (13.5) in Broome's Math& 254 and Centauri's Phys 121
Youyou Wang (13.5) in Xhumari's Math& 153
Yifan Xu (13.5) in Xhumari's Math& 153
Here are  2022-23 Round 1Test and Answer Key. See also the Summary Sheet of Round 1
[ Past Results]
Click Here to Check SML Past Result of Overall Team and Individual Result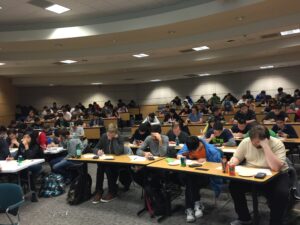 If you have any questions regarding this AMATYC SML, email to Alicia Dehart, alicia.dehart@bellevuecollege.edu or ask your instructor.
Last Updated December 1, 2022