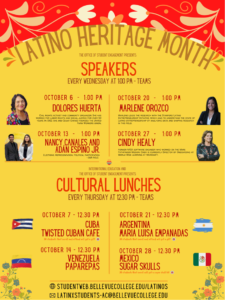 October is Latino Heritage Month! Our Latino students affinity coordinator has planned a month of cultural lunches and powerful speakers to celebrate Latino/Hispanic culture and to herald the contributions of Latino figures in the world, historically and today.
Join us on Teams each Wednesday in October for a different speaker.
Every Thursday, take a lunch break with us! Meet other students and learn how to make an authentic Latin American dish!
The month culminates in a Day of the Dead celebration where we invite you to join in and decorate your own sugar skull. We'll send out materials to students who register for the event. Visit https://forms.bellevuecollege.edu/organizations/ in October to find the registration link.
For more information, visit https://studentweb.bellevuecollege.edu/latinos or contact latinxstudents-ac@bellevuecollege.edu or nora.lance@bellevuecollege.edu.
Last Updated September 16, 2021