David Olson Co-Head Coach
david.olson@bellevuecollege.edu
(206) 947-2674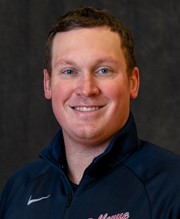 Coach David Olson begins his seventh year with the Bulldogs and was recently appointed Co-Head Coach. He formerly the Volunteer Assistant Coach at Campbell University in North Carolina, an NCAA Division 1 school in the Big South Conference. Olson continues to take more and more on in the Bellevue program with his dynamic ability to work harmoniously with Yoshino in every aspect of the program. Olson is coming off a pandemic summer in which he was Bellevue's recruiting coordinator and also was in charge of scholarship distribution. Olson also is responsible for heading up the offense, coaching hitters and running the offense from the third base box. He will also do defensive specialist work with the first basemen and outfielders. Olson will also assist with the upkeep of Courter Field; one of the finest natural surfaces left in the region. Olson has prior experience in turf management from his days at Campbell. At Campbell, David was in charge of coaching outfield and assisting with hitting instruction. The team earned a conference tournament berth hoisting a 32-25 season record. The team hit at a .297 average, slugging percentage of .406, and a .364 on base percentage. David also coached Campbell's center fielder, Cedric Mullins, (current major leaguer, 2015 13th round draft pick by the Baltimore Orioles) and left fielder, Cole Hallum, (NCAA All-American).
Prior to Campbell, David coached at the University of the Cumberlands as a Graduate Assistant while working on a Masters of Arts in Teaching. He worked with corner infielders, hitters, and coached base running for the team. Additionally, David was in charge of west coast recruiting which involved recruiting the states of Washington, Oregon, and California. Being a native of the Pacific Northwest, David spent much time recruiting the NWAC. In 2014 the team went on to a 31-23 record reaching a Mid-South Conference tournament berth.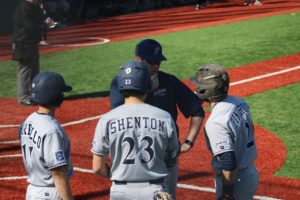 Olson began his playing career at Auburn High School, graduating in 2008. He was a four-year letterman and led his team to the state playoffs all four years. As a sophomore, he was an All-South Puget Sound League (SPSL) third baseman and earned honorable mention as a pitcher. He batted .471 with 33 RBI and had a 3.38 ERA as a pitcher. As a Junior David was an All-SPSL first baseman and honorable mention pitcher, batting .400 with a 1.81 ERA on the mound. As a senior, Olson collected All-SPSL First Team, Seattle Times Star Times, and Tacoma News Tribune All-Area, and All-State honors. He was also rated the 175th best player in the country coming out of high school by PGCrosschecker.com.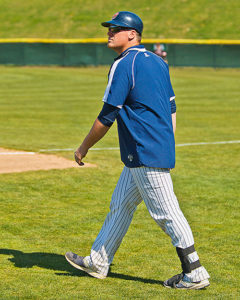 His collegiate career started at Washington State University where he redshirted the 2009 season due to an arm injury. He then transferred to Tacoma Community College. While at Tacoma, Olson was named to the Western Region All Star Team and was named First Team Utility NWAC as a sophomore and helped Tacoma reach the NWAC Western Region finals. During his sophomore season with the Titans in 2011, he topped the squad with five saves and recorded a 1.86 ERA. At the plate, he appeared in all 40 games, knocked in a team high 34 RBI's (12th overall in NWAC), batted .318 with 41 hits including seven doubles and four home runs. Olson's big numbers as a hitter were also reflected by his .465 slugging percentage and a .431 on-base percentage.
Continuing his playing career at Campbell University, David helped his team to two consecutive seasons of 40+ wins, including a 49 win season in 2013. Additionally, he collected Second Team All-Big South and College Sports Madness All-Big South First Team both years, 2012 and 2013. In 2013 he was one of twelve nationwide finalists for the NCAA Division 1 John Olerud Two-Way Player of the Year Award. He also earned Capital One Second Team Academic All-American and All-District by CoSIDA, College Sports Information Directors of America. He was named NCCSIA First Team All-State, as he tied a school record with 59 games played and ranks third in Campbell's career hit by pitch list with 40. Olson gathered 19 multi-hit and 11 multi-RBI games and reached base in 17 consecutive games. He posted a career .349 batting average with 81 RBI's, 86 runs, 143 hits, 30 doubles, 8 home runs, a triple and 4 stolen bases in 113 games. He also gathered a career 2.13 ERA and was ranked fifth in the Big South in batting, second in on base percentage, sixth in runs scored and first in times hit by pitch.
David graduated from Campbell University in Buies Creek, North Carolina with an undergraduate degree in Business Administration, and has also already completed his Master of Arts in Teaching.
david.olson@bellevuecollege.edu
Mark Yoshino Co-Head Coach
mark.yoshino@bellevuecollege.edu
(425) 564-2356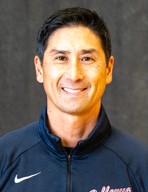 Coach Mark Yoshino enters his twenty-fourth year as Head Coach and twenty-ninth year of coaching overall at Bellevue. Yoshino was fortunate to take over a team that had only one losing season in over 30 years. In a day and age where coaching turnover is high at all levels, the consistent success of the baseball program is partly due to the coaching stability at BC. Yoshino follows a short list of baseball coaches at Bellevue, which includes Jim Harryman, Ray Washburn, Bob Albo, Jim Johnson, and his predecessor, Mike Kanzaki. During his tenure at Bellevue, Yoshino has played an active role in the growth of the program to a national scale. The team has been ranked nationally on a regular basis ( #43 in 2012, #8 in 2011, #18 in 2007). Since his inception into Bellevue College athletics in 1994, Yoshino has helped over 180 players move on to continue playing baseball and furthering their education at four-year colleges, set a school record for most wins in a season, and increased net fundraising revenue by 50%.
Yoshino has been very involved on the community service front as well. He has been involved with helping youth baseball leagues on the eastside from the Little League to American Legion level. His commitment to the eastside baseball community is evident by his attendance at youth baseball games in addition volunteering time to numerous coaching clinics as well. Yoshino has also helped cultivate several facility development projects for Courter Field along with an increase in the number of student-athletes graduating with a two-year degree while playing baseball at the college. The team is currently graduating approximately 90-95% of their sophomores, which is a major success for athletic programs at the community college level. Yoshino has coached 38 players who were drafted by professional teams. He has had twenty-five pitchers drafted since his inception in '94 with fifteen signing professionally in the last nine years including Adrian Sampson, who was the highest junior college pitcher selected in the country in 2012. Sampson was promoted to the major leagues for the Seattle Mariners and made his debut at Fenway Park against the Boston Red Sox. His escalation to the big leagues took only four years. Yoshino has had four pitchers in the major leagues. Blaine Hardy, a left-handed relief pitcher for the Detroit Tigers, was a member of the 2007 NWAC champion team, Yoshino's first. Hardy's big save in the semi-final game vs. Skagit Valley helped propel Bellevue to the title. The pitching success and development of pitchers has remained a constant factor for all of the Bellevue teams. Most notable of the pitcher achievements year in and out is their increase in stock; whether it be for the professional draft or college opportunities. With his coaching experience, playing experience as a pitcher, and advanded degrees in the biomechanics field, the development of the pitchers is one of the greatest accomplishments that isn't directly reflected by championships on paper.
His first year not only was successful by his own terms, but also was one of the best seasons ever in school history. Yoshino earned North Region Coach of the Year honors for assembling a region championship club. In addition to the team setting a school record for wins, Yoshino felt that the program's greatest accomplishments that year were individual, as ten of twelve second-year players earned a degree. In addition, nine of those were recruited by and placed into four-year college baseball programs. The '02 season will also go down in Bellevue history as one of the greatest teams for their 34-14 record and runner-up finish at the NWAC Championships. Bellevue finished with the number one ranking in the NWAC Coaches' Poll in '02 as Yoshino was named Coach of the Year.
2007 was one of the greatest as far as the team goes, but was another success for Coach Yoshino's primary goals: graduation and moving on to a four-year institution. 13 players from the team went to four-year colleges while 9 of them received their transfer degree. A final national ranking of 18th along with winning the school's first NWAC Championship in over 28 years was just icing on the cake.
In 2009, the team captured their second NWAC Championship in three years. The team had two junior college All-Americans, two players in the Major League draft, and fifteen players continuing on to play at the four-year level (with nine receiving scholarships to division one universities). Yoshino was named Coach of the Year by the American Baseball Coaches Association for the Pacific Association Division (all community colleges in Washington, Oregon, and California).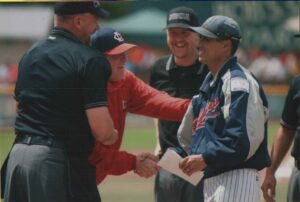 2011 was memorable as well. In addition to capturing their third NWAC title in the last five years, the squad was ranked #8 in the nation and had three players selected in the Major League Amateur draft.
A 1987 Interlake HS grad, Yoshino accumulated several accomplishments as a pitcher in both high school and college. As a junior, Yoshino sported a 0.60 ERA for the 24-1 Saints, who captured the class AAA state championship in addition to a final ranking of 16th in the nation by U.S.A. Today. The following year, Yoshino earned All-KingCo honors. Yoshino then took the mound at Edmonds CC, compiling a two-year record of 12-1 for Coach Bill Stubbs. In 1989, Edmonds finished second in the NWAC with a 40-6 record, one of only three teams to win 40 games in the history of NWAC baseball. Yoshino was named recipient of the Art Feiro Award (first and only Edmonds CC athlete to ever receive this honor), which is presented annually to the top scholar-athlete in the NWAC.
Yoshino spent one season as pitching coach at Edmonds CC, where his staff sported the lowest team ERA (2.40) in the NWAC. He is a regular clinician-speaker at several events in the region including the Pemco All-Sports Clinic, American Baseball Coaches' Association, and the NorthWest Baseball Coaches' Association (NWBCA) Convention.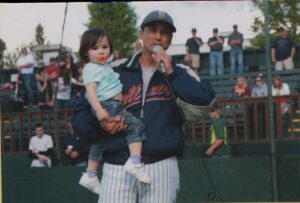 Yoshino earned his master's degree from Pacific Lutheran University in exercise science/athletic administration. He graduated with honors and a 3.9 G.P.A. In 1993, he obtained his bachelor's degree in exercise & sport science from Western Washington University. He was selected by the faculty at Western as the Outstanding Graduating Senior and Physical Education Major of the Year for graduating with a 4.0 G.P.A. Yoshino also served an internship at the Philadelphia Phillies spring training site in Clearwater, FL. Yoshino earned the Certified Strength and Conditioning Specialist title, which is recognized by university athletic and professional sport organizations as the credential to work with elite athletes at either level. His academic credentials in the athletic performance field coupled with playing experience provide Bellevue players a reputable and trustworthy coaching foundation for incoming recruits.
Yoshino's academic and professional credentials in the health & fitness field have given him the opportunity to also work at the college as a full-time tenured faculty member in physical education and health. He is also the former chair of the NWAC Executive Board. Given his experience in the NWAC administration end, Yoshino is also a consultant for the BC student-athletes on athletic-academic transferability for those moving on to the NCAA or NAIA levels. He is a recipient of the Dutch Triebwasser Award, given annually to the conference's top administrator. He is the only person in the NWAC to win the conference's top honor as a student-athlete (1989), coach (2007, 2009, 2011), and administrator (2013). His long tenure at BC coupled with his contributions earned him a spot on Bellevue's "Exceptional 50": a list of the 50 most influential people in campus history that was created during the college's 50-year anniversary in 2017. Although mostly known for his hard work on the baseball diamond, Yoshino is just as proud of his efforts 'in the classroom' – as a student, instructor, and administrator. To Yoshino, these accolades are the true reflection of his efforts at serving as a positive role model for the players at Bellevue. Recruits, their parents, four-year coaches, and professional scouts have frequently tabbed his varied contributions as the recipe for success, and perhaps the most reliable and stable force in a predominantly volatile coaching culture in the NWAC. His promotion of sportsmanship while still demonstrating success in a competitive college athletic environment has been recognized by his peers. His commitment towards enhancing the image of Pacific Northwest baseball is also evidenced by his previous roles on the Baseball Committee and NWAC representative for the Pacific Association Division (all California, Oregon, and Washington 2-year colleges) of the American Baseball Coaches' Association. Yoshino and his wife Lisa have two children Quinn (14) and Molly (12).
Cody Anderson Assistant Coach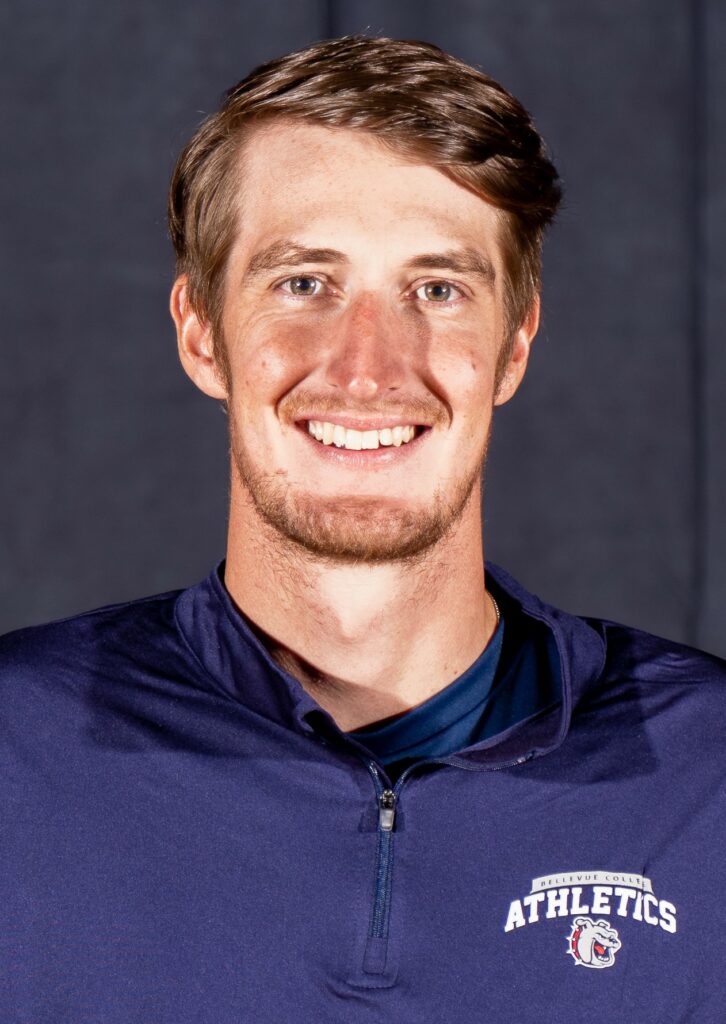 Former Bellevue College standout Cody Anderson returns this season to embark on his third year on the coaching staff. Anderson will direct the outfielders, coach in the first base box, and assist Olson with the baserunning and hitting.
Anderson began his coaching at the collegiate level after recently finishing a playing career in Australia. On the mound, he struck out 120 batters and was runner up for league MVP in his final season. Anderson also has been a head coach in the Cascade Collegiate League, and also coaches at the Northwest Championships for Baseball Northwest this past summer. His Washington Metro 2023 squad won the championship. He is currently the assistant coach for the Bellingham Bells of the West Coast League this summer.
Prior to his stint in Australia, Anderson was a two-year pitcher in the Pac-12 for Washington State University. He was one of four voted captains as a senior. He logged 22 games as a starting pitcher. As a junior, Anderson had a team-best 3.40 ERA and was tenth in the Pac-12 with a .239 opponent batting average against him. His first career win at WSU was a six-inning no hitter vs. Stephen F. Austin as the Cougar pitchers following Anderson's start combined with him for their first no-hitter since 1985.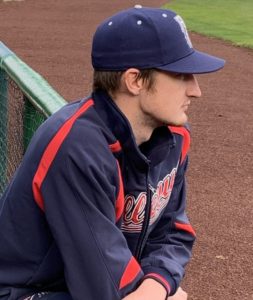 Anderson was a standout for Bellevue for two years as a starting pitcher. As a freshman, he went 4-2 with 47 strikeouts and a 2.76 ERA in 52 innings and nine starts, firing two complete games and surrendered just 15 walks. He turned heads in the region as a sophomore setting at the time the NWAC record for single season strikeouts (114). He led Bellevue to the NWAC Championships with a 7-3 record with one save and a 2.51 ERA in 13 starts.
In high school, Anderson was an all-state pitcher out of Marysville-Pilchuck High School. He was a two-time first-team All-Wesco selection and led the state in ERA as a junior (0.42). As a senior, Anderson began what would be a continuing dominance of hitters as he struck out 101 batters in 60 innings while throwing one perfect game and another no-hitter that featured 19 strikeouts.
Jordyn Perry Assistant Coach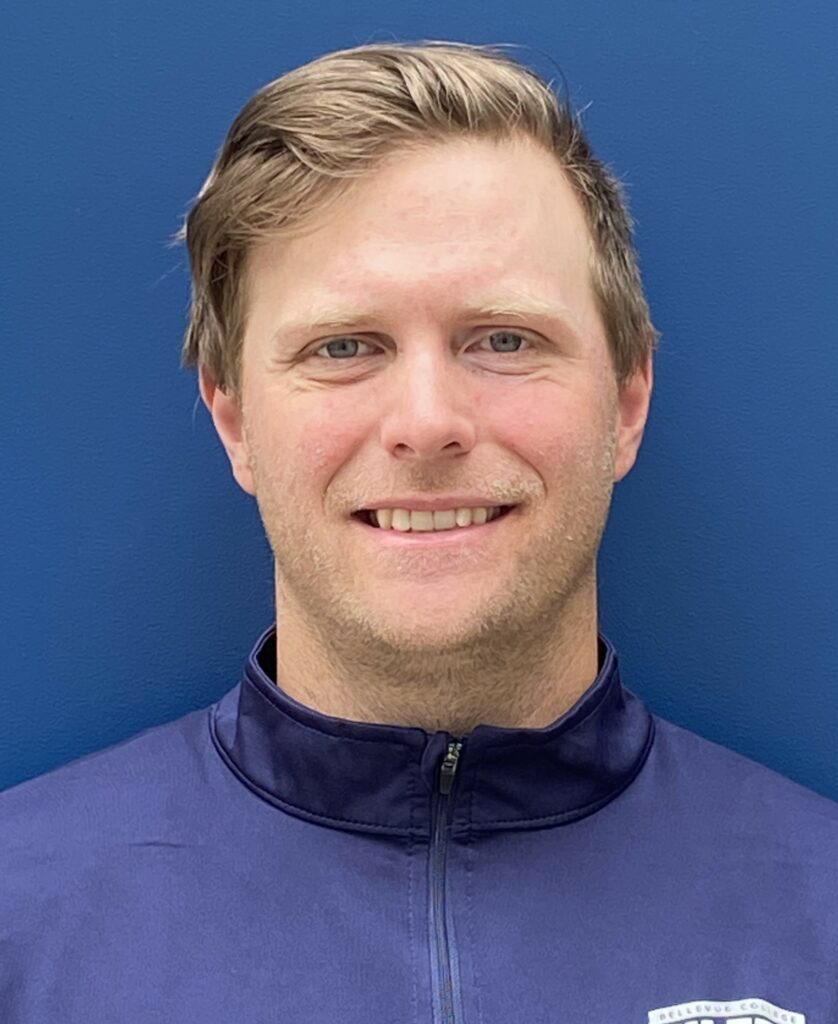 Jordyn Perry begins his first season on staff at Bellevue in 2022-23. Perry arrives from Green River College, whose program was discontinued following the 2022 season. Perry is no stranger to the local baseball scene with over 10 years of experience in the college, high school, and summer ball programs.
Perry will serve in a variety of capacities including working with the catchers, assisting in the strength and conditioning program, and heading up all tech-related aspects of the program. At Green River, Perry was thrown into the interim head coach role and was in charge of nearly every aspect of the program for much of the year last season. Jordyn brings experience working with catchers, pitchers, outfielders, coaching both third and first base, and recruitment.
Jordyn was an all-Seamount League pitcher/first baseman at Lindbergh HS in 2009, playing for the legendary longtime coach, Benny Benavides. He then went on to earn a B.A. in History, graduating in four years, from the University of Washington. He immediately got into coaching at his alma mater, coaching baseball at Lindbergh in 2016. He had stints at Auburn Mountainview coaching under Glenn Walker sandwiched around his year at Lindbergh, helping the Lions in 2015 and 2017. He then accepted a teaching and coaching position at Garfield HS in 2018.
Perry is also the head of pitching instruction for Diamond Sports Training Facility and coaches the U-16 team.
Last Updated April 19, 2023