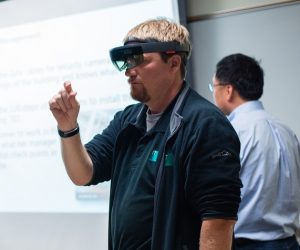 Have you heard of the term AR/VR? How about Augmented Reality and Virtual Reality? This new technology is now poised to make a major impact, not only on our daily life, but on how we will interact and learn in the near future. Virtual Reality (VR) is a computer-generated simulation of real life, while Augmented Reality (AR) layers enhancements on top of the real world. With virtual reality, you can experience human anatomy. With augmented reality, you can watch a human body pop out of your textbook.
At the forefront of AR/VR is Microsoft and its HoloLens technology. HoloLens is already becoming the premier AR/VR development platform. It is a self-contained system, so there is no need to be tethered (hooked to a computer by cable). With HoloLens, you are free to move about your room and experience the AR or VR worlds to the fullest.
The business market for AR/VR products is predicted to hit $120 billion by 2020, and with this growth comes the demand for trained AR/VR professionals. AR/VR does not just span the tech and gaming industry, but is now integrated into the practices of various other industries such as healthcare, real estate, architecture, marketing, design and education, to name just a few. Salary ranges are high, from $75,000 to over $100,000.
This is why BC Continuing Education is offering a five-week course, HoloLens AR/VR for Developers, which provides students with opportunities to create AR/VR applications using the Unity development tool for HoloLens, while also learning the process for creating new AR/VR environments.
Instructor Xinli Zou said, "WyzLink has been taking the lead on the adoption of the latest technologies, especially in the AR/VR area. That's why we built this curriculum to teach students who used to be a web developer or mobile developer to learn how to become an AR/VR developer with full skills to build the 3D real-time rendering applications. With this course, the students will learn about the fundamentals of computer graphics, real-time scene rendering, physics systems, animation, 3D GUI, AI, and all the Unity3D framework. The course will be targeting to build real-life AR/VR applications, which is beyond just games."
The Continuing Education unit of Bellevue College serves the needs of businesses, industries and the surrounding community through high-quality, in-demand programs
– by Mark Veljkov
Last Updated June 5, 2017