Featured News in Men's Soccer:
John Buttle, an alumnus of Bellevue College, has been named Head Coach for the Bellevue College men's soccer team. Buttle was a member of two NWAC Champion teams during his years here as a player. In 2001, Buttle was a member of the title team ...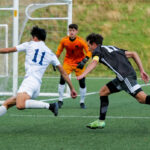 Thomas Nguyen, a sophomore forward, was named to the North All-Region NWAC team today as released by the NWAC Sports Information Office. Nguyen ranked ninth overall in the entire NWAC is goals with 10 and had a shots on goal percentage of .512. Sebastian Bednik, ...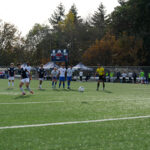 Bellevue College played their season finale today at home and tied Edmonds 2-2. In a first half which set the tone for what was expected to be a high-scoring, all-or--nothing season finale, both teams traded goals twice to set the 2-2 tie before halftime. Neither ...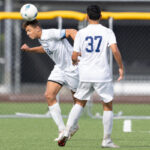 Bellevue College soccer tied host Peninsula today 1-1 in a defensive battle that featured only six total shots on goal in a relatively quiet game. Both teams scored in the first half as BC's Keegan Storkson scored midway through the half on an assist by ...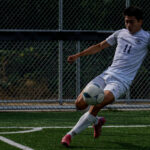 Bellevue College men's soccer defeated visiting Shoreline today 2-0. Although the score appeared to be competitive, BC dominated as the Bulldogs fired off 27 shots as compared to the four for Shoreline. BC had nine of those shots on goal as they had complete control ...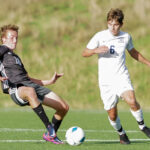 Bellevue College men's soccer tied South Puget Sound today 2-2 in a rain-soaked contest held at Regional Athletic Complex in Lacey. In their second game in the last 24 hours, the 'dogs held a 2-1 lead deep into the game but grew fatigued as South ...
More ..
Last Updated October 27, 2022