Featured News in Men's Soccer: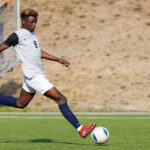 Bellevue College men's soccer topped visiting Edmonds 4-0 as the Bulldogs scored three times in the first half to win with ease. Parfait Ngandu scored BC's first goal just minutes into the game at 3:35 before adding a second goal at 30:31. Near the end ...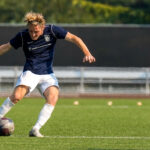 Bellevue College soccer continued their surge under first-year Head Coach John Buttle with a 3-1 win at Peninsula today. Peninsula, traditionally one of the top teams in the NWAC, struggled with fouls and could not get past Bellevue's Jackson Buck who was stellar in the ...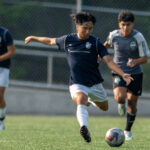 Bellevue College men's soccer escaped being on the losing end in thrilling fashion as the Bulldogs tied visiting Everett 1-1. Down 1-0 for almost the entire game, BC's Ryan Kim scored in the closing minute on an assist by Rex Noffsinger as the clock expired. ...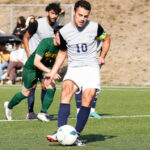 Bellevue College went home thankful of an early Rex Noffsinger goal as the Bulldogs beat Shoreline 1-0. Noffsinger's goal at the 8:37 mark was the only goal of the game off a penalty kick. Although Bellevue won by a narrow margin, the score did not ...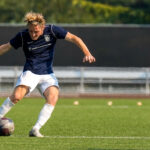 Bellevue College men's soccer rallied late with two goals in the second half to avoid a loss as the Bulldogs tied Skagit Valley 3-3 today at Skagit Valley College. Rex Noffsinger got BC on the board early scoring just three minutes into the game before ...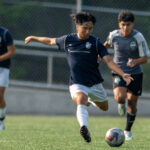 Bellevue College avoided a near upset at Whatcom as they escaped with a 1-1 tie. Playing the winless Orcas (0-3-3), Bellevue was down 1-0 until the final minutes when Ryan Kim scored on an assist by Patrick Gloria at 81:54. The game was a defensive ...
More ..
Last Updated October 27, 2022