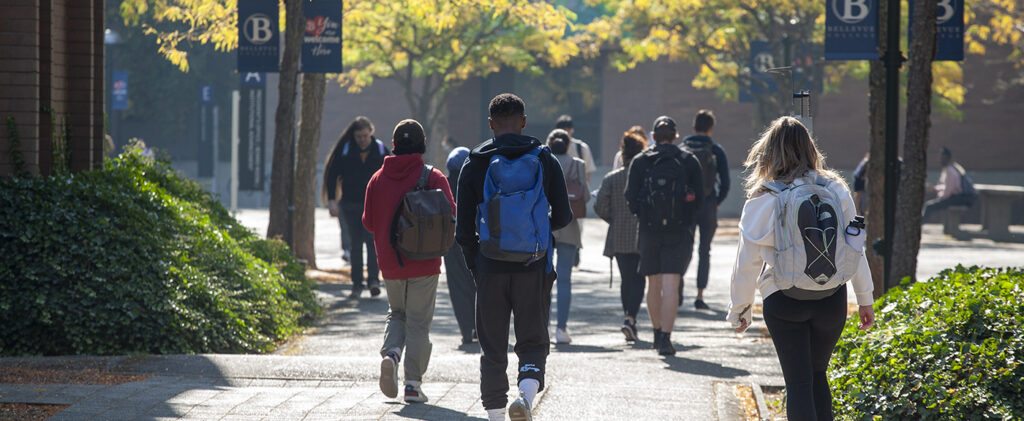 Common Scholarship Questions
These are common questions that applicants have about BC Foundation scholarships. If your question isn't listed here, or you need assistance with your application, please reach out to us at scholarships@bellevuecollege.edu.
Questions About Eligibility
We've written a section on who is eligible for scholarships that will answer your questions.
No. You must, however, plan to attend or are currently attending Bellevue College.
Yes! We've written a section on who is eligible for scholarships that will answer your questions.
Yes! Awards are available for part-time students.
Foundation scholarships are awarded on an annual basis. Not receiving a scholarship in an academic year does not prevent the opportunity of applying and receiving a scholarship for future award years. However, you must apply each year by the listed deadline to be considered. The number of scholarships awarded depends on available funding and the qualifications of the applicants who apply.
Questions About the Application Process
The Foundation Scholarship Program application will be submitted using an online application. You will complete the general requirements, which include things like your contact information, your grades, and your activities and honors. You will also invite a recommender to submit a recommendation. Other sections of the application will include:
We've tried to make it easy for you and laid out all the steps for applying for a BC Foundation Scholarship.
Unless your award letter specifically states that you will be receiving a renewable scholarship, previous scholar recipients must complete the application each year by the posted deadline to be considered for future funding.
Yes! Please email us at scholarships@bellevuecollege.edu to request a copy of the link to return to your started application. Please do not start a new application if possible.
We recommend first checking to make sure that you are using the Google Chrome internet browser. The application portal will sometimes not load if you are using either Internet Explorer or Firefox.
If you have tried the Google Chrome browser and are still experiencing problems, please contact the Foundation at scholarships@bellevuecollege.edu.
We cover how to craft well-written responses to the Short Answer Questions.
All documents must be received by the Foundation and uploaded as attachments to your online application form.
Note: If you require other accommodations to submit your required documents, please contact the Foundation at scholarships@bellevuecollege.edu.
Your cumulative GPA will be located somewhere on your academic transcript. Generally, it can be found at the bottom or top of your transcript.
Please be sure to use the Cumulative Level GPA (CUM GPA) and not the College Level GPA (CLVL GPA) when answering questions about your GPA on the application.
The BC Foundation Scholarship application will not allow you to submit an incomplete application.
The BC Foundation will email you with confirmation that your application has been submitted.
If you are experiencing issues, contact scholarships@bellevuecollege.edu for assistance.
Questions About Selection and Notification
We have a careful selection process which takes many factors into account.
In May 2020, 192 scholars were selected to receive a scholarship from the Foundation for a total of over $400,000. The number of scholars and total dollars awarded varies from year to year.
Questions About Successful Scholarship Applications
No, unless specifically stated in your scholarship award notification email.
Most Foundation scholarships are awarded for one academic year and are not automatically renewed for the following years. However, scholars are encouraged to apply for the next year's scholarship application and may do so every year you anticipate attending BC.
Each quarter, if you have been selected as a scholar, your scholarship funds will first pay any tuition and mandatory fees that you may owe to the college. If you had previously paid for your tuition charges, a refund will be issued to you via BankMobile Disbursements, a technology solution powered by BMTX, Inc., which will send it to you according to the refund preference you selected through BankMobile Disbursements.
No. The Foundation Scholarship program does not provide summer funding for recipients. Please be sure to contact the Student Financial Services Office for more information about paying for summer courses.
Generally, scholars must enroll in 12 or more credits each term in order to receive scholarship funds.
If there are circumstances preventing you from being enrolled full-time for the term, please send an email to scholarships@bellevuecollege.edu with the following information:
How many credits you will be taking and for what quarter,
The reason you will be enrolled less than full-time, and
If you will be enrolling less than full-time for multiple quarters, please include the above information for each quarter you expect to be enrolled less than full-time.
Once your email has been received, your request will be reviewed and you will be notified if additional information is needed and/or whether your request has been approved.
Once you have started your academic year, we expect that you will attend each academic term (not including summers) during the year for which your scholarship was awarded.
If special circumstances make it necessary or advisable for you to leave college for a period, you must immediately notify the Foundation by email and explain the reason for your leave of absence and the date you will return. If you do not return at the end of the approved break in enrollment, your scholarship will be terminated.
No. If your cumulative GPA is below 2.0, you must work with your academic advisor and/or the Financial Aid Office to develop a plan with strategies and resources that will help you improve your GPA. This plan might include an increase in the frequency of meetings and communications with your academic advisor, tutoring, study groups, or other support services.
No. Your scholarship is for the academic year in which it was awarded. If your scholarship is paid partially, or in full, it will count as one of the three quarterly paid awards allowed for each recipient. Any unused portion of your scholarship will be returned at the end of the academic year.
Most years, some scholarship funds go unused due to non-enrollment or change of circumstances that prevent the recipient from using their scholarship. Each year, the Foundation makes an effort to re-award those scholarship funds by selecting additional applicants from the same year they applied. If no students are eligible or if the funds are returned too late, unused funds will be re-awarded in future application years.
The Bellevue College Foundation Scholarship program is funded by generous donors that include community members, corporations, alumni, and BC faculty, staff, and students.
Last Updated November 17, 2023