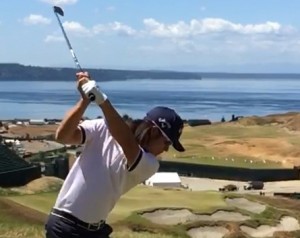 Richard Lee's path to golf success wasn't always down the middle of the fairway, but the journey from GED to the PGA definitely made the turn at Bellevue College.
Along the way, Lee spent part of his high school career in the Philippines, caught up academically with a GED, parlayed two productive years at Bellevue College into a Division I scholarship, got married at 18 and became a father a year later, earned a spot on the PGA tour, and bounced back from surgery to qualify for the recent U.S. Open at nearby Chambers Bay.
"Everything about me was not traditional," said Lee, who now lives in Scottsdale, Arizona. "Going through the academics, getting married at a young age, playing college golf, and ending up where I am now, playing golf for a living – it definitely wasn't easy. I definitely had the right people around me to support me and help me."
Lee, who did not begin playing golf until the age of 14, left Newport High School in Bellevue midway through high school and moved to the Philippines to pursue his dream of professional golf. After more than a year abroad, Lee returned home, but found himself in an academic quandary.
"The reason why I went over there was because I had a family friend who was a professional playing on the Asian Tour at that time. I kind of saw what he was doing and I literally would be practicing sun up to sun down," said Lee, now 28.
"If I had gone back to the same high school, I would have been held back a year, so that's why I took the GED and that's how I ended up at Bellevue College," he said.
Lee's return to the U.S. and his search for how to resume both his academic and golf careers coincided with the resurrection of the Bellevue College golf program under Kirk Johanson.
"It was kind of perfect timing, because the year I got the GED and was going to attend a two-year college, that's the year the golf program started back up again," Lee said. "I wanted to play at a four-year school and the only way that I could play at a four-year school was that I get a two-year degree because I wasn't qualified out of high school academically."
Johanson, who still is an assistant golf coach at Bellevue College, said Lee's presence made it much easier to resurrect the program. "When you're starting a golf program and you have a kid like Richard Lee coming in, it really was fantastic for us," said Johanson, who also had played golf at Bellevue College in the program's previous incarnation. "Great player, great person and he put us on the map, to be honest with you."
In addition to his academic workload and golf, Lee was married at age 18 and he and his wife, Christine, had their first daughter, Israella, a year later. Israella, now 8, has a 22-month-old sister, Elisabeth.
At Bellevue, Lee won the conference tournament in 2007 and 2008, which helped him earn a Division I scholarship to the University of Washington, where he became an All-American and graduated with a degree in sociology.
He earned his PGA Tour card in late 2011 and played in 24 PGA Tour events the following year, finishing 149 in the FedEx Cup standings. Lee improved in 2013, making the cut in 17 of his 24 PGA Tour starts, with seven top-25 and two top-10 finishes to move up to 96th in the standings.
In 2014, however, Lee was hampered by an injury to his left thumb, which eventually required surgery. Somehow, in his first competitive round in nine months after surgery, Lee tied for second in the sectional qualifier at Tumble Creek Club in Cle Elum to earn a spot in the 2015 U.S. Open at nearby Chambers Bay in June.
Playing in his first major in his own backyard, Lee shot an opening-round 74, but stumbled to an 80 on the second day and failed to make the cut.
"I wish I would have played better, but I had a blast," Lee said. "We never get a chance to play in front of a home crowd, especially growing up in the Seattle area. Every hole, there was so much support and something that I'll never forget and something I can cherish for a long time."
Johanson met up with Lee at during the practice rounds at Chambers Bay.
"My youngest son and I, we went down and met Richard on Monday morning and hung out with him at the driving range, which was really fun," Johanson said.
Following the U.S. Open, Lee has continued his comeback from surgery on the PGA's Web.com Tour.
"Basically I'm doing my rehab starts on the Web.com Tour, which is like Triple-A in baseball," Lee said. "I just started two weeks ago and I'm playing a tournament this week in Utah. I will play a couple more and then be back on the PGA Tour next year."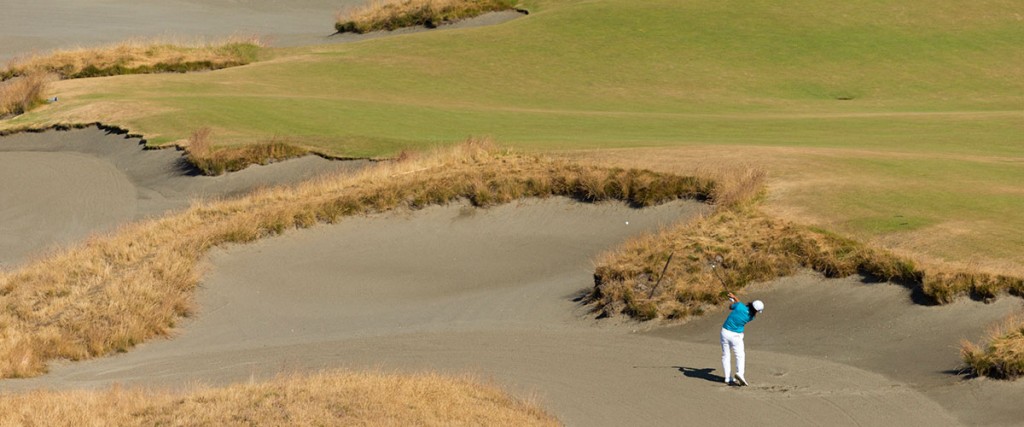 – by Jim Hoehn
Related links:
Last Updated October 3, 2016