Update: May
Dear Campus Community,
As we move closer to our ctcLink implementation November 8, we are seeing tremendous results in our campus-wide efforts to prepare the college. Thank you for your extra time, extra energy and persistence in helping us be successful. Here is a brief update on all things ctcLink:
Where are we now?
BC continues in the "Construction" stage of the ctcLink Implementation. This phase of the project involves four cycles of data validation of BC information – a go-live rehearsal of sorts. Data validation is the act of confirming the data transferred by the State Board for Community and Technical Colleges (SBCTC) between the HP, our legacy system, and Peoplesoft is correct.
Our second data validation starts Wednesday, May 12, and runs through Thursday, May 27.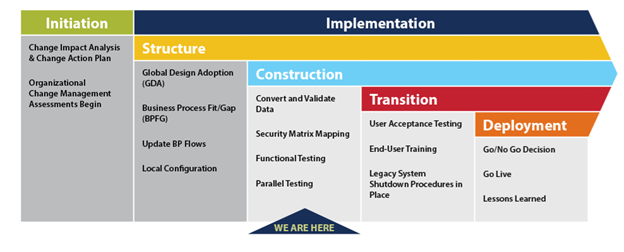 The first cycle, completed in March, was successful. We validated more data than expected in a shorter period of time than expected, and our data overall transferred better than expected! 🎉This month we'll have approximately 115 BC staff validating data!
There's a lot of effort that goes into coordinating the who, what, when, and where of this project. Currently, we are in the prep stage for:
User Acceptance Testing (UAT): Comprised of prerequisite training (due 5/31), pre-testing walkthrough sessions (June 1-July 22) and two monthlong sprints (July 28-Sept. 24). UAT is the largest activity of the project.
Parallel Testing: Our Payroll, Financial Aid, and Student Financials teams will be working closely with SBCTC over three separate timeframes to verify that our configuration decisions will do what we intended.
Production Workshops: Five workshops over the course of the summer will give participants hands-on, real-time access to PeopleSoft to build our course catalog, create our fall schedule, and configure our enrollment, advising and transfer credit sections.
Training, training, training
Since we launched ctcLink training in March, more than 1,600 courses have been completed by staff and faculty! If you need assistance or have questions, drop-in check-in sessions are offered through May for advisors, student services, and faculty. Registration is open for the first phase of training, which involves high-level, self-paced, introductory courses designed to give you an overview of the new system. For information about training deadlines, visit the ctcLink training page.
Friday Office Closures
Many campus offices are closed to the public on Fridays through Dec. 31 to provide staff one full day a week with fewer interruptions to complete the necessary work for ctcLink, or get caught up on items that fell behind due to ctcLink work.
ctcLink Winter survey results
More than 280 staff and faculty completed the ctcLink survey in February 2021 (80 classified / 71 exempt / 70 faculty / 60 adjunct faculty). As part of our change management initiative, the survey provides a snapshot of the campus community's awareness and desire regarding the implementation. Awareness and desire are success indicators for our change management process. Some results from the February survey include: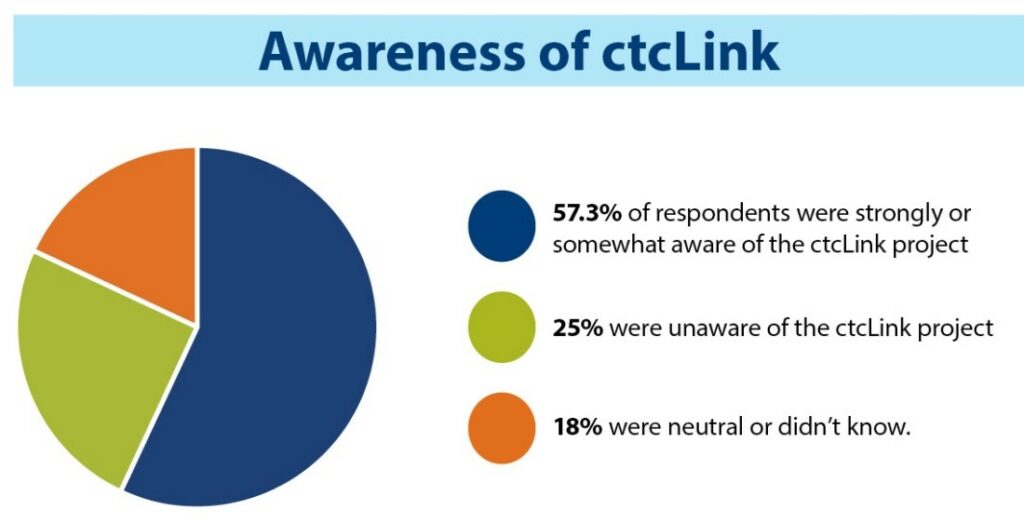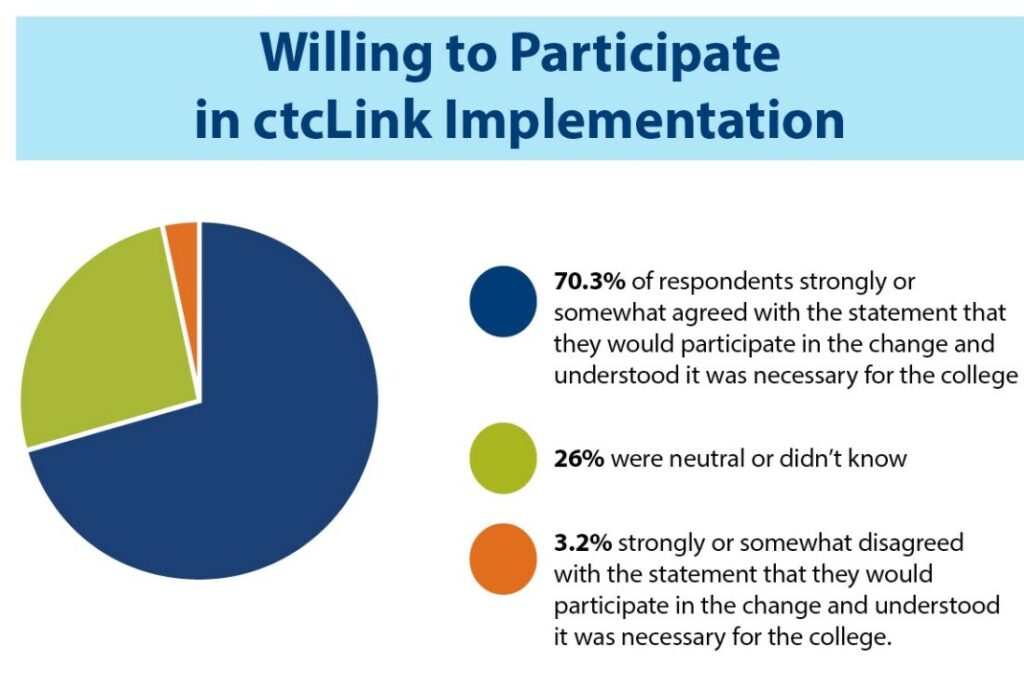 We also asked about your communication preferences and 59% of respondents preferred to receive information about ctcLink via email followed by campus events and departmental newsletters. Thanks to all who completed the survey! Watch out for a new survey to be sent in early June. Your responses help track our progress and inform how we improve communication!
What's next?
Testing! Validation! Training! Oh My! Two more cycles of data validation will occur prior to go-live in November 2021. Barring any unforeseen issues, these cycles are scheduled for:
July 15-August 13
Sept. 13-30
The parallel testing, production workshops, UAT walkthroughs and UAT testing are all coming up June-September.
Many people are asking when they can take vacation. Please work with your manager to plan around your project participation and project dates.
ctcLink + Accessibility
The SBCTC gave a presentation on April 19 and the event was well attended. In case you missed it, here is the recording.
Want to know more?
Thank you to all for helping to make our transition smooth!
Rodger Harrison | Vice President 
Information Technology Services 
(425) 564-2224 
3000 Landerholm Circle SE
Last Updated August 15, 2021