Instructional video capture tool: Panopto
Panopto is a cloud-based video capture tool for training, teaching, and presenting. Record, webcast, manage, and search all of your video content. It makes recording or sharing your videos easier than ever. Panopto also uses your computer or the room's computer to record.
Panopto is a hosted service, similar to Canvas by Instructure, and is provided by SBCTC eLearning for all WA state community and technical colleges.
Panopto is:
Easy to install and works on both Windows and Mac.
Supports multi-camera video capture to record the instructor, the content of the screen, a document camera, a digital whiteboard, and more.
Provides the ability to transmit live and on-demand video streams over the Internet or record and store them for on-demand viewing by students from a web browser.
Allows you to add time-coded notes to videos so it's easy to quickly get the information you need.
Includes a cloud-based video content management system for uploading, managing, and sharing all your video files.
Comes with built-in video analytics, a web-based video editor, and automatic encoding to ensure your videos play efficiently on any device.
Can be integrated into any Canvas course. The integration allows videos to be uploaded directly to any course site.
Panopto Support
24/7 End User Support: Faculty can now contact Panopto support directly in the following ways:

Email support@panopto.com
Create a panopto.com login and submit a case
Call our 24/7 support team at 855-765-2341. Any end user who forgets this number can always log in to panopto.com and see it by clicking "More ways to contact support."
Panopto in Canvas for Faculty
Panopto is integrated into Canvas.
You will find the Panopto button in your course Settings under the Navigation tab.
Unhide the tool, Save and you can then use it from your left Navigation Menu in your Canvas course.
Click on the Panopto button, download the recorder, and create and access videos in that course.
Note: Always us the Panopto External Tool to embed your recording when using the Rich Content Editor.
Quick step-by-step guides available to get you up and running:
Is there a place on campus where I can make recordings?
Yes, We have a room dedicated for recording your videos in the BC Library, Studio Q. Studio Q (D126-Q) is a video capture room with Lightboard. If you need to book the studio:
Create a Request Center ticket to get an initial training on how to use Panopto in Studio Q.
Use the Request Center to request a time to book a studio time slot.
Captions
Frequently Asked Questions (FAQs) About Video Captioning, created by Panopto
ASR (automatic speech recognition) Generated Captions to a Video
ASR captions are now automated. When a Zoom recording is saved to the Panopto cloud, all recordings will be auto captioned after a video has been uploaded and processed. Below, please find the target completion times for the captions.
Target completion time for videos for one hour or shorter: 8 hours
Target completion time for videos over an hour: One day
First – time Using Panopto:
Log in to Canvas.
Click on Settings
Go to the Navigation Tab
Select Panopto Recorder and unhide by dragging the tool in the menu above.
Save.
You will now see Panopto in the left navigation.
Using Panopto
In your Canvas course, Click on Panopto
You will need to download the Recorder before first use.
Click on the Create button and select Record a new session.
Select Download Panopto or download other options.
Download the Windows or the Mac installer.
Your file will be downloaded in the browser window. Save that file on your computer.
Launch the "panoptorecorder.exe", follow the default prompts and Save.
Once completed, you will see the Panopto Icon on your desktop.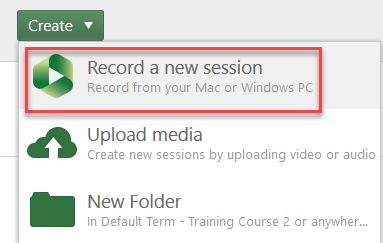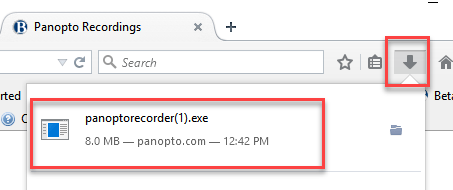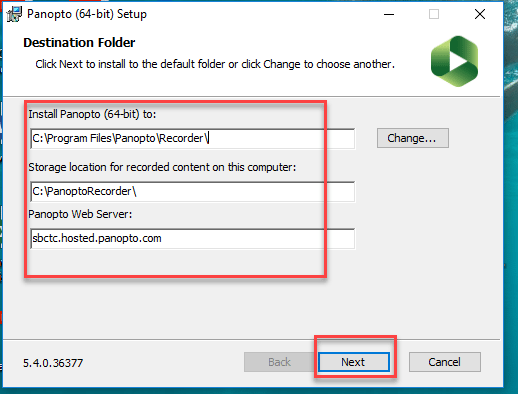 Panopto Recorder
Panopto Recorder Icon will be on your desktop ready for use.

Create your first recording in Canvas.
Launch Canvas.
Click on Panopto button in the left navigation.
Once the Panopto window launches, Create a new test recording, add captions, review settings and Publish.
Launch Panopto Recorder
You now ready to launch the Panopto Recorder from your Desktop. It will recognize your Canvas login information, if not Login using your NetID and password.
Last Updated November 2, 2020