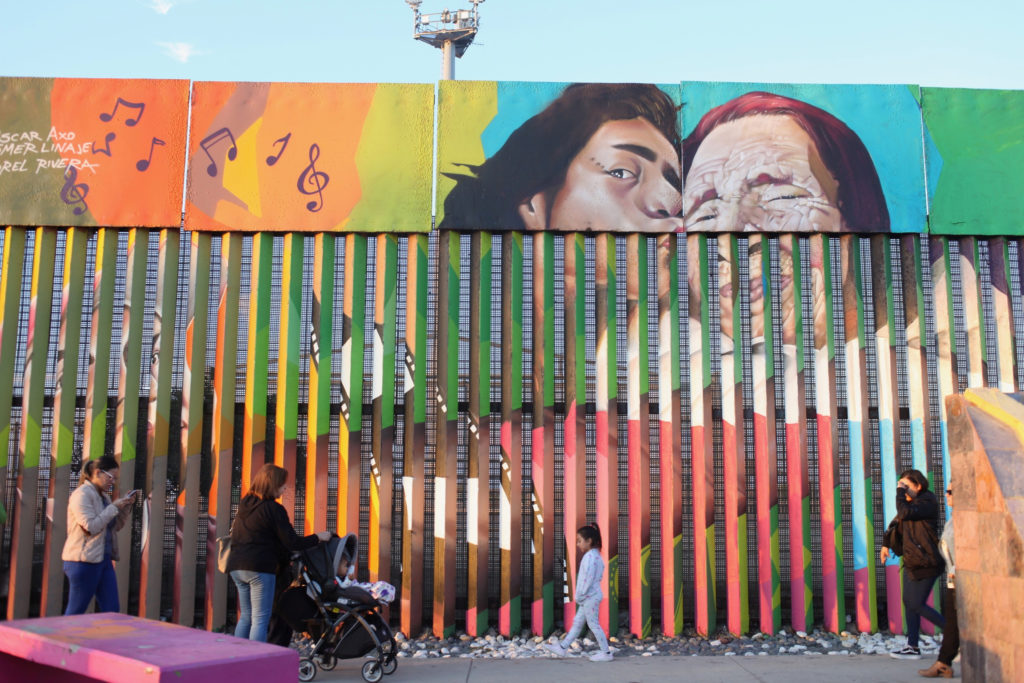 Border Stories
BC alum joins KBCS team on life-changing trip to cover deportees, wall in San Diego
---
Water bottles left in the middle of a desert on the Tijuana/San Diego border with messages of hope written in Spanish: The color of your skin is power. We are with you, I fight for you. Children's clothes and toys abandoned by the dried-up husk of a bush. A mother, attorney and activist, separated from her teenage daughter in the U.S., standing by the wall on the Mexican side with an upraised fist, defiant and undeterred.
These were just a few of the moments that struck BC alum Mari McMenamin on a whirlwind journey to tell the story of life at the Mexico/Southern California border for 91.3 KBCS, BC's award-winning community radio station serving the Seattle-Tacoma region. Together with KBCS News and Public Affairs Director Yuko Kodama and photojournalist Dana Schuerholz, McMenamin left Seattle for Southern California on a midnight flight the week before Thanksgiving last year. The crew then traveled to San Diego and Tijuana, spending the next two days on a jam-packed tour interviewing deported immigrants, activists, veterans, and attorneys, as well as mothers and fathers still separated from their children.
Like a lot of people, I'd read about what's happening there. But seeing it was life-changing," said McMenamin. "I saw a place where family members on each side of the wall would press their fingers through its cracks, or lean in to brush eyelashes, just so they could touch their loved ones."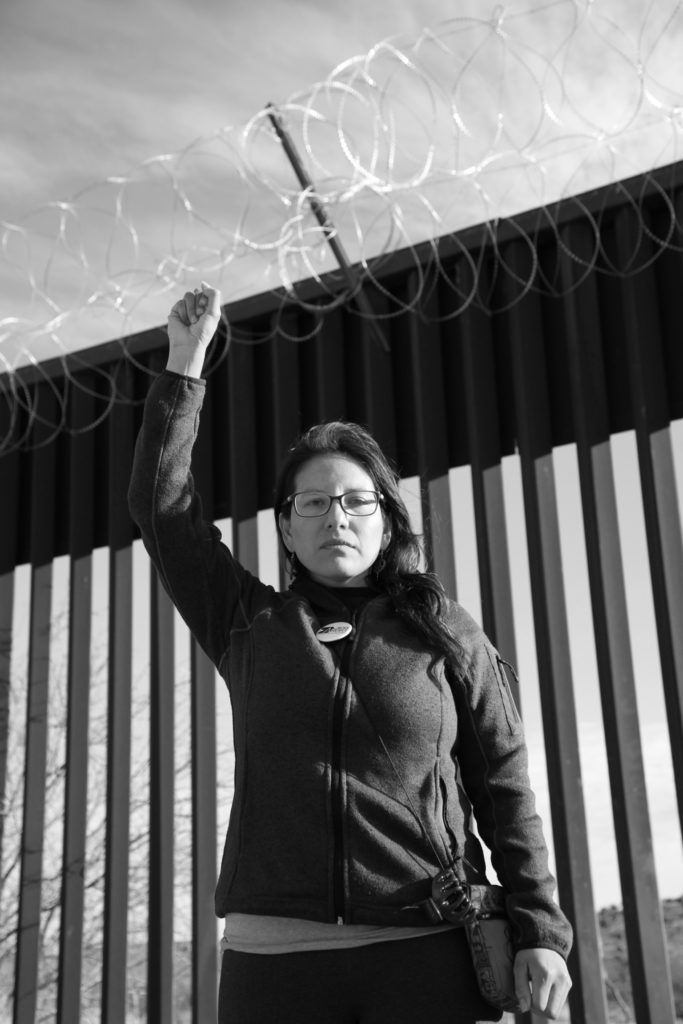 Being at the border wall on the coast of Tijuana to interview migrants was not where McMenamin imagined she'd be when she first enrolled at Bellevue College. An immigrant herself, McMenamin was born in Venezuela and came to the U.S. when she was 18. Eventually she married an attorney, started a family, and handled accounting for her husband's law firm. When their marriage ended, she decided to go back to college and get a degree. McMenamin was thinking about staying in familiar territory—accounting, or some other kind of business administration field—but a meeting with Chiew Jones, associate director of the Center for Career Connections advisor, changed that.
"She asked me, 'Well what do you like to do?' And I realized it wasn't accounting," said McMenamin. "I told her I wasn't sure, but I wanted to help youth, and minorities. She suggested I interview for a radio internship at KBCS because of their coverage of social issues. I did, and when I met Yuko, I was blown away by what she'd accomplished."
The feeling was mutual. "Mari has a fierce intellectual curiosity, loves people, and she's a natural storyteller," said Kodama. "We were thrilled when she accepted the position, and she quickly became an essential member of our team."
At KBCS, McMenamin, discovered a passion for social justice, and the power of radio to connect listeners directly to stories involving social equity. It also caused her to reflect on some of her own experiences as an immigrant.
"When I first came to the U.S., if I experienced discrimination or someone said something rude, I thought, 'Well, I'm new, it's what you have to put up with if you're not born here,'" said McMenamin. "But then I started covering the stories of other people facing discrimination, other groups. I realized it wasn't just happening to me, and I could do something about it by sharing their stories with others."
McMenamin worked on KBCS stories about one man's journey of transitioning out of prison, H-2A workers in Washington state, and the Hard Knock Radio program. Her view of the world, and her own potential, grew.
McMenamin faced some challenges while navigating life at BC—steering through math prerequisites, completing assignments as an ESL learner, mothering two children and working at the station—but McMenamin took full advantage of college support services like the Academic Success Center, which offers robust tutoring services. In 2019, she earned her Associate of Arts and Sciences and transferred to the University of Washington, where she's pursuing her bachelor's in digital communication and media/multimedia.
She still assists at KBCS, and when the opportunity to cover conditions at the border came up, she not only jumped at the chance, she booked her flight and hotel before the itinerary had even been firmed up.
"This piece wouldn't have happened without Mari's enthusiasm, and the support of people in the community like staff at Northwest Immigrant Rights Project, Representative Sharon Tomiko Santos, and media activist Sharon Maeda who made connections for us at the border," said Kodama. "They were able to help us set up interviews, understand the terminology and slang, and refer us to documentaries and websites so we were well -prepared for the trip."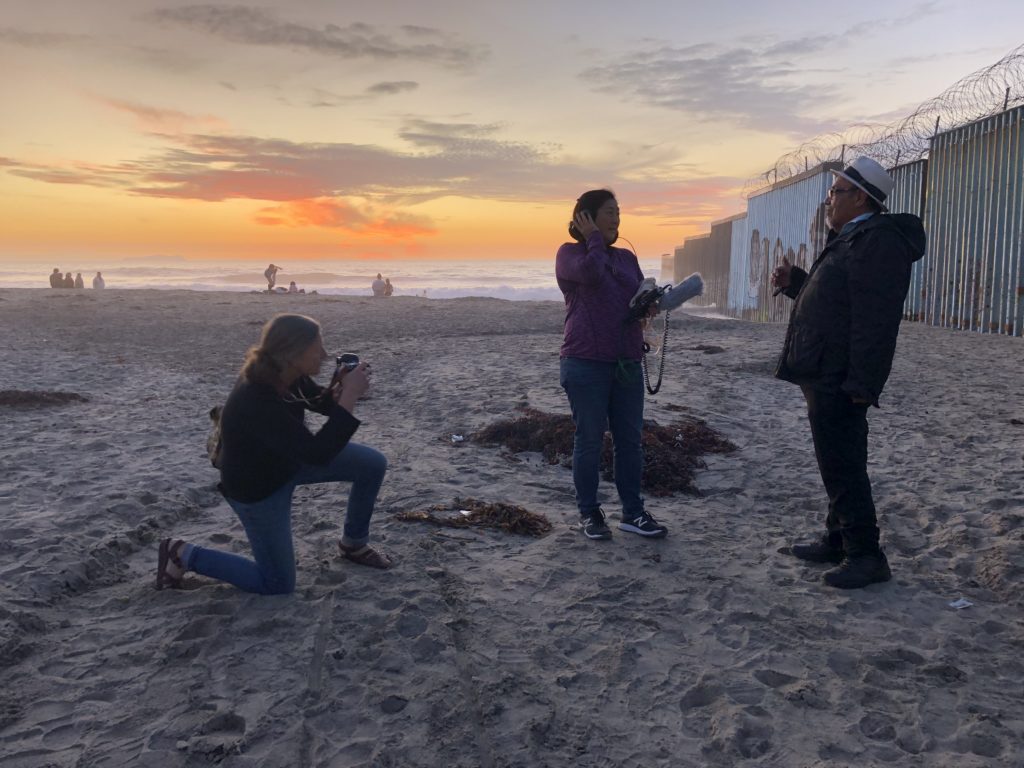 While at the border, the KBCS team covered a water drop in the California desert by the nonprofit organization Border Angels, interviewed people from Deported Veterans and Deported Dreamer Moms organizations, talked to staff at a Tijuana immigrant shelter, and a Human Rights Watch investigator. The trip hit home when they ran across a man who was deported from Seattle, missing his children who still live in Washington. KBCS is compiling those stories for a series, and the first one, KBCS Border Stories – Living Undocumented, has aired and is available to stream online.
"It's impossible to overstate how deeply this impacts families," said Kodama. "When we asked people what the hardest part was of their journey, they'd tear up and talk about kids they had to leave behind, family they couldn't see."
McMenamin's trip to the border moved her to share with others. She's created presentations on her trip that she presents to her classes at UW and to her community to deepen their understanding.
"This is really happening, and I want to get the message out," said McMenamin. "Any human being who saw what I saw would care."
---
KBCS
Listen to KBCS Border Stories – Living Undocumented online now.

[ssba-buttons]

Last Updated November 17, 2020