Bellevue College Celebrates First Rainbow Crosswalk on Campus
May 18, 2022
As Bellevue College (BC) continues to increase in-person classes, students, staff and faculty returning to campus may have noticed that things have gotten a bit more colorful. In November, BC installed its first rainbow crosswalk at the top of Landerholm Circle, in solidarity with the LGBTQ+ community. However not many people were on campus at…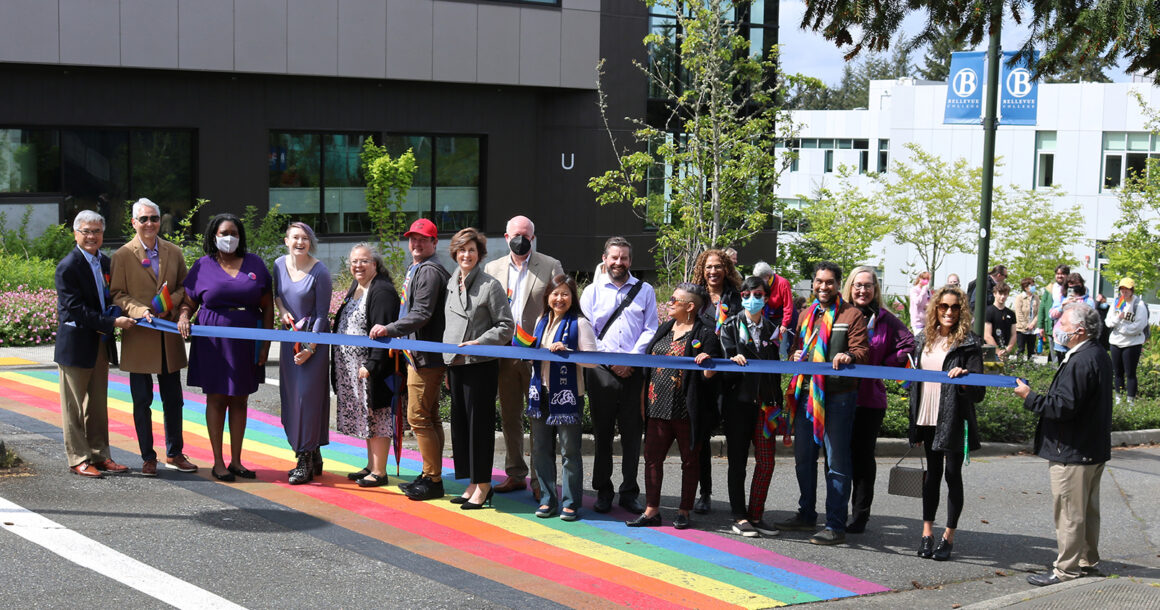 As Bellevue College (BC) continues to increase in-person classes, students, staff and faculty returning to campus may have noticed that things have gotten a bit more colorful.
In November, BC installed its first rainbow crosswalk at the top of Landerholm Circle, in solidarity with the LGBTQ+ community. However not many people were on campus at the time due to the pandemic. So the dedication event to celebrate its installation was delayed until May 17—International Day Against Homophobia, Transphobia and Biphobia—when more people were present during Spring Quarter.
The event featured speakers from the college, including BC interim president Gary Locke, BC Academic Success Center program coordinator and LGBTQ+ Task Force member Valencio Socia, Umoja program specialist Darnita Boynton Howard, and BC alum, Ivy Crane. Eastside community leaders also attended the dedication, including Bellevue Mayor Lynne Robinson and Rep. My-Linh Thai.
"It's a visual symbol to the entire BC campus, and the Eastside, of our commitment to and support of the LGBTQ+ community," said Locke at the dedication. "But we must also work to build this inclusivity into the very fabric of our institution, and greater community, so that everyone has the opportunity to pursue their dreams, and reach their full potential."
"When I see the pride flag and this beautiful rainbow crosswalk on Bellevue College's campus, I become overwhelmed by a sense of pride, love, and affirmation," said Howard. "Whether we are out and proud or holding our identities and orientations in secret close to one's heart, the rainbow crosswalk is a symbol that we are here and embraced."
"Finally having this crosswalk in place, with more on the way, means so much to me," said Crane. "Knowing that there is a community for queer students here on campus is one thing, but seeing that the staff, faculty, and administration of Bellevue College welcome and support them is another."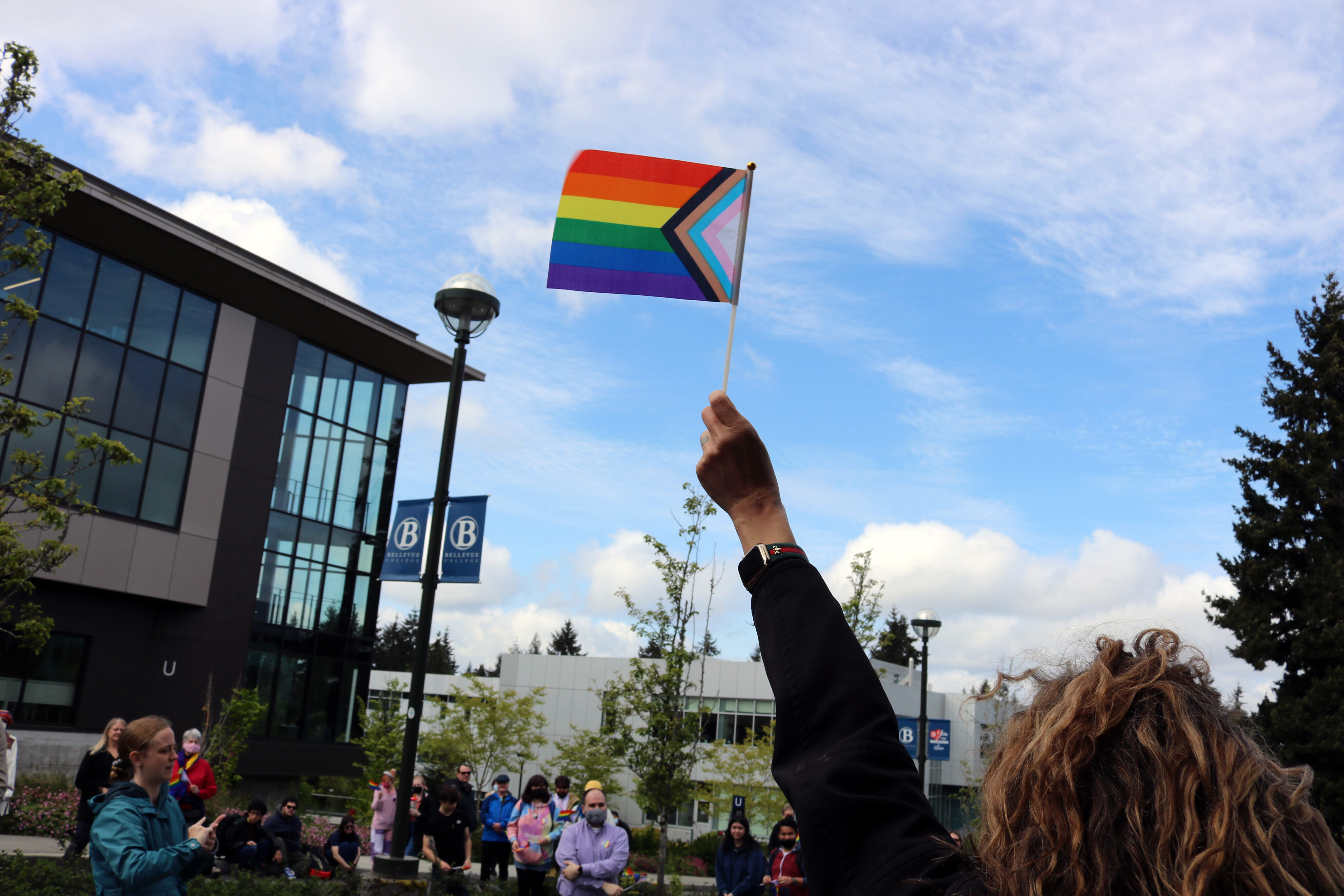 The idea for the rainbow crosswalk, the first of three planned, came from the LGBTQ+ Task Force—which includes LGBTQ+ staff, faculty and students, as well as allies, and focuses on creating a safe and welcoming environment for the LGBTQ+ community at Bellevue College. Other groups involved include BC's LGBTQ Resource Center, the Bellevue College Foundation, BC interim president and cabinet, BC governance, and campus operations team.
Sapan Parekh, a task force member and Associate Director of Service Learning and Community Engagement for BC's RISE Learning Institute, said per their knowledge, the BC rainbow crosswalk is the first in King County outside of Seattle.
The first crosswalk design is of the Philadelphia Pride flag—which includes a black and brown stripe, in addition to the traditional rainbow colors, to signify people of color. As Parekh points out, the LGBTQ+ community is intersectional and all other identities also exist within their community. The second crossing is planned to be of the Progress Pride flag, which includes the traditional rainbow stripes and a five-striped chevron in black, brown and the white, pink and light blue of the Transgender Pride flag. The third design is still undecided.
The rainbow crosswalks have been years in the making. The project was initially proposed during the 2018-19 school year, and was approved during the 2020-21 school year.
Then fundraising began, just as BC Director of Development Javier Womeldorff started working at the school. He admits a pandemic was not the ideal climate to launch a fundraising campaign. They couldn't meet with potential donors in person, and people's priorities shifted to meeting basic needs. In addition, rising construction costs increased the cost of the project.
But by August 2021, enough funds were raised to complete the first crossing—$17,000. The group has since secured funds for the second one, which they hope to install over the summer or in the fall.
Fundraising was a truly community and intergenerational effort, Womeldorff said, with donors of all backgrounds—including student clubs, staff and faculty, the city of Bellevue and students' parents.
"That part was pretty cool to see," he said. "I think that was pretty special."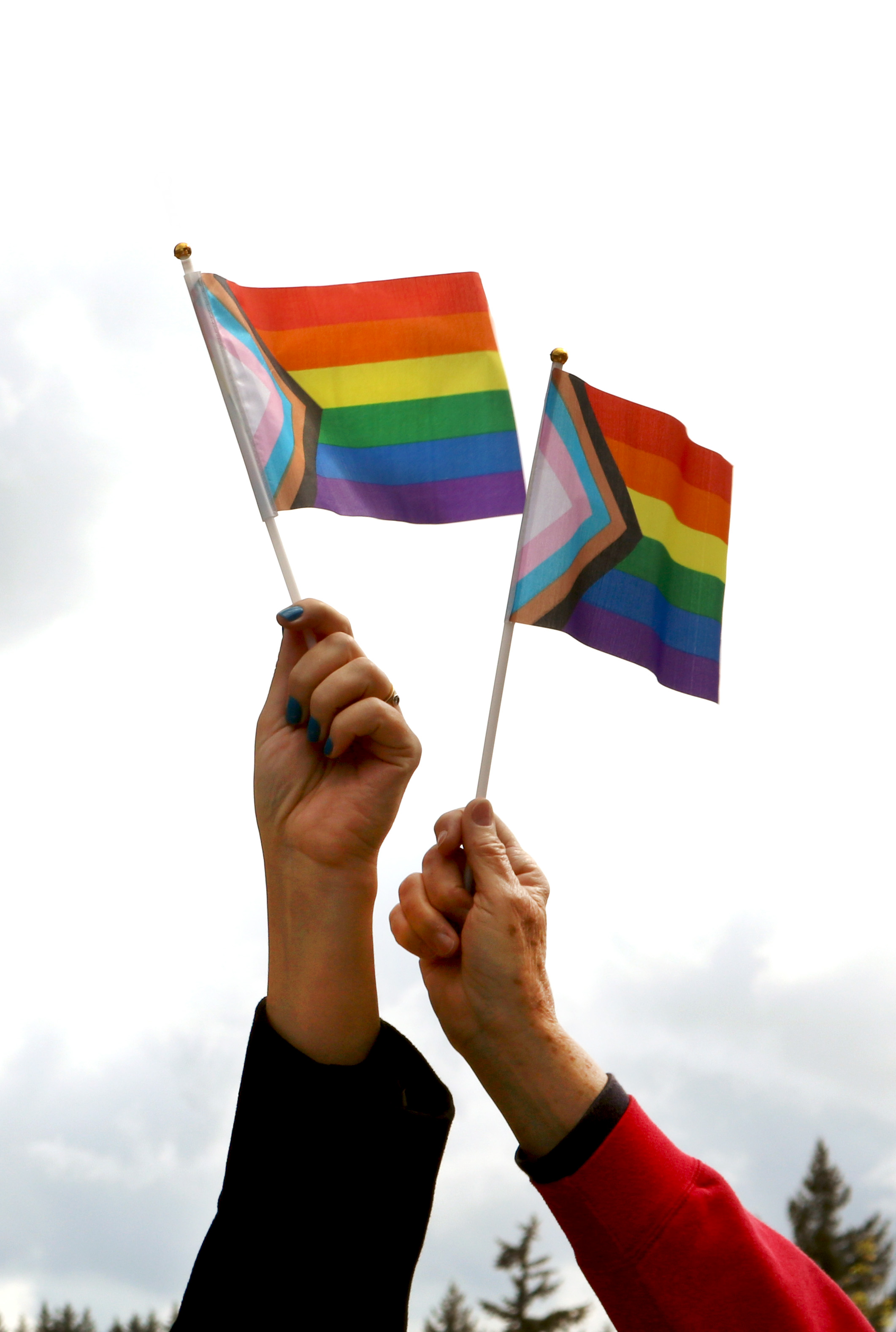 For Parekh, the widespread support feels amazing. He said he wished the rainbow crosswalk existed when he was growing up on the Eastside. As a queer person growing up—especially with immigrant parents—he felt that the messaging is often that who you are isn't correct. And to have the only representation in the area all the way in Seattle, as a young person, didn't help with Parekh's feelings of isolation.
Parekh said it's also a public and permanent message of safety and welcoming to the LGBTQ+ community. Whether it's an Indian American kid from a traditional family, or a kid from a more conservative community, BC can be a safe place for them, no matter their sexuality or gender identity.
The rainbow crosswalk is a reminder for Parekh that their work is not done—that BC needs to continue standing in solidarity with LGBTQ+ individuals and other communities.
"We have to know that every time we see that crosswalk, that it's a reminder that we need to do more," he said.
Fundraising for the third rainbow crosswalk is ongoing. More information is available on the Bellevue College Foundation website.
Pronouns: Gary Locke, he/him; Valencia Socia, he/him/his; Darnita Boynton Howard, she/her; Mayor Lynne Robinson, she/her; Rep. My-Linh Thai, she/her; Sapan Parekh, he/him/his; Javier Womeldorff, he/him