Home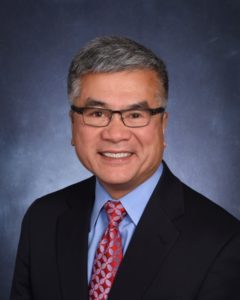 Governor Gary Locke began his term as Interim President at Bellevue College on June 15, 2020. He is a nontraditional college president candidate with a passion for education policy. During his tenure at the College, Governor Locke wants to encourage a cultural shift on campus, provide stability, and elevate the college's stature as it searches for a permanent president.
Governor Locke is the first Chinese American to be elected governor in United States history and the first Asian American governor on the mainland. In his two terms as Governor, Washington was ranked one of America's four best-managed states.
"I am honored and excited to take on the role of Interim Bellevue College President and lead the institution at this critical time. I am humbled by the Board of Trustees' trust in me" said Governor Locke. "Bellevue College is known for innovation, outstanding faculty and students, and courses and programs that meet the needs and desires of its diverse students and community. I am eager to help build on and expand that regional and national reputation. Working closely with faculty, staff, students, and the community, we must focus on bringing healing to the campus and continuing to provide enriching education despite this challenging environment of COVID-19 and financial crisis."
During the Obama administration, Governor Locke served as U.S. Secretary of Commerce, and most recently as U.S. Ambassador to China. Governor Locke attended Yale University, graduating with a bachelor's degree in political science, and received his law degree from Boston University.
Governor Locke is a leader in education, employment, trade, health care, human rights, immigration reform, privacy, and the environment. His innovations in government efficiency, customer focus, priority-based budgeting, as well as successful and under-budget management of high-risk initiatives, have won him acclaim from nationally recognized authors and organizations, including Harvard's Kennedy School of Government.
---
President's Messages
Dear BC Community, As we return from the holiday break and begin a new quarter, we find our nation and communities in the midst of very dark and unsettling times. Many of us were watching the debates in Congress yesterday over the counting of the Electoral College vote, when we and the entire world witnessed ...
Read more
As leaders of Bellevue College, we would like to lend our names in support of the following statement issued by the SBCTC, Council of Presidents and Independent Colleges of Washington. "As leaders of public and private, not-for-profit colleges and universities in the state of Washington, we stand strongly together in denouncing the yesterday's attack on ...
Read more
Casey Goodson. Yet another name we all must say and remember—another police shooting, another young Black man killed, another grieving family. The wounds of systematic racism continue to deepen. We are heartbroken and recognize the immense pain that this brings to our students, staff and faculty, especially our Black brothers and sisters. We must continue ...
Read more
Our hearts are heavy during this overwhelming time in our nation. The ongoing issue of institutionalized racism, discrimination, and law enforcement targeting Black people is a grim reality that we must recognize and confront. Now is the time to get involved and take responsibility for creating justice and equity that our country so desperately needs. ...
Read more