Home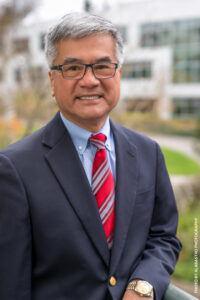 Governor Gary Locke began his term as Interim President at Bellevue College on June 15, 2020. He is a nontraditional college president candidate with a passion for education policy. During his tenure at the College, Governor Locke is focused on encouraging a cultural shift on campus, providing stability, and elevating the college's stature as it searches for a permanent president.
Governor Locke is the first Chinese American to be elected governor in United States history and the first Asian American governor on the mainland. In his two terms as Governor, Washington was ranked one of America's four best-managed states.
During the Obama administration, Governor Locke served as U.S. Secretary of Commerce, and most recently as U.S. Ambassador to China. Governor Locke attended Yale University, graduating with a bachelor's degree in political science, and received his law degree from Boston University.
Governor Locke is a leader in education, employment, trade, health care, human rights, immigration reform, privacy, and the environment. His innovations in government efficiency, customer focus, priority-based budgeting, as well as successful and under-budget management of high-risk initiatives, have won him acclaim from nationally recognized authors and organizations, including Harvard's Kennedy School of Government.
Notes from the President: Ongoing Updates
Please contact the President's Office at (425) 564-2302 or presidentoffice @ bellevuecollege.edu.
---
President's Messages
Dear BC Community, Once again, we find ourselves mourning with the news of another mass shooting, this time at an elementary school in Texas that took the lives of 19 children and 2 teachers yesterday. Fourth graders. Nine and ten year olds. Our hearts go out to the victim's families, and the tight-knit community of Uvalde, ...
Read more
Dear BC Community, Our hearts are heavy with news of the mass shooting that took the lives of 10 people and wounded three others in Buffalo, New York, last Saturday. Eleven of the victims are Black, and the shooter, fueled by white supremacist hatred, targeted a grocery store in a predominantly Black neighborhood with plans to ...
Read more
Dear BC Community, This year Bellevue College will celebrate the 13th annual International Transgender Day of Visibility which occurs on March 31. It's a day to acknowledge and recognize the many accomplishments and victories of transgender and gender-nonconforming people. It's also a critical opportunity to deepen our understanding of the threats and challenges they continue ...
Read more
Dear BC Community, The news and images coming out of Ukraine over the past 48 hours are frightening and disturbing for all of us, and especially for those who have connections with the region. Many of our students and employees are members of the Ukrainian community and have family and friends in and near the ...
Read more
Dear BC Community, On June 19 Bellevue College, and the nation, honors Juneteenth. Congress recently passed legislation to establish June 19 as Juneteenth National Independence Day, and President Joe Biden will sign the bill today. It will be the first national holiday approved since Martin Luther King Jr. Day was established in 1983. Juneteenth commemorates ...
Read more
Dear BC Community, This June, Bellevue College joins the nation, and world, in celebrating Pride Month. It's a time to recognize the achievements and importance of our LGBTQIA+ communities, raise awareness of the issues and challenges they still face, and honor the 1966 Compton's Cafeteria Riot in San Francisco which became a catalyst for other ...
Read more
Dear BC Community, This May, Bellevue College joins other colleges in celebrating both Asian American and Pacific Islander (AAPI) Heritage Month and Jewish American Heritage Month. To our AAPI and Jewish colleagues, students, family members and friends, please know that we value your contributions to our community and nation. I encourage everyone to explore and ...
Read more