Home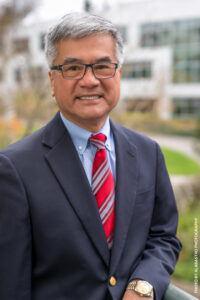 Governor Gary Locke began his term as Interim President at Bellevue College on June 15, 2020. He is a nontraditional college president candidate with a passion for education policy. During his tenure at the College, Governor Locke is focused on encouraging a cultural shift on campus, providing stability, and elevating the college's stature as it searches for a permanent president.
Governor Locke is the first Chinese American to be elected governor in United States history and the first Asian American governor on the mainland. In his two terms as Governor, Washington was ranked one of America's four best-managed states.
During the Obama administration, Governor Locke served as U.S. Secretary of Commerce, and most recently as U.S. Ambassador to China. Governor Locke attended Yale University, graduating with a bachelor's degree in political science, and received his law degree from Boston University.
Governor Locke is a leader in education, employment, trade, health care, human rights, immigration reform, privacy, and the environment. His innovations in government efficiency, customer focus, priority-based budgeting, as well as successful and under-budget management of high-risk initiatives, have won him acclaim from nationally recognized authors and organizations, including Harvard's Kennedy School of Government.
Notes from the President: Ongoing Updates
Please contact the President's Office at (425) 564-2302 or presidentoffice @ bellevuecollege.edu.
---
President's Messages
Dear BC Community, On June 19 Bellevue College, and the nation, honors Juneteenth. Congress recently passed legislation to establish June 19 as Juneteenth National Independence Day, and President Joe Biden will sign the bill today. It will be the first national holiday approved since Martin Luther King Jr. Day was established in 1983. Juneteenth commemorates ...
Read more
Dear BC Community, This June, Bellevue College joins the nation, and world, in celebrating Pride Month. It's a time to recognize the achievements and importance of our LGBTQIA+ communities, raise awareness of the issues and challenges they still face, and honor the 1966 Compton's Cafeteria Riot in San Francisco which became a catalyst for other ...
Read more
Dear BC Community, This May, Bellevue College joins other colleges in celebrating both Asian American and Pacific Islander (AAPI) Heritage Month and Jewish American Heritage Month. To our AAPI and Jewish colleagues, students, family members and friends, please know that we value your contributions to our community and nation. I encourage everyone to explore and ...
Read more
Dear BC Community, The events of the past week have left our hearts heavy. It seemed as if each day we were met with additional disturbing news of another mass shooting and a life lost at the hands of law enforcement. It is challenging to know what words are adequate in these moments. It feels ...
Read more
Dear BC Community, April is Arab American Heritage Month, a time to recognize and acknowledge the significant contributions Arab Americans—3.5 million strong—have made to this country and our own community. Bellevue College is proud to join states and institutions across America in celebrating their achievements. We hope that House Resolution 948, which was put forward ...
Read more
Dear BC Community, Today Bellevue College joins the United Nations in celebrating World Autism Awareness Day, a time to recognize and spread awareness for the rights of people with autism. It was first designated by the United Nations General Assembly in 2007 and has been observed worldwide ever since. We also join our Neurodiversity Navigators program in ...
Read more
Dear BC Community, Next week marks the 12th annual International Transgender Day of Visibility which occurs on March 31. It's a day to acknowledge and celebrate the accomplishments and victories of transgender and gender-nonconforming people. In 2009, transgender activist Rachel Crandall created International Transgender Day of Visibility to build awareness of the many contributions transgender ...
Read more